Nunes vs Anderson: will The Lioness tear Megan apart at UFC 259?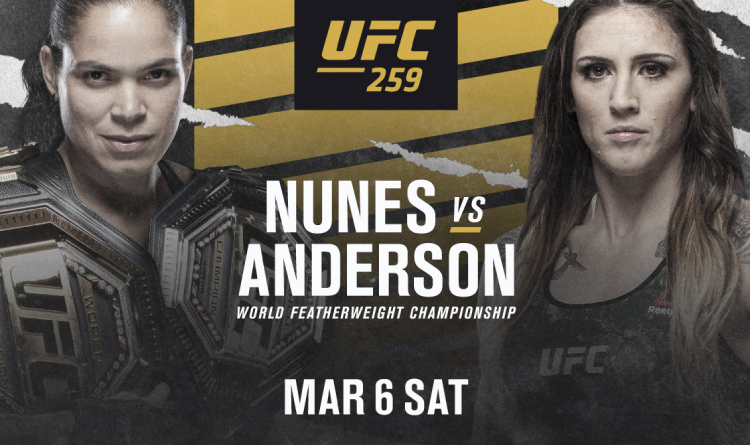 Nunes to take on Anderson
Amanda Nunes is to defend the featherweight title against Megan Anderson at UFC 259 on March 6. Will The Lioness tear her rival apart?
Amanda Nunes stats
Nunes started her MMA career in 2008 and compiled a record of 20-4. The Lioness signed with the UFC in 2013. She won the promotion's belt at bantamweight in 2016 and added the featherweight title in 2018. The Brazilian defended the gold in the 135-pound division 5 times. Last year, Nunes retained the featherweight crown in a contest against Felicia Spencer. Amanda is currently riding on a whopping 11-fight winning streak. She takes first place in the UFC Women's P4P rankings.
Megan Anderson stats
Anderson has been competing in MMA since 2013. Her record stands at 11-4. She became a Roshambo MMA champion in 2014 and transitioned to the Invicta FC. 3 years later, Megan beat Charmaine Tweet in a clash for the Invicta FC belt. She signed with the UFC in 2018. In the promotion, she won 3 of 5 clashes and earned a prize for the best performance.
Nunes vs Anderson stats
Amanda outnumbers Megan's significant shots 2.4 to 1 and absorbs 15% fewer blows per minute.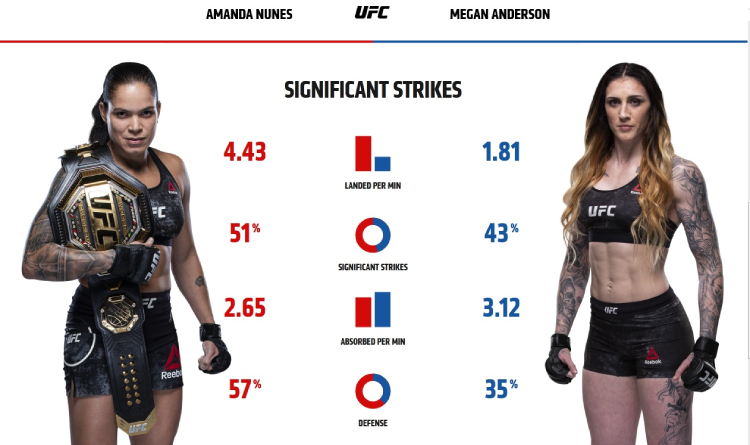 Unlike her opponent, Nunes performs takedowns and makes submission attempts, besides her defence is more solid.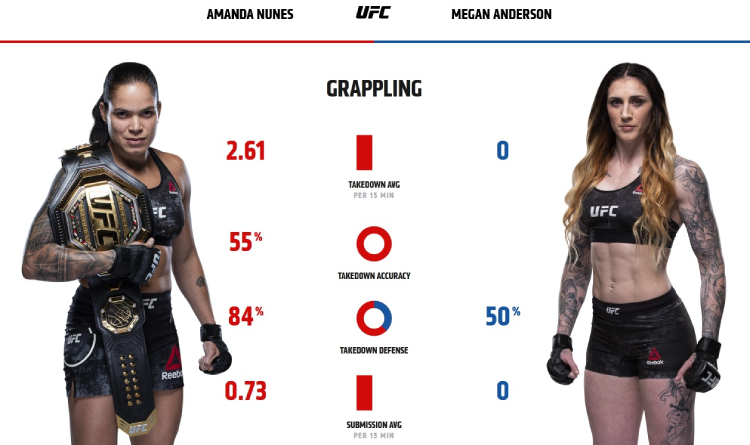 Nunes vs Anderson preview
Amanda trained in karate and boxing, while Megan coached in Muay Thai and boxing. The ladies' fighting styles are quite similar: they focus on punches and elbows and work great in clinch. However, The Lioness has faster and more powerful hands. Her straight right is the best in the UFC women's division. Anderson lands knees more often but throws combinations of punches less frequently.
Nunes got a black belt in BJJ and a brown one in judo. Megan earned only a purple belt in BJJ. Consequently, the Brazilian is a more experienced and accomplished grappler. In UFC clashes, Anderson used her wrestling skills defensively, because she prefers brawling on the feet.
Nunes vs Anderson is definitely a mismatch. Megan heavily lags behind in every aspect of the fight. Her only edge lies in reach (3 inches). The Australian dropped both contests in the UFC against strong opponents: Holly Holm and Felicia Spencer. Amanda defeated both of them in a dominant manner. Therefore, Megan has almost a zero chance of winning the showdown against Nunes.
Amanda has a high knockout rate – 65%, and she significantly outperforms her rival both on the feet and on the ground. Given these factors, The Lioness is poised to beat Megan by KO/TKO. Nunes' average fight time is 10:17; thus, the contest is expected to last at least 2 rounds.
The most probable fight results
Amanda Nunes to win by KO/TKO/DQ (11/10);
Total rounds over 1.5 (17/20).
Disclaimer: Fight analysis is not a betting tip or a gambling advice of any sort. Our experts determine the most likely outcome of a sporting event based on statistics and personal views. Therefore, the actual result of a competition may differ from the predicted.