Edwards vs Muhammad: will Belal cut off Leon's winning streak?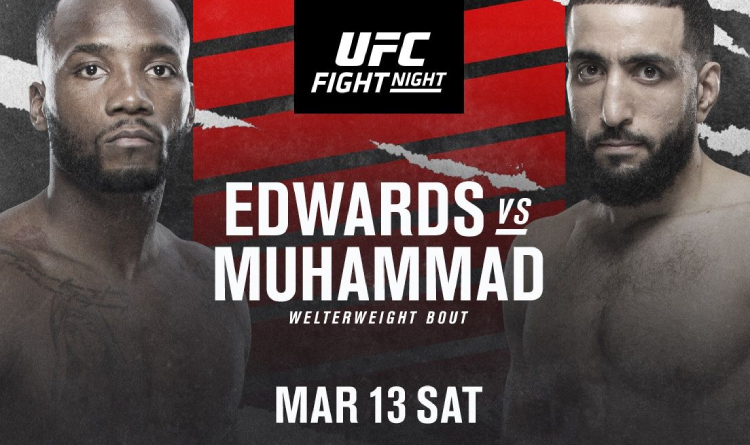 Edwards to take on Muhammad
Welterweights Leon Edwards and Belal Muhammad will headline UFC Vegas 21 on March 13. Does Belal have a chance to cut off Leon's winning streak?
Leon Edwards stats
Edwards started his MMA career in 2011 and compiled a record of 18-3. Rocky became a BAMMA champion in 2014, defended the belt and transitioned to the UFC. He lost a debut bout against Claudio Silva and suffered a second loss in the promotion in a contest against Kamaru Usman in 2015. Afterwards, Leon won 8 consecutive fights and took third place at welterweight. He beat such strong opponents as Donald Cerrone, Gunnar Nelson and Rafael dos Anjos.
Belal Muhammad stats
Muhammad has been competing in MMA as a pro since 2012. His record also stands at 18-3. Belal won the Titan FC title in 2016 and signed with the UFC. He lost 2 of 3 first clashes in the promotion. Then Muhammad scored victories in 4 consecutive bouts before dropping a unanimous decision to Geoff Neal in 2019. After the loss, Belal got back on the winning track and defeated 4 rivals in a row. In February 2021, he beat Dhiego Lima and was ranked 13th at welterweight.
Edwards vs Muhammad stats
Leon lands 42% fewer shots per minute, but Belal absorbs 86% more strikes.
Muhammad outnumbers Edwards' takedowns 1.5 to 1, and he has a better defence. However, Leon makes almost twice as many submission attempts.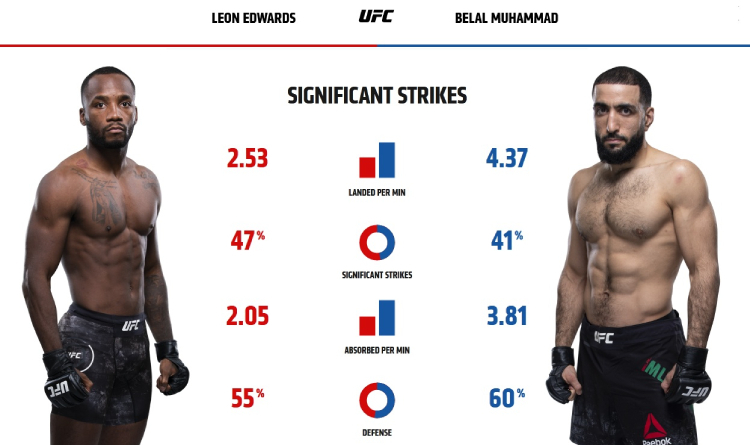 Edwards vs Muhammad preview
Leon went in for kickboxing, while Belal coached in striking martial arts only as a part of MMA training. The athletes have crisp boxing technique and good footwork. Nevertheless, Edwards looks better on the feet, because he employs a wider range of shots, including sneaky elbows and knees. Muhammad tends to ramp up the pressure; thus, he throws more strikes.
Both sportsmen got purple belts in BJJ. Consequently, their grappling skills levels are similar. Belal's edge in the number of performed takedowns is attributed to his fighting style. Muhammad initiates wrestling exchanges frequently to nullify his rivals' offensive abilities. But Rocky is more dangerous on the ground, as he makes more submission attempts.
Edwards is more accurate, and he has a 2-inch reach advantage. Besides, Belal takes too many shots for a welterweight division. Therefore, Leon will likely dominate on the feet. Rocky's takedown defence is very solid, while Muhammad finishes only 31% of attempts. Thus, he has a little chance of bringing the fight to the canvas. Given these factors, Edwards is poised to win the contest.
Rocky has a low finish rate – 53%. Furthermore, Edwards scored victory in 5 of 6 last contests by points. Belal has been stopped only once, and he is famous for a strong chin. Considering these facts, Leon is expected to beat Muhammad via decision.
The most probable fight results
Leon Edwards to win by decision (1/1);
Total rounds over 4.5 (13/25).
Disclaimer: Fight analysis is not a betting tip or a gambling advice of any sort. Our experts determine the most likely outcome of a sporting event based on statistics and personal views. Therefore, the actual result of a competition may differ from the predicted.