Tottenham Hotspur vs Arsenal. Prediction and Preview. Probable Lineups, Team News, Stats and more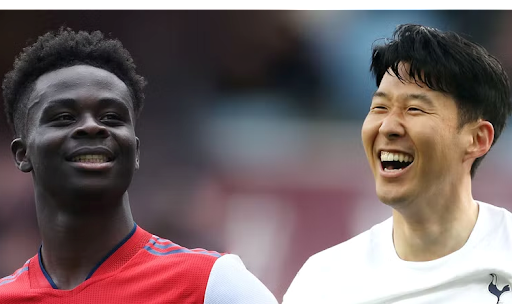 Tottenham Hotspur FC will host Arsenal FC in the English Premier League 20th-tour match at Tottenham Hotspur Stadium. The fixture will take place on Sunday, January 15, beginning at 22:00 IST.
Yesterday we witnessed a Manchester derby that concluded with a very dramatic denouement. The Citizens have once again lost points, thereby reducing their chances of winning the title. And today the big North London derby awaits us. Premier League leaders Arsenal and a team with big UEFA Champions League ambitions Tottenham will meet at the Tottenham Hotspur Stadium, where 63,000 spectators will see a great game of English football stars.
What can we expect this Sunday night? Parimatch News will tell you everything you need to know ahead of the upcoming match.
Tottenham Hotspur News & Current Form:
Charges of Antonio Conte have suffered four defeats recently – against Manchester United FC (0-2), Newcastle United FC (1-2), Liverpool FC (1-2) and Aston Villa FC (0-2). They drew with Brentford FC (2-2). They won their meetings with AFC Bournemouth (3-2), Leeds United FC (4-3) and Crystal Palace FC (4-0).
Spurs did not succeed in the FA Cup and the English Football League Cup. They made it to the 1/8 finals of the first tournament, with a semi-reserve squad dealing with Portsmouth FC (1-0), which is a mid-tier team in the First League of England. So for Arsenal Conte has saved the strength of all the leading players and toned up Kane. But Tottenham were eliminated from the second tournament, losing to Nottingham Forest FC (0-2). It also shows that their squad depth is poor.
Conte's charges have not scored in only one of their 13 matches in all tournaments this season, but they have problems in defense, conceding as many as 25 goals.
Both teams have top-notch attacking players. Tottenham have, as always, the ageless Kane, with 15 goals this season. Harry does his best to keep Erling Haaland from getting bored (21).
Harry Kane recently broke the goal-scoring record of Alan Shearer. The 29-year-old forward reached the mark of 198 goals scored in the English championship in 300 meetings. Shearer has two fewer goals in the same period.
In the last match with Arsenal Kane also scored. However, his team suffered a legitimate defeat with a score of 1:3. The Gunners were in complete control of the game before Spurs were left in the minority (in the 62nd minute). Opponents outplayed their Spurs in every way and didn't score more only due to the stunning play of goalkeeper Hugo Lloris.
Tottenham lack stability this season, although at times they produce high-quality football. The team allows too much to opponents at their own gates, almost regularly concedes and is not so aggressive up front. The players will definitely approach the North London derby with all seriousness, but the current conditioning of the opponent does not speak in favor of the hosts.
Although completing a 15-year unbeaten streak without a trophy is certainly at the top of Conte's mind, the Italian coach will have an uphill battle to get his team into the UCL again. The hosts currently sit fifth in the table with 33 points out of a possible 54 at the moment – two less than Manchester United, who have played one more game. 
The best news Tottenham fans might have heard ahead of the North London derby is already received: Swedish striker Dejan Kulusevski has returned to training after muscle problems and, if he is fit, he will probably be in the starting lineup instead of Brian Gil. The participation of Rodrigo Bentancur is more uncertain, as well as for Richarlison and Lucas Moura, but Yves Bissouma has to recover from a minor ankle injury that prevented him from taking part in the FA Cup victory over Portsmouth. Pierre-Emile Hojbjerg will be in the midfield if Bentancur misses again.
Midfielder Lucas Moura is likely to leave Tottenham this year.
The club's management has decided not to extend the contract with the player, which expires in the summer.
The Brazilian has been playing for the club since the 2017/18 season. In the current English championship, he has 8 matches and no resultive actions.
Don`t miss out 👉: 5 players Tottenham Hotspur could target in the January transfer window
Arsenal News & Current Form:
Arsenal are looking great this season. The Gunners show spectacular team soccer and dominate almost every game. At the moment the team is at the top of the EPL standings. Their gap from Manchester City FC is five points, which is a lot.
The Gunners have failed to score in only two games of the season in all competitions, and in 17 Premier League meetings they have already thrown 40 goals at their rivals. Defensively, Arsenal also look extremely decent: they have conceded only 14 goals, and this is the second highest figure in the league after Newcastle (11).
In the last 11 rounds, Mikel Arteta's men have not suffered a single defeat, with only two draws against Southampton FC (1-1) and Newcastle (0-0). In the last match, Arsenal pressured their opponent most of the time, had the right to two penalties (according to Arteta), but never got them. In all other matches they won, including the away win against Brighton (4-2). And this despite the fact that one of the leading players of the Gunners – Gabriel Jesus – did not take part in the meeting due to injury.
Ahead of the upcoming match, the famous journalist and Arsenal fan, Piers Morgan, said that he was completely wrong when he criticized Arteta (last season). He claimed that it was thanks to the Spaniard that the club has grown from a mediocre middle class team to a truly competitive one.
Morgan also noted that he was wrong to praise Tottenham and Antonio Conte. He admitted that he has never been happier to make a fool of himself. Arteta's bet on youngsters is bearing terrific results. The Reds' young leaders are tearing up the league.
Thomas Partey, Gabriel Jesus and Granit Xhaka contributed to Arsenal's well-deserved win over Spurs at the Emirates Stadium in October, but Tottenham have won all three North London derbies at the Tottenham Hotspur Stadium and would like nothing more than to undermine their opponents' title ambitions. 
Only Gabriel Jesus (knee injury) and Reiss Nelson (hip injury) remain in the sickbay after Emile Smith-Rowe returned to the field after groin surgery in the match against Oxford in the FA Cup. Smith-Rowe's appearance was his first in an Arsenal jersey since September, but the player will definitely start the upcoming game from the bench, while Gabriel Martinelli will take over in the attack. Bukayo Saka limped in front of concerned Arsenal fans in the last match, but Arteta confirmed that the 21-year-old is fine.
About the condition of Gabriel Jesus, coach Arteta said:
"He's working really hard, he's in the right place in his recovery in regards to the time that we set for him, but it's still a bit far to be fair. I would like to see him (back in the squad) very quickly but I don't think that's going to happen, so we are going to have to be patient."
"He's a player that is going to push everybody there to be really fast on the pitch, but we have to be cautious."
Mikel Arteta won the best November-December coach award in the EPL. Arteta won the prize for the second time in a season and the fourth in his career.
And team's captain Martin Odegaard won the best player award.
What has really dampened the spirits of Red and White fans is the unfolding of the Mykhailo Mudryk saga. Recently it became known that the Ukrainian is on his way to London, however, the final destination is Stamford Bridge.
Despite the fact that Mykhailo was constantly making it clear on social media how much he wants to move to Arsenal, the bosses of Shakhtar had other plans… The Ukrainian winger has been forced to join the coveted club's principled rivals, Chelsea.
"Mykhaylo Mudryk is in London tonight and he will be at Stamford Bridge on Sunday afternoon to follow the Chelsea vs Crystal Palace game, after his medical tests. Pre-contracts have been signed, the official contract will be completed on Sunday."

Fabrizio Romano confirmed.
How the Aristocrat managed to snatch the deal and what exact amount of funds will be paid we will find out later. The €100m package and the favorable structuring of the transaction amount were previously reported. The terms of the agreement with the 22-year-old Ukrainian have not yet been made public either, but sources are reporting that he has been offered a contract of €200 thousand per week for 7 years. And this is while Mudrik's current wages at Shakhtar were just €7000 a week. Arsenal was offering a reasonable 40 thousand.
Either way, the more motivation the Gunners now have to win the principal derby and gain an 8-point lead at the top of the table to prove that the Ukrainian made the wrong choice.
Don`t miss out 👉: 5 players Arsenal could target in the January transfer window
Tottenham Hotspur form guide: W-D-D-L-W-W
Arsenal form guide: W-L-W-W-D-W
Spurs vs Arsenal Head-To-Head Record:
| | | |
| --- | --- | --- |
| Tottenham Hotspur | Draw | Arsenal |
| 67 | 54 | 85 |
July 12, 2020: Tottenham Hotspur 2-1 Arsenal (Premier League);
December 6, 2020: Tottenham Hotspur 2-0 Arsenal (Premier League);
March 14, 2021: Arsenal 2-1 Tottenham Hotspur (Premier League);
September 26, 2021: Arsenal 3-1 Tottenham Hotspur (Premier League);
May 12, 2022: Tottenham Hotspur 3-0 Arsenal (Premier League);
Tottenham Hotspur vs Arsenal Predicted XI:
Tottenham Hotspur possible starting lineup (3-4-2-1): Lloris; Romero, Dier, Lenglet; Doherty, Bissouma, Hojbjerg, Perisic; Kulusevski, Kane, Son.
Arsenal possible starting lineup (4-3-3): Ramsdale; White, Saliba, Gabriel, Zinchenko; Xhaka, Partey; Saka, Odegaard, Martinelli; Nketiah.
Statistical preview of the match Tottenham Hotspur vs Arsenal:
Tottenham's First XI average age is 28.9 yrs.
Arsenal's First XI average age is 24.9 yrs.
The total value of Spurs' squad – $866mln, Arsenal's – $759mln.
Tottenham have won their last 4 matches at home.
Arsenal are unbeaten in their last 7 games.
Tottenham are conceding an average of 1.00 goals per game in their last 5 games.
Tottenham are scoring in their last 12 games against this opponent.
Tottenham have scored in 8 of the last 10 games.
Tottenham conceded in 9 of the last 11 games.
Tottenham are scoring an average of 1.60 goals per game in their last 5 games.
Arsenal are conceding an average of 1.00 goals per game in their last 5 games.
Arsenal have scored in 17 of the last 18 Premier League games
Arsenal are scoring an average of 2.00 goals per game in their last 5 games.
Don`t miss out 👉: Mumbai City confirms playoff spot after winning 1-0 against ATK Mohun Bagan
What has been said before the match:
Coach Antonio Conte compared himself and Mikel Arteta in his emotional behavior on the field:
"Everyone tries to live the situation the way they like it. Arteta is another coach who shows his passion and conveys it to his players on the field. I see a lot of coaches involved in the game because our job has become very difficult."
"It's very hard to see a coach sitting [in a chair] on the bench. Arteta is a coach like me. We show our passion. What happens on the field is a moment, an emotion. And nothing can prepare your mind for that. For that reason, you can sometimes celebrate strangely."
"Arteta is another coach who likes to live the game, and likes to stay on the field with his team."
About the opponent's team, he said:
"When you are at the top of the league the perception of your opponents changes totally,"
"You are at that moment the best team in the league. For this reason, everybody wants to beat you. For sure, Arsenal has to face this situation as favorites to win the league. They have to show they are good to face this type of situation."
"Arsenal are doing very well. Now they have to show they can stay there until the end of the season because I'm sure Manchester City doesn't agree and will feel the real possibility to win again, especially because Liverpool already lost a lot of points – the same for Chelsea and Manchester United. It is a battle between Arsenal and Manchester City."
Mikel Arteta is very motivated and optimistic about the upcoming match:
"The way that we have performed and the results that got confidence-wise has put us in a good position, but that is something that you have to show every match and every opponent, especially every away game brings challenges and this is no different. We are going to have to go there, play our way and win the match. We have to beat them now at their place and that's the way we have to play the game."
About the Spurs, he said:
"They approach games in different ways, sometimes they are very aggressive from the beginning, sometimes they allow you to make the game and they have an array of tools that they can use to cause you problems. We have to prepare for any possible occasion and it will be left to the players to do what we have to do on the pitch."
Tottenham Hotspur vs Arsenal Prediction:
Spurs are in a kind of stagnation and their game seems very unstable. The current results hardly match the ambition and spending of the club. There is simply nothing to boast about at the moment. Although of course the quality of the squad and coaching is apparent and the Black and Whites should definitely not be written off. They can still deliver, but so far they are only a shadow of their North London neighbours.
In the latest head-to-head encounter, Spurs suffered a fair defeat. Since then, Arsenal have not slowed down and, in spite of the haters, Mikel Arteta's men have managed to stay at the top for a very long time. The Gunners are on the rise and are making steady progress towards the English Premier League gold medals. Now they enter the crucial stretch of the season, a succession of formidable opponents from the upper third of the standings will try to extinguish the Gunners' fervor. But no matter how Antonio Conte prepares his side, a St Totteringham's Day is imminent, with the Red and White extending their lead to eight points in a must-win match.
Don`t miss out 👉: NorthEast United vs Goa: Preview and Prediction
Parimatch News staff prediction:
We say: Arsenal to win – Yes.