Top 5 possible destinations for Antoine Griezmann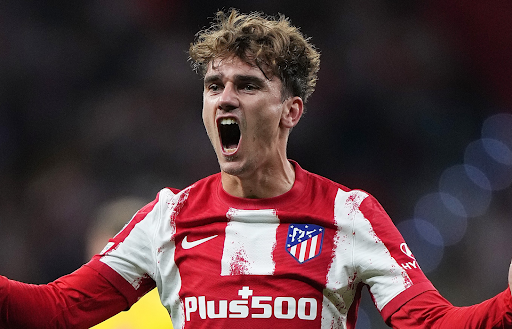 Antoine Griezmann is currently playing for Atletico Madrid on loan from Barcelona
Instantaneous success in football can come from various sources – a last-minute winner, a goal-line clearance, a goal against arch-rivals in a Derby, and a gazillion of other ways. However, there is only one key to prolonged success in this sport – consistency.
Unfortunately, some of the most special football talents have had to learn this the hard way and one among them is Antoine Griezmann. Around three years ago, the 31-year-old attacker from France was enjoying the best days of his career when he was signed by Barcelona for a fee of €120 million – which was then being reported as a steal.
However, he never got going for the Catalans and after two years of misery, Griezmann was loaned back to the team with whom he attained his superstar status, Atletico Madrid. Many expected him to rediscover his mojo with Los Colchoneros but it did not turn out to be that way, as he has scored only 8 goals and given 5 assists so far.
Barcelona currently demands €40 million for his services – one-third of the price they bought him for, and even then there are not many takers around. However, simply because of the magic that he produced between 2014 and 2019, some teams might still be interested in adding an experienced and supremely talented player to their ranks, who can be a nightmare for any defense when he is at his best.
Check out five teams who might be interested in signing Griezmann:
1. Atletico Madrid
While it is true that Griezmann has not been half as effective in his second stint with Atletico Madrid as he was in his first, Los Colchoneros could still be interested in extending his services, if not signing him on a permanent deal.
According to some reports, Atletico Madrid will offer Barcelona another year-long loan deal for the Frenchman, which the Catalans are expected to accept. Griezmann is currently the fourth-highest goal-scorer for his team this season and he has the backing of his manager, Diego Simeone, which could help him find his form back soon.
2. Juventus
Atletico Madrid seems to be the number one option in terms of Griezmann's possible next destinations, but more importantly, it is not the only option. Italian outfit Juventus is another team who could be interested in acquiring his services, and there is a justification behind this.
The Old Lady is currently going through a slump and they will be looking for a squad overhaul this summer, but given their current financial state, it is rather unlikely that they will splurge big amounts. Instead, Massimiliano Allegri's team is predominantly looking to acquire world-class talent on loan deals or free transfers, and this is where Griezmann fits the bill.
Moreover, Juventus' Argentine forward Paulo Dybala looks all set to leave the club once his contract expires after the end of the ongoing season and Griezmann could prove to be a like-for-like replacement.
3. Bayern Munich
Griezmann was heavily linked with a move to Bayern Munich a few years ago, and though it is certain that interest in his services has gone down drastically recently, the Bavarians could still fancy a move if they can get it for cheap.
The reason is somewhat similar to the Juventus situation – Bayern Munich's goal-machine Robert Lewandowski's contract expires in 2023 but there are rumours of him leaving the club this season itself. While statistics will suggest Griezmann will not be the perfect replacement for Lewandowski, he could prove to be a more-than-handy backup option.
4. Manchester United
Like Bayern Munich, Manchester United is a team that rated the Frenchman very highly when he was at his peak and was among the contenders to sign him. Things have changed ever since, but interestingly, both Griezmann and the Red Devils have embarked on a downward spiral in synchronization, and if the two do meet, it could be a beneficial deal for both parties involved.
There is a reason why it could possibly happen – Ralf Rangnick recently stated that incoming manager Erik ten Hag likes to play with two central strikers, and with Cristiano Ronaldo preferring to play on the wings, incomings are very likely at Old Trafford. Of his 35 matches this season, Griezmann has played 29 games in a central position, and if Manchester United get this deal done for cheap, it will then allow them to go very big on the other potential striker signing.
5. Newcastle United
In a video that went viral last year, it was revealed that Griezmann manages Newcastle United in a game called Football Manager. This seems to be an insignificant fact, but it will not be if the Magpies can actually turn fiction into reality and rope in the lad from East-Central France.
Notably, Newcastle United has recently been purchased by the wealthiest owners in football and they are likely to make plenty of additions to their squad, but with no European football, hardly any big name is expected to arrive at St. James' Park.
Instead, Eddie Howe's team is planning to sign renowned players who once were among the world-beaters and are perhaps not at their best now, but could prove to be a big asset to the Magpies if they can get their form back. Griezmann, unsurprisingly, fits the criteria perfectly.