Sevilla vs Manchester City. Prediction and Preview. Probable Lineups, Team News, Stats and more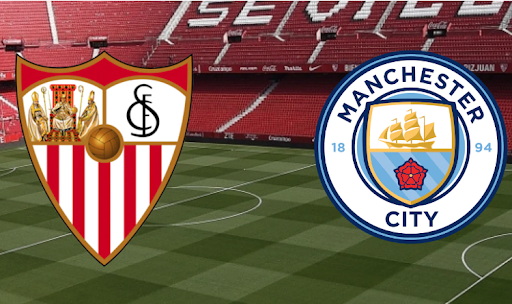 Sevilla FC will host Manchester City in the UEFA Champions League group stage match at the Ramon Sanchez-Pizjuan Stadium. The fixture will take place on September 7, beginning at 00:30 IST.
One of the most interesting matches in the first leg of the Champions League group stage is set to take place in Sevilla. The coaches of the two clubs are no strangers to each other. They played together for Barcelona from 1994 to 1997, although Julen was only occasionally involved as a substitute for the main goalkeeper. The Spaniards are having a warm relationship, always available for the call. But they are certainly not in favour of a friendly atmosphere at the moment. The teams they manage have a crucial match in the Champions League ahead.
One of the main favourites in the tournament will visit the number four team in Spain according to last season's results. Guardiola continues to dream of winning the UEFA Champions League with his men. Another attempt at winning the trophy ought to be more apt – the Brits have now acquired a super weapon in the form of Erling Haaland. The Norwegian has already declared his intentions to grab the Golden Boot award within the English Premier League. Now time has come to make his mark in the UCL.
Parimatchnews will tell you everything you need to know ahead of the upcoming match.
Sevilla News & Current Form:
Even during pre-season, some rather worrying signs were already showing that something improper was going on at Sevilla. The Emirates Cup final was particularly notable, with Arsenal simply demolishing the Andalusians in London 6-0. Many wrote it off as a mere fluke, although the match itself was not exactly a friendly one.
The fears of some critics were confirmed when the La Liga season began. Los Hispalenses, who finished fourth in the last campaign, suffered a dreadful start to the season.
In the first four rounds of the Spanish championship, Julen Lopetegui's side have only gained one point. This came in a home game against Real Valladolid (1-1). Los Nervionenses lost to the other three opponents: Osasuna 1-2, Almería 1-2 and Barcelona 0-3 (although it was the only result that can be pardoned).
In fact, they lost all of them quite predictably, playing shaky in defence. And it is not typical for the Red-Whites, as it was actually their reliable defensive display that allowed Julen Lopetegui's side to qualify for the UEFA Champions League. According to the 21/22 results, Sevillistas showed the best defensive performance in La Liga (30 conceded goals in 38 games).
Possibly the main reason for such a decline is the loss of their key bromance, Jules Kounde and Diego Carlos, who were in essence the backbone of the Spaniards' defensive system. In addition to arriving free agents – two creative midfielders, Adnan Januzaj and Isco – the Andalusians tried to build a new CB link-up by acquiring two new centre-backs from abroad. However, the integration of Tanguy Nianzou from Bayern (€16.00m) and Marcao from Galatasaray (€12.00m) is still "creaking", time is needed. It's also possible that the scouting department have made a miscalculation by opting for the wrong players. What's more, the Brazilian also suffered an injury and won't be able to help in the upcoming matches.
Arguably, Lopetegui is not worthy of harsh criticism and booing from the stands. What's happening now is simply logical.
"If you have a lung and a heart ripped out of you, you have to try to build new ones and compete."

he remarked at the press conference.
Such a drastic overhaul in defence could not pass unnoticed – a proper example is RB Leipzig, who also lost a couple of key defenders last season and flopped at the start of the championship, dragging their head coach to the bottom with them, which resulted in sacking. A similar decision could prove fatal for Los Hispalenses.
With such issues and worrying indicators, the club enter their third consecutive Champions League group stage. Two years ago, the Spanish representative reached the 1/8 finals, where they lost to Borussia Dortmund (2-2, 2-3), and last year they failed to get out of a fairly average quartet, letting LOSC Lille and RB Salzburg through. In the current Champions League draw, Julen Lopetegui's team's prospects do not look better, to say the least. There is a very difficult match ahead against a tough opponent playing super attacking football.
Manchester City News & Current Form:
In the off-season, the Citizens seem to have got the ultimate element that was missing to finally fulfill the club owners' dream of winning the Champions League – a super-star prolific poacher. In less than a month, Erling Haaland has started to show excellent chemistry with his partners, and we are all already seeing a return on investment in the form of productive contributions. The striker is in incredible form. In six appearances in the English Championship, the Norwegian has scored ten goals and made 1 assist. Astonishingly, it's only September and the former Borussia player has two hat-tricks under his belt.
The Sky Blues are undefeated in the 2022/2023 season so far. Such statistics look great from the outside, but if you dig deeper, there were no serious opponents. For the most part, Man City have played against lower-ranked and inferior sides. Only thanks to the setbacks of other major rivals, Pep Guardiola is still in the game.
In the last round of the EPL, the Citizens faced Aston Villa and ended the game with a draw. Just the No 9 opened the scoring in the encounter, but it was Leon Bailey, who managed to equalise. Another baffling draw.
Don`t miss out 👉: Manchester United win the Battle of the Reds while Manchester City and Liverpool stumble
By the way, Haalans's capabilities are well known to Sevilla. Back in the 20/21 campaign, when the SFC lost to Borussia Dortmund in the Champions League last 16, the Norwegian was involved in all five goals in two games (4 goals + 1 assist).
Given the Spanish side's current defensive woes, there is plenty of breathing space for their opponents to develop attacks. In that case, a sensational positive outcome for the Andalusians is out of the question. Things could end up being a complete thrashing, especially given some frustration towards the result of the last round of the Premier League. 20 goals scored in six games – such numbers are fearsome.
Sevilla form guide : L-D-L-L
Manchester City form guide: W-W-D-W-W-D
Sevilla vs Manchester City Head-To-Head Record:
| | | |
| --- | --- | --- |
| Sevilla | Draw | Manchester City |
| 0 | 0 | 2 |
Sevilla vs Manchester City Predicted XI:
Sevilla possible starting lineup (4-3-3): Bono; Navas, Nianzou, Fernando, Acuna; Jordan, Rakitic, Delaney; Lamela, Gomez; En-Nesyri.
Manchester City possible starting lineup (4-3-3): Ederson; Cancelo, Dias, Stones, Ake; Gundogan, Rodri, De Bruyne; Mahrez, Haaland, Grealish.
Statistical preview of the match Sevilla vs Manchester City:
Manchester City newcomer Erling Haaland scored 23 goals in 19 Champions League games, four of them against Sevilla.
In the English league, the Norwegian scored ten goals in six games.
Sevilla have won three of their last seven home games in all competitions.
Sevilla have conceded eight goals in four Spanish La Liga games.
With Pep Guardiola at the helm, Manchester City have won five of their six Champions League starts. The exception was the defeat to Lyon at home in 2018.
Guardiola has won eight of his 12 games as coach against Sevilla (two draws, two defeats).
Sevilla have not won in 7 of the last 8 Champions League home games.
Sevilla have scored less than 1.5 goals in each of their last 9 home games.
7 of the last 8 Manchester City away games in the Champions League saw a total over 1.5.
What has been said before the match:
Julen Lopetegui, the Sevilla gaffer:
"We're very excited, it's a new competition which we've earned the right to be in for a third consecutive season, we're facing an excellent team in the biggest club competition. We've earned the right to be here and we want to enjoy it by playing well."
"We're focused on the next game and we're facing a top-class team, one of the best in the world, Haaland makes them more complete, but if we start to talk about City we won't finish. We're focusing on ourselves and playing well, improving on what we can do well and trying to find the energy and confidence in spite of the difficulties of the Champions League."
Pep Guardiola, the Man City gaffer:
"Sport not just football, always you get another opportunity. It's a difficult competition, proud to be here again. We try since day one, we didn't get much but the last year to the last stages. I don't know, tomorrow on the pitch, against BVB, Copenhagen. It depends on our performance. If we are not good we go home and get punishments from fans and media and then after a while move forward. Last season we fought to be here, we know how difficult it will be."
"Spanish teams dominate Europe, I'd love to have a story like Sevilla has, City are far away from Sevilla in Europe. Tomorrow don't miss the spectacle in this stadium. We try and do a good game and try to do three points."
"Sevilla won't be concerned with just defending. We have to be prepared because they will be aggressive. This competition is played with a lot of enthusiasm. More so in a stadium like this one. We have to be prepared for that. We have to crank up the pace."
Sevilla vs Manchester City Prediction:
There will be no mercy for the Sevillians. Even the stretch in which Lopetegui and Guardiola played together for Barça will not mitigate the tension. Manchester City are without a doubt considered favourites to win this game and the group as a whole, and they will certainly be trying to prove it tonight. The Terminator [Erling's nickname] is in terrific shapes, and he's encouraging the Citizens' dream of winning the ongoing Champions League race. The approach is as rigorous as possible.
Sevilla are far from their best form and, as long as they are still in the rebuilding phase, it will be difficult to expect sensational victories, at least at the beginning of the season. The home side have a distinct defensive problem and consistently concede, even against the underdogs. The opposing goalkeeper will not be able to withstand such an onslaught from Man City.
Don`t miss out 👉: Bundesliga Matchday 5 Roundup: Bayern held by Union Berlin, Dortmund goes joint-top after win
Parimatch News staff prediction:
We say: Manchester City to win and individual total over 1.5 – Yes.