Sevilla FC and FC Bengaluru United enter a partnership focused on skill and innovation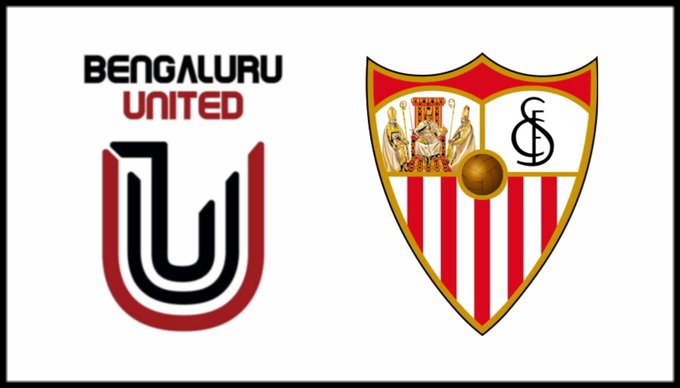 Logos of Indian club FC Bengaluru United and Spanish club Sevilla FC
Spanish top tier club Sevilla FC has entered into a partnership with FC Bengaluru United based on skill export and bringing the innovation technology from the rich cultured Spanish football to the Bengaluru-based club.
The objective of this agreement is to expand Sevilla's reach in Indian football and enhance the club's presence in one of the most promising football markets in the world.
The six-time Europa League winners bring their experience and know-how of 130 years to help and guide their local partner in Bengaluru with technological innovation, development & implementation projects addressing the sports industry.
Gaurav Manchanda, the founder and director of the company that owns FC Bengaluru United was brim with happiness whilst announcing the partnership and spoke about the club's ambitions. He said,
"We are delighted and proud to partner with Sevilla FC, a club with great tradition, history and performance. We are excited to build local football talent with Sevilla FC´s support and grow our club both in India and internationally".
Sevilla FC chairman Jose Castro was also delighted and spoke about the importance of investing in the Indian market and praised the solid foundations and strategy to promote youth from the club's academy. He said,
"This partnership helps us place Sevilla FC within the Indian market, one that we had marked as a strategic goal within our international expansion plan. We partner up with a young club that has a really strong base for growth and an exciting future in an emerging footballing nation. We are delighted with the new partnership".
Defending Europa League champions Sevilla is one of many foreign football giants to enter into a partnership with Indian football clubs from the ISL, I-League, and even local football clubs and academies.
Recently, Indian football clubs like Hyderabad FC and FC Goa partnered with giant clubs like Borussia Dortmund FC and RB Leipzig respectively, and have shown signs of progress in the ongoing 2020-21 Indian Super League season.