Rapinoe blames Ronaldo and Messi for 'not going deeper' in the fight against racism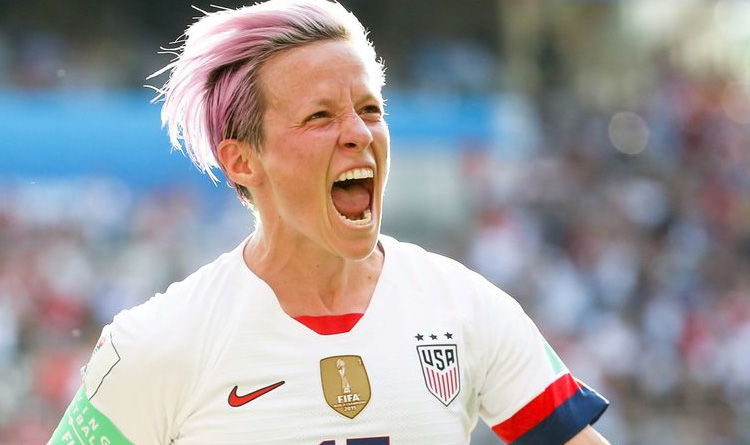 Getty Images
USWNT star Megan Rapinhoe believes that Cristiano Ronaldo and Lionel Messi don't use their exclusive possibilities to give the world a wake-up call in terms of fighting against racial discrimination.
United State's international Megan Rapinhoe is known for expressing her views on social and political matters. Shortly before the World Cup 2019, the midfielder initiated a fight for equal pay with their male counterparts. The case gained momentum after USWNT won a tournament, with Rapinoe being awarded the Golden Boot and the Golden Ball.
The Ballon d'Or Feminin recipient also supports the Black Lives Matter movement. She blamed football superstars Cristiano Ronaldo and Lionel Messi for not using their popularity in the anti-racism fight:
"They could do so much if they decided to use their stupendous level of popularity to fight racism, for example. I'm not talking about wearing a Black Lives Matter T-shirt, I'm talking about going deeper."
Ronaldo and Messi's only claims on Black Lives Matter movement were posts on Instagram. Neither the Portuguese nor the Argentine discussed the matter in interviews.
35-year-old also gave advice to the younger generation, and PSG striker Kylian Mbappe in particular:
"I hope he understands the impact he can have, and how this influence can prove to be formidable for himself. He came into the world with an extraordinary gift which allows him to lead an extraordinary, very comfortable life. Perhaps he can ask himself how to establish a balance, how to inspire youth.
I hope he understands that he can change the world, that it is not just an empty idea. Sometimes you decide for yourself to change the world, sometimes it falls on you. If you want to be the king, then be the best king you can be."
As examples of athletes who spoke solidly on the BLM movement, Rapinoe mentioned Formula 1 driver Lewis Hamilton, NBA player LeBron James, and tennis player Naomi Osaka:
'These athletes inspire me. There is like an invisible thread between us. We must not be shy.'
Launched in 2013, Black Lives Matter anti-racist movement saw its main wave after African American George Floyd was killed by police officer on May 25th. Since then, the majority of footballers take a knee when the referee first blows his whistle.