Portugal vs Spain. Prediction and Preview. Probable Lineups, Team News, Stats and more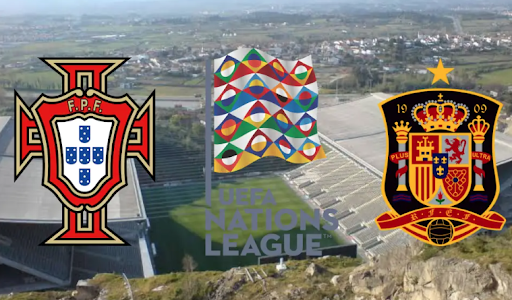 Portugal will host Spain in the UEFA Nations League 6th-matchday match at the Estadio Municipal. The fixture will take place on September 28, beginning at 00:15 IST.
The 2022/23 football season feels like it has only recently begun, but many leagues have already enjoyed 6-8 tours while also the first two rounds of the group stage of the Eurocups have been played. And now, while club football has gone on break, the Nations League is back. The last leg of the group stage will be played on the night of 28 September. Special attention should be paid to the game in which Portugal and Spain clash for a play-off spot.
Both teams appear to be amongst the most successful participants in the Nations League. The former were the winners of the debut tournament, the latter were last year's finalists. This time, only one of them will have a chance to contend for the trophy – Luis Enrique's side are closer to failing as things stand before the closing sixth match day. Why? We'll tell you about that below.
And with the World Cup on the horizon, both national teams also stand among the favourites for the main football tournament.
"Above all France, who are the big rivals because they have fantastic players and are the reigning champions, although Spain and Germany are also great rivals. Then we have to keep an eye on Portugal, who have a good team, although we have to wait and see how Cristiano gets there. And then there's Belgium, of course, who usually fail in the end despite having a great team."

believes Kaka.
The upcoming match will give us a better idea of their chances at the Mundial. Parimatchnews will tell you everything you need to know.
Portugal News & Current Form:
Portugal, in turn, suffered only one defeat in five rounds of the Nations League group stage against Switzerland (0-1). The draw, as we have already mentioned above, took place against Spain. The Portuguese side also registered victories over Switzerland (4-0) and the Czech Republic (4-0 and 2-0). The Portuguese scored 11 goals during this period, but only two of them were scored by their leader, Cristiano Ronaldo.
So far, the 37-year-old has had a poor start to the season. The striker has failed to find a new team, missed most of the training camps and also lost his place in the starting line-up. As a consequence, his performance slumped. In eight games in all official competitions with Manchester United, he scored just one goal from a penalty.
Last contest of the current Nations League tie against the Czech Republic (4-0) did not go well for CR7 as well. First, he was inadvertently smashed in the face by Tomas Vaclik. Then, the striker committed a foul causing a penalty and missed a number of potential goal scoring chances. Thankfully, the team-mates did not let down and earned a smashing win against the Czechs thanks to the individual skills of certain players.
After the match, Fernando Santos came out in defence of Ronaldo. The coach noted that Cristiano worked hard for the team. He also pointed out that it was only because Cri Ro took a lot of players away to open up space that his charges would have been able to score so many goals. Let's not forget that the striker recorded an assist as well, which was turned into a goal by Diogo Jota in the 82nd minute.
But of course, we must admit that it is surprising that 37-years-old Cristiano in such bad form is considered the main star and creator of the future of the Portuguese team. Of course, he still attracts both media attention and the fullbacks on the pitch, but there are other great players in Fernando Santos' squad who have matured to shine.
For example, Rafael Leão, who is currently making a huge impact for AC Milan (21/22 Serie A Player of the Year). He is not yet the starting player for the national team, but will surely replace the same Cristiano if necessary.
A lot will depend on this lad in the match against Spain as well. If Cristiano gets discouraged again, someone will have to take the lead in attack. And Leão, even alone, is capable of feeding La Furia Roja with goals, especially with their defensive problems: playing first-choice, the Spaniards are bad at stopping counter-attacks.
Spain News & Current Form:
After the 4th round of the Nations League campaign, which saw Spain move to the top of the table, it looked as though nothing would change, but the Red Fury made a fatal slip-up after that. The Spanish side should have won the game against Switzerland, especially playing at home, but ended up conceding two goals after corners to lose 1-2. Moreover, the opponent attacked extremely moderately and even in the episodes with the scored goals they were in an absolute numerical minority in the opponent's penalty area, however, the hosts' defenders were just yawning.
Overall, Spain only got two victories in the group stage – over Switzerland (1-0) and the Czech Republic (2-0). They drew with Portugal (1-1) and the Czech Republic (2-2).
"We knew that Switzerland are extremely dangerous opponents. We took to the field to play to win but we failed to achieve the desired result," said César Azpilicueta.
This defeat, which was the first in the last nine games, came at a terrible time as Portugal thrashed the Czech Republic 4-0 to move into the lead. Spain will now have to win the last round to avoid a spoiling of fortunes ahead of the FIFA World Cup in Qatar.
The situation does not look rosy, but it says practically nothing. In the last UEFA Nations League tie, the Spaniards' position after the opening five rounds was identical. But they beat Germany 6-0 to reach the semi-finals, where they ended Italy's unbeaten streak of 34 matches (2-1).
And this despite the fact that Luis Enrique was severely limited in reserves due to injury blow. Head coach had to use some players in unfamiliar positions and trust quite young players – Gavi and Bryan Gil – who previously had no official game practice for the national team. Well, his charges did not let him down.
The Red Fury still lost in the final, but gave a more than decent opposition to France (1-2). That result, however, cannot be called logical. First, the Spaniards dominated in possession of the ball. Secondly, the French's winning goal was resonant: the scorer, Kylian Mbappe, was offside according to the latest interpretation.
Now, the visitors are coming to Braga to win, and their attacking style is clearly a recipe for success. Will their back line be reliable too? We will find out as the match progresses.
Portugal form guide (all competitions): W-D-W-W-L-W
Spain form guide (all competitions): W-D-D-W-W-L
Portugal vs Spain Head-To-Head Record:
Portugal vs Spain Predicted XI:
Portugal possible starting lineup (4-3-3): Costa; Dalot, Dias, Pereira, Cancelo; Neves, Palhinha, Fernandes; B. Silva, Ronaldo, Leao.
Spain possible starting lineup (4-3-3): Simon; Carvajal, Garcia, Torres, Alba; Koke, Rodri, Pedri; Sarabia, Morata, Torres.
Statistical preview of the match Portugal vs Spain:
Portugal have not lost in each of their last 6 games against Spain.
Portugal have not lost in 35 of the last 37 home games.
Portugal have won in 6 of the last 7 home games.
Spain have scored less than 1.5 goals in 7 of the last 8 games against Portugal.
Spain have scored in 16 of the last 17 UEFA Nations League games.
In only one of their nine away matches in the Nations League have the Spanish team managed not to concede.
Portugal have scored in 14 of the last 15 home games.
Spain have scored less than 2.5 goals in each of their last 7 UEFA Nations League games.
Spain have not lost in each of their last 5 away games.
Don`t miss out 👉: Top 10 clubs with the highest net spend in the past decade
What has been said before the match:
Fernando Santos, Portugal gaffer:
"Do you think we can have more pressure than we have already? These players have pressure everywhere they go. They always play to win, to be champions. We always play to win, we demand it. We can't have more pressure than that, right? That means we know how to deal with pressure, as we have been earning positive results."
"I expect a Spain just like they always are. They don't change a thing. Everyone knows Spain. They've played the same way for 20 years. It's a team of possession, pressure, one that reacts well to the loss of the ball. They have a clear matrix in the way they play. We don't have to be worried about Spain but we have to respect them, as we respect all opponents. We have to be focused on ourselves."
"We just have to focus on winning rather than reaching the final four. I want the players to face Spain on their merit, as they do all opponents. Do that and we will always be closer to getting where we want to go."
Luis Enrique, Spain gaffer:
"We have a great opportunity to qualify. We are approaching this game it as if it were the quarter-finals in Qatar. It's 90 minutes and we have to win, not even a draw will do. It's a final: it's a good thing. You don't usually play many in the course of a campaign and we'll be involved. I'm sure we'll measure up."
"We have always said Portugal are a very talented team with an outstanding physique. They have already achieved very important things, and the evolution of teams is usually measured by what they win. Like Spain, they are a national team that does very good work in the under-age categories. They are a more settled team than us."
Portugal vs Spain Prediction:
Both teams secured tickets to the World Cup in Qatar thanks to superb football. The Spaniards suffered only one defeat and one draw in eight rounds of group-stage qualifying. The rest of the encounters saw victories. All matches have been marked by goals.
The Portuguese have played more matches in World Cup 2022 qualification – 10 (eight group stage matches and two play-off matches). During this period, they lost only once, to Serbia (1-2). The draws were also played against Serbs (2-2) and Ireland (0-0). Fernando Santos's charges got victories in all other games.
It is clear that the teams are approaching the game with mixed thoughts. Spain can't get over the defeat to Murat Yakin's side, who also beat the Portuguese. Ronaldo needs to unshackle himself and ignore the wave of criticism.
And beyond the emotional background, the pressure of the game itself is enormous; Luis Enrique, for example, approaches it as a Mundial's quarter-final.
The side that can handle their emotions and keep a cool head will win, but there will be goals from both sides. There's too much aggression accumulated between the teams. The upcoming match promises to be very interesting and productive. Both teams' offensive line is excellent, as the statistics and results from the distance prove.
Don`t miss out 👉: Mumbai City is on the trot to reclaim their lost supremacy
Parimatch News staff prediction:
We say: both teams to score – Yes.