Odisha signs central defender Narender Gahlot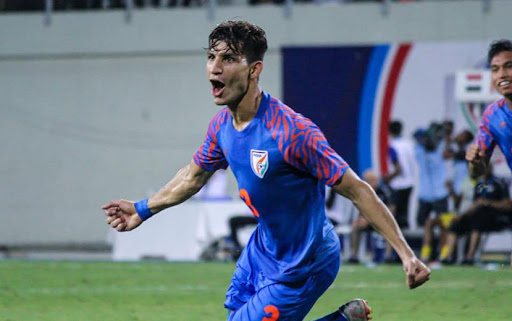 Narender Gahlot celebrates a goal in the Indian jersey
Odisha announced the signing of the former Jamshedpur central defender Narender Gahlot, keeping him at the club until the 2024-25 Indian Super League season. The 21-year old is the second-youngest goalscorer in the Indian National team after Jerry Zirsanga.
The Juggernauts expressed immense happiness with Gahlot's entry into the club and the club president Raj Athwal praised his skills and said,
"Narender brings a lot of quality and a winning mentality to our backline. As a young central defender, he has a lot of potential and we hope that he plays his best football for Odisha."
The Delhi-based player trained in Chandigarh football academy and got selected for the U-16 category. Unfortunately, he missed his chance of playing in FIFA 2017 due to an injury. His comeback to the national team and his instrumental performances with Jamshedpur have raised hopes for Odisha to win the next ISL season.
"I also played for Sports Authority of India (SAI) in Dehradun and during my time there, I got selected for the India U-16 squad in 2016. Four years later, I am still learning — from the best now. Sunil-Bhai always shares his valuable experience in the national camp, and Jhingan-Paaji shows me how to be effectively aggressive with my defending."
He rose to fame after his entry into the Indian Arrows. The Croatian football manager and the current Indian National team manager, Igor Stimac refined Gahlot's defending skills moulding him into a strong central defender. Naturally, a midfielder, he now plays as a central defender for most of the matches and has proved his mettle at the back.
The 21st century-born star made his debut in the senior Indian team in Intercontinental Cup 2019. Thereafter, he made a debut in 2019-2020, ISL with Jamshedpur. The 21-year-old has played 36 ISL matches with 14 appearances in the 2021-22 ISL season establishing himself as one of the key defensive players at the club.
Narender was observed giving a mind-blowing performance during his tenure at the Jamshedpur. He initially aspired to become a cricketer, but his choice of football as a profession wasn't unusual because he has always had an interest in sports and this has been running in the family too.
He said,
"During my childhood, cricket was all I knew because of my uncle. Everyone in my family always wanted me to be an expert in any sport though. After one of my friends introduced me to football, my goal changed. I went from playing for IYSA (India Youth Soccer Association) academy in New Delhi to joining Chandigarh Football Academy (CFA) within two-three years."
His ground-breaking match was the one in which he played a second match against Syria on 16th June 2019 at EKA arena, Ahemdabad and managed to score a goal through his exceptional tackling skills. It was also his first International goal altogether. He also won his first "Player of the Match" award making him the second-youngest scorer in the Indian National team.The former Jamshedpur defensive stalwart becomes Odisha's third signing of the transfer window after roping in former Hyderabad defender Nikhil Prabhu and former ATK Mohun Bagan winger Michael Soosairaj. With Gahlot's entry, the Odisha team is set to play with a strong squad in the upcoming ISL season.