Manchester United secured a ticket to the next round as they easily thrashed Real Sociedad on the road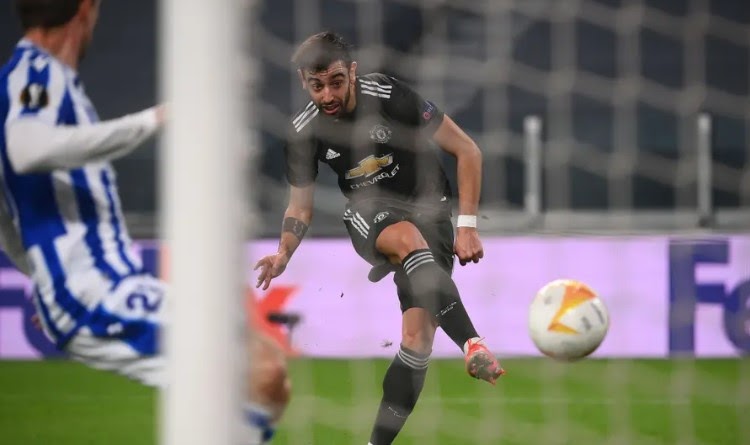 Fernandes shooting the ball past defenders
Manchester United beat Real Sociedad 0-4 in the first leg of the Europa League 1/16 final. The English team faced no resistance from the Spanish side and have practically secured a trip to the next round.
In the first half, Bruno Fernandes opened the scoring in Turin.
Furthermore, some time ago Bruno Fernandes got another moment and perfectly curled the ball into the bottom corner from the edge of the box. In that way he converted the second and eased the game so much.
The third goal was scored like this: a lovely ball from Fred set Rashford away, and Rashford perfectly placed the ball beyond the reach of Alex Remiro.
After that, young pacey man Daniel James got the ball from Bailey and simply charged with his head down towards goal before slotting into the opposite corner.
Paul Scholes spoke on the performance of the Portuguese:
"Bruno Fernandes has been sensational since the day he signed. Every single game you feel he will score. He's been a truly terrific signing. He knows where everyone is on the pitch, he has a picture in his head and he is capable of playing the killer pass every time."
It looks like that lads from Manchester have secured an easy walk in the return match. Ole Gunnar Solskjaer couldn't have wished for things to have gone much better in Turin tonight.
Manchester United midfielder and hero of the match Bruno Fernandes:
"The result is pleasing, we want to win games. We did everything well. Still we have a tough game to play at home. We know 4-0 is a good result but we have to be aware of what they can do. My target is to score the most goals I can, that is my position. Our only target is to win trophies."
Bruno Fernandes has now scored 21 goals across all competitions for Man Utd this season. The club's leading goalscorer this term.
Marcus Rashford has now scored in every competition he has played in this season: Premier League, Champions League, EFL Cup, FA Cup and Europa League.