Man Utd and Arsenal go through, Tottenham sensationally OUT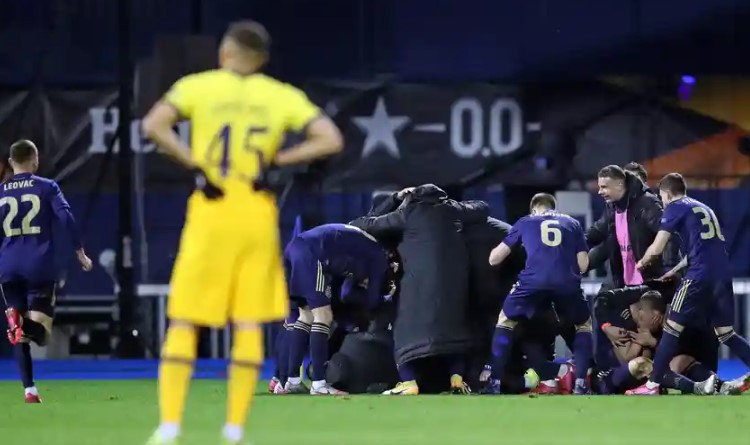 Dinamo Zagreb players celebrating getting to the next Europa League round as Orsic scored a winner in the extra time
Last night gave us an incredible emotions, as the English teams managed to make it to the next round even tho it was tough, and what is the real shock and cherry on the cake for all the football lovers: the loser of the evening Tottenham, that was just humiliated by Mislav Orsic from underdog Dinamo Zagreb. We gathered all the details of the Europa League 1/8 finals for you.
Results:
Arsenal v Olympiakos – 0-1 (3-2 agg.)
Goals: El-Arabi (51′)
Arsenal were given a scare by Olympiakos but had enough from the first leg to beat the Greek side on aggregate and reach the Europa League last eight.
Some nerves began to show after Youssef El-Arabi's shot found the net via a deflection off Gabriel to give the visitors hope of repeating last season's shock – when they knocked the Gunners out of the Europa League in the last 32 by scoring in the final minute of extra time at Emirates Stadium.
However, the Greek side were unable to build on El-Arabi's goal as Arsenal managed the remainder of the tie adequately to progress, helped by a red card shown to Ousseynou Ba for dissent late on.
Dinamo Zagreb v Tottenham Hotspur – 0-3 (3-2 agg.)
Goals: Orsic (62′, 82′, 106′)
Mourinho definetely knew something before the match saying that "the game is not over". And the Portuguese was right, Tottenham not only lost – but was eliminated due to a flawless hat-trick by Orsic.
Don`t miss out 💥: What do Premier League managers say before the Europa League matches?
If the result leaves Tottenham in turmoil, you could forgive Dinamo for having little sympathy, given they lost their head coach Zoran Mamic to a prison sentence for fraud in between the first and second legs. The Croatian league leaders responded with a display, and result, that will go down in the annals of their history.
Quarterfinals progression is the best Dinamo achievement in the history of Croatia (since 1992).
Jose Mourinho was philosophical after the match:
"I am disappointed for a difference of attitude of one team to another. I feel sorry that my team is the team that didn't bring to the game not just the basics of football but the basics of life, which is to respect our jobs and to give everything."
"I can only apologise to the Tottenham supporters. I hope they feel the same way I feel. Today is live or die – and in this moment, we die."
Molde v Granada – 2-1 (2-3 agg.)
Goals: Vallejo (og 29′), Hestad (pen 90′), Soldado (72′)
The pairing of Molde and Granada wasn't the brightest, but it was here that the funniest moment occurred. Real Madrid's youngster, Jesús Vallejo, made the absurd cross into his own net, stumbled and fell over…
However, Granada then equalized thanks to the efforts of Roberto Soldado, which was enough to get into the next round.
Shakhtar Donetsk v Roma – 1-2 (1-5 agg.)
Goals: Júnior Moraes (59′), Mayoral (48′, 72′)
Borja Mayoral calmly made a double against Shakhtar to increase the overall score. Roma easily advanced to the next round.
AC Milan v Manchester United – 0-1 (1-2 agg.)
Goals: Pogba (48′)
Manchester United squeezed into the Europa League quarter-finals the hard way: coming to Milan and earning the victory required. In doing so, Ole Gunnar Solskjær's men won their biggest game of the campaign.
The 28-year-old Pogba was making his first appearance in the competition this season, after coming back from a thigh injury which has kept him out since 6 February. And he was that one to make the difference. Paul scored a single unanswered goal in the return leg which granted Man Utd a ticket to ¼ finals.
Rangers v Slavia Prague – 0-2 (1-3 agg.)
Goals: Oladeji Olayinka (14′), Stanciu (74′)
This actually was Rangers first home defeat of the season, having been unbeaten in all 21 matches at Ibrox in all competitions.
Don`t miss out 💥: Gerrard makes Rangers dream come true as Glasgow team won its 1st SPL title in 10 years.
But these are not the most interesting facts of the match…
First, the substitute Kemar Roofe kicked Slavia goalkeeper Kolář in the face. Roofe, who scored one of the most distant goals in the history of the Europa League in the group stage, was sent off with a straight red card – however, no one was particularly surprised. The goalkeeper's face after the collision looked creepy.
Then, 12 minutes later, the Scots were left with nine players – defender Leon Balogun received his second yellow card for a rough tackle. Slavia scored from the awarded free kick making the score 2-0.
But the game didn't end there!
In the 87th minute, Ondrej Kudela said something to Jerseys' Finnish midfielder Glen Kamara after a brutal foul. The result was a fight between them!
Steven Gerrard bumped into Slavia's coaches, and after the match he came out and said that the reason for the conflict was racism.
"I told him 'You f**king guy'. It was said in emotions, but I absolutely deny there was anything racist in those words,"

Kúdela stated.
Slavia also said that after the game Kudela was attacked, although he did not insult anyone – the club asks UEFA to conduct a thorough investigation of the episode.
Villarreal v Dynamo Kyiv – 2-0 (4-0 agg.)
Goals: Gerard Moreno (13′, 36′)
Villarreal confidently beat Dynamo Kiev without much effort, Unai Emery has a chance to meet his former team Arsenal in the next stages, it would be interesting.
Young Boys v Ajax – 0-2 (0-5 agg.)
Goals: Neres (21′), Tadić (49′ pen)
Ajax quietly hammered the Young Boys 5-0 in two games. The Dutch played a couple of very nice combinations and Maarten Stekelenburg made a couple of good saves.
Arsenal have made it to the quarter-finals for the fourth time in their last five Europa League/UEFA Cup campaigns (knocked out at Last 32 stage last season), after failing to reach that stage in each of their first five attempts.
Dinamo Zagreb's Mislav Orsic has been directly involved in seven goals in his past five Europa League games (five goals, two assists).
Dinamo have won their national title in 14 of the past 15 seasons but this win ended a wait of 51 years for a European quarter-final appearance, their last having come in the now-defunct Cup Winners' Cup in 1970.
Harry Maguire has played more minutes than any other Premier League player in all competitions this season (3,855 mins).