Man City gain victory in London to continue 25-match unbeaten run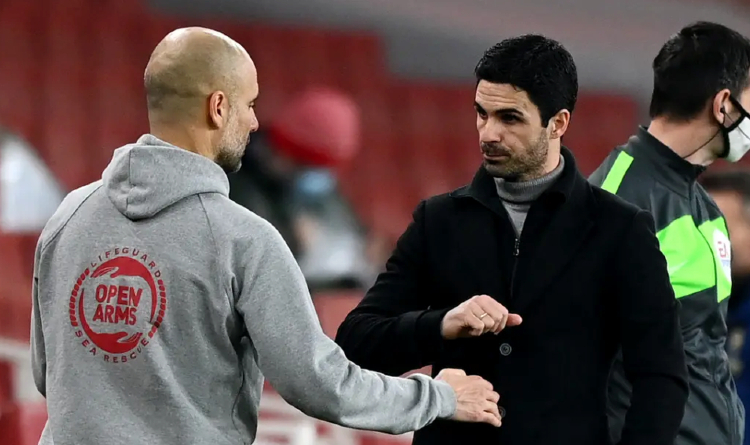 Pep Guardiola and Mikel Arteta after tomorrow's match at Emirates
Manchester City beat Arsenal 1-0 on Sunday evening in the Premier League Matchweek 25.
The match was not bright on moments and its fate was decided early from the start. Winger Raheem Sterling (who is just 1,7 m tall) jumped higher than two big center-backs after a great cross from the right flank and elegantly headed the ball into the net, Bernd Leno сould not help in that situation.
This is Citizens' eighth consecutive win over the Gunners in the English Premier League. In six of those matches, Man City have not conceded a goal, with the total score standing being 19-2. The last time the club from Manchester City lost points against Arsenal in league was in April 2017 (2-2).
However, Arsenal are not so hopeless as they managed to knock Manchester City out of the FA Cup last season (2-0), which they subsequently won.
Lads of Pep Guardiola have also won 11 away victories in a row in all competitions. They have repeated the record for a top-flight club in the English league, which they set in 2017.
The last time Man City failed to win on the road was on 12 December, when Pep Guardiola's side drew 0-0 with Manchester United.
Guardiola also shared his satisfaction at what he termed another 'really important' victory for City:
"We are delighted for the three points. It's the Emirates, Arsenal away and I know how good Mikel's teams play. It's a really important victory for us."
Pep said that, despite the record, his team is looking forward and will try to get all the points to win the league.
"The record is going to be broke one day, we will lose games. We only think about the next game, this is the only secret. I am surprised and impressed. When everyone is suffering in this world and everyone is dropping points, we win in Anfield, Tottenham, and at Goodison Park.
I am more than pleased to win 1-0. To have a record you have to win like this. You can't always win by three or four. We don't have time to do anything, just recover and prepare mentally. There are 39 points to play for and we need the victories to be champions and we will try in the next games."

the boss asserted.
Manchester City now will focus on the Champions League as they face Borussia Monchengladbach in Budapest in the last 16 on Wednesday, 24 February (20:00 GMT), while Arsenal play Benfica in Athens in the second leg of their Europa League last-32 tie (17:55 GMT).