Laporta targets Aguero to convince Messi to stay at Camp Nou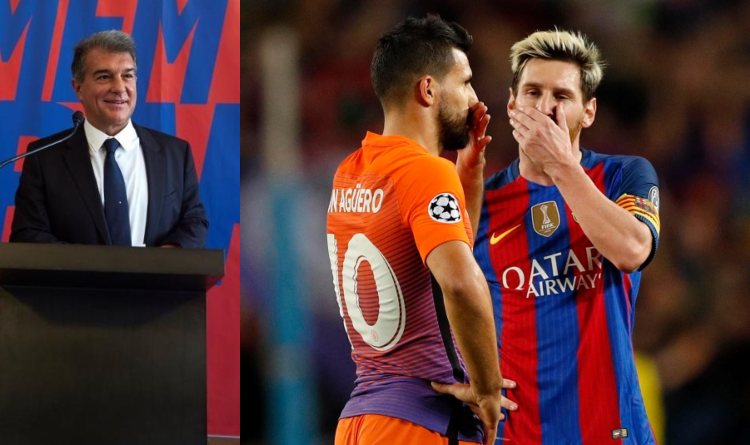 Laporta hopes to keep Messi by opening a contact with Leo's best friend Sergio Aguero
Spanish media report that Premier League runner-up have received a format transfer offer for their greatest-ever goalscorer.
The Cityzens striker Sergio Aguero, who is yet to extend his contract, is reportedly exploring his options outside of Etihad Stadium. With his current deal expiring in June, the 32-year-old is officially free to contact non-English clubs over a potential move. The Argentina international and his agents have already met Barcelona's newly-elected president Joan Laporta, sources in Spain report.
Injuries and coronavirus are darkening Aguero's 10th season at Etihad. From September till December, he missed eight Premier League matches due to a knee injury which allowed him to play only 110 minutes without scoring a single goal. After playing only for 31 minutes, the forward tested positive COVID-19, hence was sidelined for seven more league matches. Aguero managed to score his season debut Premier League goal on Saturday as Pep Guardiola's side gained an away 3-0 victory over Fulham.
Earlier this month, the head coach shed some light on Sergio's future:
"As a human and as a person, even as a player, of course [I would like Aguero to stay]. But we have to see what happens at the end of the season. We have to be calm. The club will speak to his agent to know the situation and we are going to talk at the end of the season,"

Guardiola said.
During his election campaign, Barcelona's new president Laporta claimed that his first priority is to keep Lionel Messi at the club. Six-time Ballon d'Or winner's future remains uncertain since August 2020 when he informed the club of his intention to leave yet changed his mind shortly after. According to many sources, the 32-year-old is expected to call time on his Blaugrana career at the end of the season. Targeting Aguero appears to be the board's sophisticated plan as Aguero and Messi have been close friends both on and off the pitch since their Argentina youth national team days.
Laporta won the election for the second time. The club members voted him to replace Josep Bartomeu, who found himself at the centre of the 'Barcagate' scandal.
Messi's intention to leave Camp Nou after 16 consecutive seasons drew the attention of a few European clubs including Manchester City, Inter, Juventus and Bayern Munich.
The English club was considered as a main contender for the stiker till late February when City board reportedly denied making an offer.