It's coming home! England beat Germany to reach Euro 2020 quarter-finals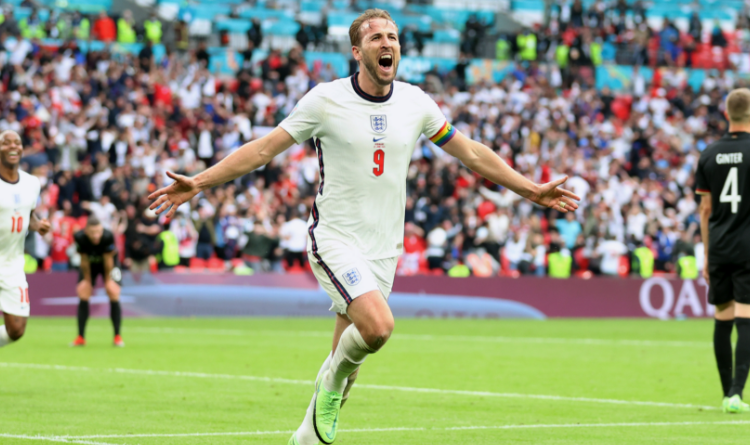 "Incredible day, incredible match. To hear such a Wembley - we will never forget it. Any team will consider us a dangerous opponent. Of course, we want to go all the way. Whoever we play, we will be ready," - said the team skipper Kane, who finally scored his first goal at the Euro
England defeated Germany (2-0) in the 1/8 finals of Euro 2020. They made it for the first time since 2001.
The decisive goals came at the end of the match: Raheem Sterling opened the scoring in the 75th minute after the cross by defender Luke Shaw, then Harry Kane added one more to seal the victory, Jack Grealish assisted. Before that, Jordan Pickford made a couple of very important saves – he was superb today.
Alan Shearer, former England striker, summed up the match:
"That's what happens when you put balls into the box. That what happens when you are prepared to run at people and commit people. There were some big performances out there in the second half."
"Pickford one save in the first half, one save in the second half. Luke Shaw I thought was superb in that second half driving forward. Sterling obviously, John Stones in everything he did defensively I thought was pretty much spot on. And well done Gareth. He stuck to his plan, it worked. Onwards and upwards." –

he assessed the best players of the encounter briefly.
England is the only participant in the quarterfinals, who has not conceded a single goal during this tournament. Moreover, in the last 10 matches, they conceded only one goal.
Unfortunately, this was the last match of the head coach Joachim Löw. He announced his departure ahead of Euro 2020.
After the victorious 2014 World Cup Germany has never reached the finals of a major tournament. At Euro 2016, the team lost in the semifinals, and at the 2018 World Cup, the team failed to make it out of the group.
The next head coach of the German national team will be Hans-Dieter Flick, who previously headed Bayern Munich.
Don`t miss out 💥: France are OUT from Euro 2020! Switzerland won a penalty shoot-out as Mbappe missed the decisive shot