Halicharan Narzary & Asish Rai: It has been a great time working under Manolo Marquez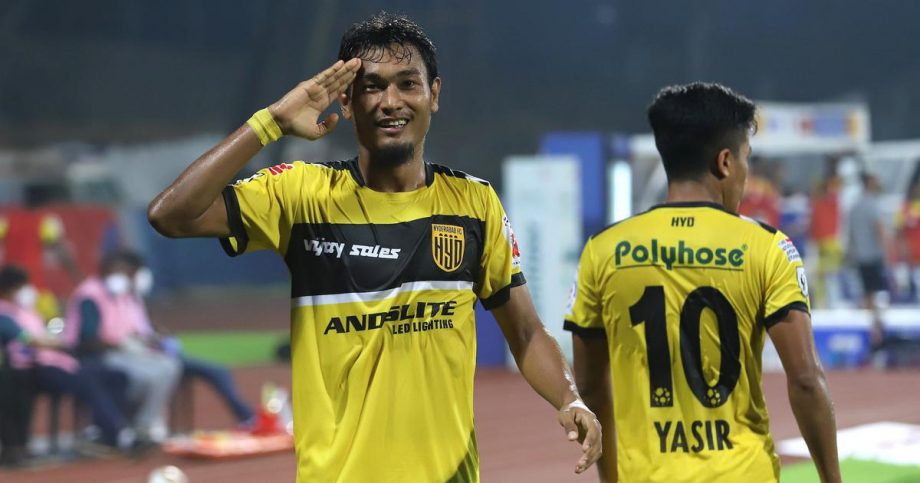 Halicharan Narzary celebrating a goal with Mohammed Yasir
Hyderabad FC suffered a poor first season in the Indian Super League as they finished in the last position and failed to keep a single clean sheet in the entire league season. In the ongoing 2020-21 ISL season, the Nizams have turned their fortunes around with consistent performances at the back and much improved attacking play as well.
The Hyderabad-based club currently sits in the fourth position in the league table with 23 points from 16 matches courtesy of 5 wins, 8 draws, and just 3 defeats. The Manolo Marquez led team would be hoping to qualify for the semi-finals with NorthEast United FC breathing down their neck in the fifth position.
The Nizams should be confident of making it to the playoffs as they are currently on an eight-match unbeaten streak and haven't lost a single match in 2021. Hyderabad has faced tough teams like league leaders and favorites Mumbai City FC, two-time champions Chennaiyin FC twice, and competitors NorthEast United FC as well.
Hyderabad FC winger Halicharan Narzary talked about how the squad is currently approaching every game as it comes and also talked up the confidence of the team. The 27-year old said,
"We are all working hard. Right now, we're taking it game-by-game. The league is very competitive and what we've seen so far is that any team can beat any team on a given day. Results are important but we have to stay focused and not take any game lightly."
With four goals in the ongoing ISL season, Narzary has been one of the key players in the Hyderabad squad but the pacey winger talked down his own achievements and discussed how the team functions as one. He also reckoned that with star players returning from injuries, it has been easier for the club to extend their unbeaten streak. He said,
"In football, expectations are always there. But the most important thing is to stay focused on the team's plan. Football is a team game, and only when you play together as one, you will see results. But as a player, it's our responsibility to keep giving one hundred percent in every single training session as well as in each game. Our players are now back from injuries so they are definitely helping our team more."
When asked about the new manager and what difference he brings to the table, Narzary quipped,
"It has been a great experience working under Manuel Marquez. He is very experienced and brings in a lot of confidence among us. I have managed to learn a lot from him and we have managed to play and stick to our style of football."
First team right-back Asish Rai also heaped praise on Hyderabad FC manager Manolo Marquez praising the 52-year old for his positive coaching skills. Rai quipped,
Manolo Marquez is a really good coach and a nice person to talk to as well. He makes sure that we are disciplined, is happy to correct the mistakes of every individual, and spends most of his time trying to help us improve.
Hyderabad FC has been a hotbed of young Indian players breaking through the squad with Akash Mishra, Chinglesana Singh, Hitesh Sharma, Mohammed Yasir, Liston Colaco, Rohit Danu, and Asish Rai making a place for themselves in the matchday squad on a regular basis. The 22-year old defender thanked the Spanish manager for giving chances to the youngsters and praised his man-management as well. He said,
"For him, it does not really matter if you are a senior or a youngster or if you are an Indian player or an overseas player. If you do well in training, you will get your chance. This is what pushes us to train harder and I would like to thank him for giving me these chances."