Christian Eriksen scores with his first touch just two minutes into emotional return for Denmark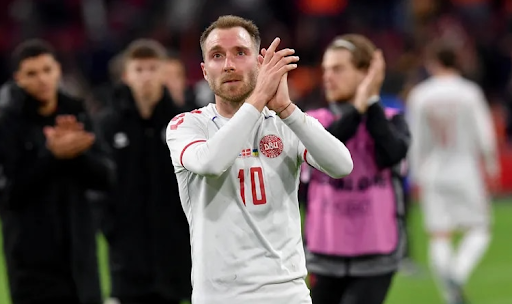 Midfielder thanking the stands for their support
Christian Eriksen netted his first goal since returning to the Danish national team after he suffered a cardiac arrest at Euro 2020! It happened in his almost home city of Amsterdam in a friendly against the Netherlands.
Christian made a very bright return to the Danish national team. In the 46th minute he came on the pitch against the Netherlands and after just couple of minutes he managed to score a beautiful goal: Andreas Skov Olsen, after a right-wing run, found the number 10 breaking into the penalty area with his ground cross, who with one touch rifled an effort into the roof of the net of Mark Flekken.
Eriksen made it 2:3 and could have scored even more but hit the crossbar in the 74th minute, by then the hosts re-took a two-goal lead as the Netherlands' Steven Bergwein made a double. The Danes lost 2:4.
Amazingly, just nine months ago, Eriksen nearly died of a heart attack on the pitch, and now he is a key part of the team again. This, after all, is his first goal since returning to the pitch: he had played two and a half games for Brentford with an assist in the last game.
Don`t miss out 👉: Ambitious Premier League newcomer Brentford announces the signing of Christian Eriksen
Symbolically, Christian netted his first one after recovery at the Johan Cruyff Arena – here he began his remarkable career for Ajax.
When the Dane took to the pitch early in the second half, the stands gave him a standing ovation. And it was twice deservedly so.
"It has always been lovely place and today is an even more special place for me to play my first international game in this stadium. I was very happy with the way I was welcomed by the Netherlands fans. I played for Ajax here, so of course they know me. It was certainly a very heartfelt welcome."

Eriksen said after the match.
"I was happy the ball came to me. I thought it was a lovely finish and to start my international comeback like this is a perfect way. If you take away the result, I'm one happy man. To go through what I've been through, being back is a wonderful feeling."

the 30-year-old shared his emotions about the goal and international return.
"I am looking forward to playing in the World Cup in Qatar, but there are a lot of games ahead and my focus is on them." 
On the 29th, Eriksen will return to Copenhagen's Parken Stadium, the same ground where the shocking incident took place. There will be a friendly against the Serbs.