Zimbabwe wins by a slim margin thanks to Williams' 142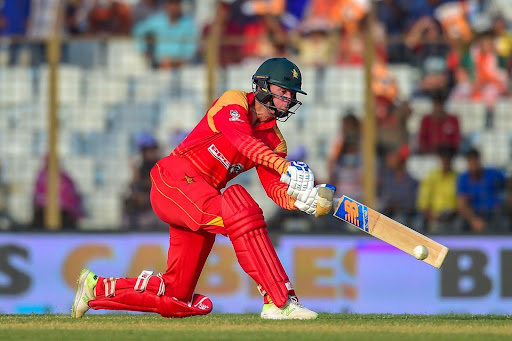 In the World Cup qualifier, Sean Williams scored three hundreds.
Oman made a brave effort but came up painfully short as Zimbabwe won by a razor-thin margin of 14 runs to open the Super Six stage. Sean Williams' score of 142 defeated Kashyap Prajapati's score of 103, which was the first century scored by an Oman batter against an ICC full member.
Sikandar Raza and Luke Jongwe cameos, as well as a number of other helpful contributions made by players all the way up the order, all helped Williams' superb innings. In order to stop Oman's onslaught, Tendai Chatara, Blessing Muzarabani, and Richard Ngarava each scooped up three goals with the ball.
With the victory, Zimbabwe has a chance to compete in the World Cup proper; nevertheless, they can still qualify even with two losses if other results go their way. They need to win both of their remaining games to do so.
Oman's performance served as yet another illustration of the shrinking gap between Associate countries and their full-member counterparts, even if their chances of qualifying are now practically nonexistent due to their lower net run rate.
Sean Williams, Raza, and Craig Ervine were all dropped, and there were also other easy runs given away and run-out opportunities squandered. Oman will be sorry for the missed opportunities. Zimbabwe, on the other hand, seized every opportunity, most notably when Raza successfully completed an amazing over-the-shoulder grab to dismiss the set Prajapati.
Williams is at the highest level of his abilities right now, putting up numbers that are hardly credible as he enters the final stages of his career.
He scored a 103-ball 142 at Bulawayo, a venue where he has spent countless hours playing club cricket, and was on the verge of overtaking Sanath Jayasuriya as the only other player to have scored two consecutive scores of 150 or more in ODIs.
He currently has 532 runs for the tournament with potentially three more games to play, and his average is fighting with his strike rate.
He arrived on Thursday in the middle of the overs and changed gears without any difficulty. Williams provided Zimbabwe with a guy for every situation despite the fact that the surface in Bulawayo wasn't entirely to the batters' liking.
He participated in significant partnerships all along the way, including 64 with Wessly Madhevere, 103 with Raza, 41 with Ryan Burl for 41, and eventually 21 with Jongwe.
Williams was the more dominating partner in each of them, setting boundaries all over the place when necessary. He was only able to maintain a strike rate of less than 100 (90) thanks to the great Kaleemullah.
Oman may have thought it would be possible to come in a few sparing overs when Williams fell with only five overs remaining, but Zimbabwe's tail dramatically waggled, thanks to a combination of strong running, streaky boundaries, and fielding errors, to take 55 off the final five.
On a track that wasn't exactly easy to bat on and with a target of 333 set at that point, Oman went about their pursuit with the insight of more seasoned competitors, never letting the needed rate grow out of control, finding boundaries when necessary, and limiting dot balls.
However, Zimbabwe maintained pressure and didn't retreat when chances presented themselves, unlike Oman, which had given the batters from that country some breathing room. Although no one was astonished because they had just been doing it throughout the tournament.
Zimbabwe 332 for 7 (Williams 142, Jongwe 43*, Raza 42, Butt 4-79) beat Oman 318 for 9 (Prajapati 103, Ayaan 47, Ilyas 45, Muzarabani 3-57, Chatara 3-73) by 14 runs