Win over Pakistan carries a lot of 'emotions and significance' for Afghanistan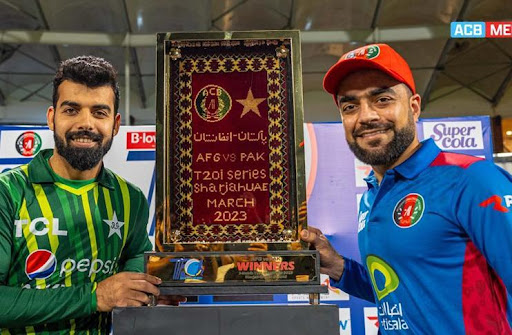 Afghanistan defeated Pakistan and won the series with 2-1
Afghanistan is celebrating its first-ever T20I series victory over Pakistan, and its assistant coach Raees Ahmadzai says the victory may "give our cricket a new spirit."
Two years have passed since Ahmadzai joined the group. He sat on the sidelines as Afghanistan won both T20Is, their bowlers holding Pakistan to 92 for 9 in the first and 130 for 6 in the second.
Afghanistan went on to win both matches, 2-0. While a young Pakistani squad discovered new heroes of their own, they were unable to complete the series sweep, but the spirit in the camp is still reasonably cheerful.
"Beating a higher ranked team is big for the country," Ahmadzai said. "I can't explain the significance of this victory in words because it carries a lot of emotions. This is going to give our cricket a new spirit and give us a belief that we can do it and we did it. It became history and we are going to take this trophy back to Kabul giving our people much-needed joy."
The only other T20I series victory they had over an ICC Full Member was against Zimbabwe and Ireland. The other two were in 2019 against West Indies and in 2018 against Bangladesh.
The three games that occurred last week were not a part of the Future Tours Program. Since Australia withdrew from playing against Afghanistan, it was planned to cover the gap in the schedule.
In ICC competitions up until this point, Pakistan and Afghanistan mainly competed against one another, with Pakistan winning the great majority of the matches.
Nevertheless, this time they entered the series with a number of their starting players on rest, including Babar Azam, Mohammad Rizwan, and Shaheen Afridi, and Afghanistan took advantage.
"It is special to win against a top nation," Ahmadzai said, "And Pakistan fielded a strong side with a lot of PSL performers who have been scoring big runs and taking wickets."
"So it's exciting to beat a top cricket nation. It's not like we never came close to beating Pakistan before. There were some close games in the past in which Pakistan won but it's good to pull a series."
"This is not just a win for Afghanistan cricket but for cricket as a game because this victory is going to inspire many youngsters who will start picking up the game in Afghanistan. Our people back home were skeptical, and taunted us, doubting our ability if we are ever going to beat a bigger team like Pakistan, India, Australia, and England."
"There were fans who don't understand the process but just want to win and want to take pride in it and now everyone is happy. It's like a festival now. Cricket has been a major source of happiness; people love cricket and this series win brought a lot of smiles. The game is already growing in the country and such wins change the dynamic at the grassroots."
Ahmadzai commended his players for making the most of the conditions in Sharjah, which provided Afghanistan and its spinners a little bit more than the pitches seen in the PSL.
"We knew that Pakistan team came from scoring so many runs in PSL and they could go all with the same pattern of hitting uppish,"

he said. 
"They are very talented cricketers but we knew the pressure of international cricket is going to test them. So we had to exploit the conditions and the rhythm they were enjoying playing in Pakistan. We have world-class spinners and we had to use our new ball smartly.
"We didn't have much time to prepare for the series but we knew this series was an opportunity to learn and execute what we know. We took full advantage of the conditions and restricted them to 90 and 130 odd runs. There are a lot of takeaways from the series, especially in our fast bowling department, we know we need to get more control in death bowling."
"We have stroke makers in our batting line-up but we have made them learn to take the innings deep when you have a bigger target in front of them. We have world-class spinners and they delivered up to the expectations."
There have been incidents of both fans and players fighting during games between Afghanistan and Pakistan.
When questioned about it, Ahmadzai responded,
"we have produced the finest T20 cricketer for the game Rashid Khan and I often hear odd things about our nation that we don't understand the game and don't have the temperament for high-class cricket which is totally wrong.
"We have role models in the form of Rashid Khan who is the greatest ambassador of the game. There was an isolated incident of aggression in the field which has given a false impression. We respect the game and showing passion on the ground is a natural act and very much part of the game."
"We play the game according to the rules and regulations defined by ICC. What happens in the crowd is out of our control, we can't control how people think and respond and it's the role of security and stadium authorities to manage."
"But what I can tell you is that we are a peace-loving country and play the game in the right spirit. There is a little rivalry going on with Pakistan and that's healthy for the game."
In this series, Ahmadzai recalled a scene in which Mohammad Nabi was seen staring at Imad Wasim after removing Faheem Ashraf.
"There was an incident that, to the outsider, might seem like an example of the usually tense atmosphere in these games, but actually showcases Nabi's smarts."
"Viewers might remember when he dismissed Faheem in the first T20, he turned around and apparently stared at Imad Wasim at the non-strikers. In fact, they had been discussing how much the ball was breaking on the pitch and when he took the wicket, he turned to show Imad Wasim, a team-mate at Karachi Kings, how much control he has over his bowling to have landed it exactly right."
In June, Afghanistan's next mission is a complete tour of Bangladesh, where they will compete in two Tests, three ODIs, and three T20Is.