While Steve Smith goes away to the wings, Ollie Robinson steals the show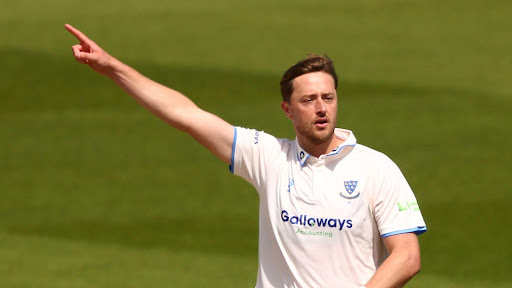 Seven wickets were taken by Ollie Robinson
While the first day of this match demonstrated the exceptional talent of a cricketer who will likely face Australia at Edgbaston in 43 days, it also served to remind the crowd of more than 2,000 spectators of the depth of talent present in the county game.
This is no little matter on a day when the press box was packed with reporters, some of whose publications seldom ever mention the existence of first-class domestic cricket.
Ollie Robinson's bowling, which was a standout aspect of a volatile day, will undoubtedly be cited in Friday's headlines, and rightfully so. It was justified for Cheteshwar Pujara to bowl first on a sunny morning when the tall Sussex seamer claimed four wickets in his first six overs to reduce Worcestershire to 43 for 4.
When Brett D'Oliveira edged Fynn Hudson-Prentice into Tom Clark's hands at third slip with only one more run added, that decision appeared even more cautious six balls later.
However, this Worcestershire team has a deep batting lineup, and on this increasingly dark day, they countered to great effect, scoring 219 runs for the sixth, seventh, and eighth wickets before Robinson returned to dismiss Matthew Waite, Joe Leach, and Ben Gibbon in seven balls, giving him 7 for 59, which was a perfect return on his investment.
Before being dismissed by a beautiful slower ball, Waite had reached 59 runs. Leach had assisted him in adding 103 runs for the eighth wicket when he nicked Robinson to second slip, where Steve Smith took the easy catch.
I did wonder when we would reach Smith, though. The nationals were attracted to New Road by the Australian's presence in the Sussex side, which may have led to a little increase in the audience size.
Mr. Smith Goes to Worcester has a pleasant cinematic resonance, but we would have needed a director with the skill of Frank Capra to make much of a day when one of the world's best cricketers played football with his new teammates before play began, took a simple catch in Worcestershire's innings of 264, and hadn't batted when bad lighting forced play to be stopped with Sussex neatly placed on 63 for 1.
In fact, Robinson's new-ball bowling was a superb demonstration of the skills that caught England's attention. He bowled with a brilliantly high action, presented the seam absolutely straight, and achieved an accuracy that provided the batting team with no outlets or relief.
Azhar Ali went leg before to a ball that appeared to be in, Jack Haynes' fourth delivery slipped away and Haynes was able to nick it, and Jake Libby lost his middle stump as he played down the incorrect line. Ed Pollock swiped foolishly and was captured at slip.
"For myself, knowing my body now, I've just got to keep bowling," said Robinson as he anticipated the Ashes.
"We've got two more Sussex games after this and then the Ireland Test. I'll try and play all of those, get in as many overs as possible and peak for the Ashes hopefully. It will be the biggest series of my career. You can see from last year how much the Sussex boys have come on. We are a young team anyway but they are all a year older and the batting and bowling look so much better."
Smith, on the other hand, diligently squatted down and rarely touched the ball throughout the 28 overs of the morning session. He observed Tom Clark make two catches at third slip and Tom Alsop make one at first; he participated as eagerly in the post-wicket celebrations for each of Robinson's four wickets as he did in the warm-up game.
We can only speculate as to whether he gave any thought to the possibility that he may face Robinson in Edgbaston, that bare-garden of Test grounds, in the opening game of the Ashes series, in less than six weeks. Maybe not. One realizes that Smith's concentration is so strong and his focus is so laser-like that he solely thinks about the task at hand.
It would be comforting to believe that he is committed to giving Sussex his best effort throughout the course of three games. That strategy would be sensible. Both the Ashes and the World Test Championship will occur at their own pace.
In the meantime, Worcestershire had started to rebuild their innings when lunch was served, and they carried on in the same vein throughout the afternoon session.
They were initially led by Adam Hose, who scored nine excellent fours in his first fifty on his home debut before being yorked by Henry Crocombe.
The blood-and-thunder highlight of the day for home spectators was the ease with which Matthew Waite smacked three sixes and reached his fifty off just 40 balls before Robinson bamboozled him.
Waite was helped by Gareth Roderick, who made 39 before he could do little with a lifter from Sean Hunt. Joe Leach, who is never one to back down from a challenge, contributed another fifty, and the unanticipated delivery of a bonus point was enthusiastically received.
In particular, Sussex's response was excellent given the increasingly gloomy evening in which they could have lost three or four wickets. The bowlers for D'Oliveira had to be content with the wicket of Clark, who was caught behind for 12 after driving at Josh Tongue. Ali Orr, who is undefeated at 33, seems to become better every time one sees him.
The iconic sign outside a 19th-century cricket pitch read: "Afterthought: Admission: 6d; if Mr Grace plays, 1/-." The disparity acknowledges the Doctor's era-spanning supremacy of the sport, but it also exhibits a curiously misguided attitude toward the efforts that make up a typical cricket day, which are simultaneously dexterous, earthy, and unpredictable.
Even with Bradman, there have always been multiple players in the game. Although it's hard to move at New Road this evening without running into someone who complains about the weather, tomorrow may be the day that we actually get to see Mr. Smith's impressive talent.