West Indies beat Pakistan by one wicket to take memorable test victory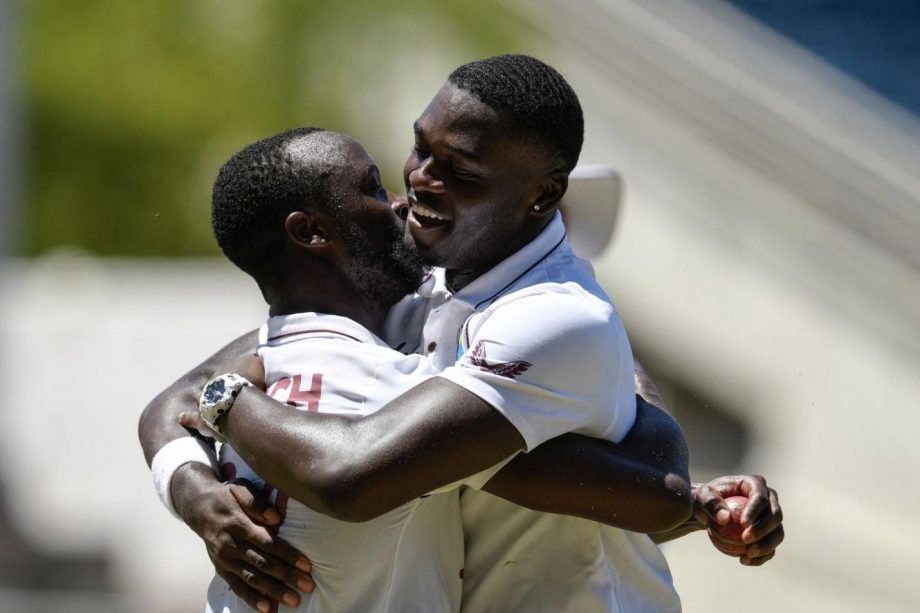 Courtesy ICC
Kemar Roach and Jayden Seales secured a remarkable victory for West Indies and win by 1 wicket.
Skipper Babar Azam's presence at the crease was always going to be needed but Babar Azam(55) and addition from lower-order took Pakistan to 203 all-out in the second innings. Jayden Seales picked up five wickets and he became the youngest West Indies bowler to get a test five. West Indies need 167 runs.
West Indies lost three wickets very early but Blackwood and Chase made a great partnership. They came out after lunch a much more confident pair. Hasan Ali was continuously doing struggled with his lines but all West indies needed was a great partnership, and as long as the pair continued to stay on the crease, the danger signs sparkled for Pakistan. Faheem Ashraf was the man who breaks their partnership, due to inside edge balls goes directly to the first slip and sent out the chase to the pavilion.
After tea, Da Silva and roach came out and West Indies needing 54 runs then Shaheen took the Silva wicket's and made a good chance for Pakistan to win this match but Roach took the responsibility for his team, and his 30 unbeaten secured that his side got over the line to seal the match.
West Indies win by 1 wicket and take a 1-0 lead against Pakistan.
The second and final test of the series will be on Friday.
"A remarkable Test. We never lost hope. Pakistan bowled very well, and this pitch requires patience from the batsmen. Whoever had more patience came out on top. We have some time before the next Test and it will be a different pitch. The bowlers did well, they were tired, but they gave it they are all. We have been working hard as a batting group and Blackwood is hungry for runs at his home ground so good on him. Pakistan will come back hard, but whoever is more patient will come out on top. I think this was a good cricket pitch – had something for the pacers, and had value for runs because the ball was coming on"

said Craig Braithwaite.
"Words can't describe how I feel after the five-wicket haul, I'm just thankful for the almighty. In the partnership with Roach, we talked about positivity and patience, just waiting, and eventually, we got there. Test cricket has been a dream and getting five today, really goes to the bowling coach who backed me to be successful at this level. All the bowlers keep telling me to keep going hard at the batsmen, hitting the lengths, and wickets will come. I wanted to give the strike to Roach, and just take the opportunities to score runs"

said Jayden Seales.
Player Of The Match: Jayden Seales