Usman Khawaja explains his wild celebrations after making century in first Ashes Test against England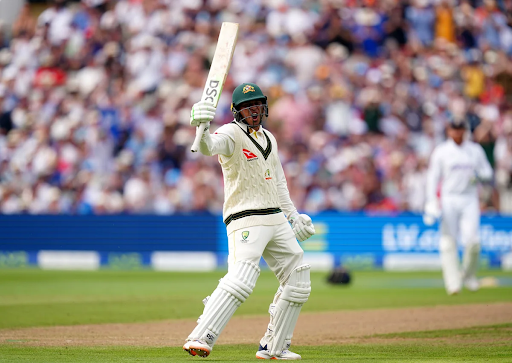 Usman Khawaja threw his bat in the air and celebrated wildly as he scored his first test century in England
Australia batsman Usman Khawaja has explained that he could not control his emotions and that he was not perfect after he completed his first century in England in the Ashes series during the first test match which is being played in Birmingham.
The left-handed Usman Khawaja, who was Australia's best batsman in the first innings of the ongoing test match, scored a brilliant 141 to help his side get near the total that England had made in the first innings as the home team was able to take a slender lead of just seven runs.
"I honestly don't know. Think it was a combination of three Ashes tours in England, being dropped in two of them. I don't read the media, genuinely I don't, but I'm getting sprayed by the crowd as I'm walking out there today and as I'm going to the nets that I can't score runs in England, so guess it was more emotional than normal,"
Usman Khawaja was quoted as saying by ESPNCricinfo after he made his first Test ton in England in as many as three different tours. 
"Feel like I'm saying this all the time, same thing happened in India. Not that I have a point to prove, but it's nice to go out and score runs for Australia just to show everyone that the last 10 years haven't been a fluke."
The Australian opening batsman said that he is not perfect and as human he is also bound to make mistakes, as well as show his emotions, when it matters the most. Australia were in a dangerous position after England dismissed main batsman Steve Smith and Marnus Labuschagne
early but a century from Usman Khawaja powered their innings.
"It's just what you see is what you get, this is Usman. I don't try to hide it. I'm not perfect, I make mistakes, but I'm happy to be out there and show everyone the real me. Don't know why the bat throw happened, but it happened. That was me."
Usman Khawaja was honest and admitted that not India but England has been the toughest place for him to find runs with the bat, something that she is accustomed to do on a consistent basis for the last many years in Australia.
"England is, in my opinion, the toughest place in the world to bat for top-three batsmen," Khawaja said before the tour. "If I've learned anything, it is work hard, train hard and [when] going to England, go with low expectations. You are going to fail as a batsman, but when you do score you try to cash in as much as you can."
"England, to their credit, they stuck to their guns, kept the field up and eventually got the wicket of Heady by just keeping the guys up. It was good cat and mouse," said Usman Khawaja.