The fearsome Scorchers prepare for Agar's absence from the BBL Finals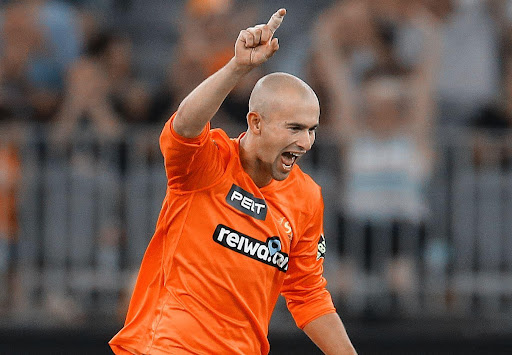 Ashton Agar won't be able to participate in the qualifying match in Perth
As he prepares for Australia's impending Test tour of India, spinner Ashton Agar will miss the BBL finals series, and injured fast Jhye Richardson's participation in the thrilling preliminary final between the Perth Scorchers and Sydney Sixers is also in doubt.
With an exciting 10-run victory over the Melbourne Renegades at Optus Stadium, the defending champion Scorchers secured first place on the BBL standings.
The outcome guaranteed Scorchers a home qualifying final versus Sixers on Saturday, in front of a sizable audience of about 45,000. The grand final will be hosted by the winner on February 4.
With CA releasing 11 players from the tour roster for the first week of the finals, the Sixers will have Steven Smith available for the qualification.
Frontline spinner Agar's removal from Scorchers' starting lineup against Renegades in such a crucial match was puzzling, but the team hierarchy was persuaded to choose 19-year-old spinning all-rounder Cooper Connolly instead due to Agar's unavailability for the finals series. Before the team takes off for India, Agar must undergo a pre-tour camp in Sydney.
Former Australia Under-19 captain Connolly chose not to bowl in the face of the roaring Renegades, who came close to crushing a mammoth target of 213 with Ashton Turner carrying the majority of the spin bowling load. Later, Matthew Kelly was replaced due to a concussion by Peter Hatzoglou.
"Once we got confirmation that Ash wasn't going to be available for our final here on Saturday, we felt now was the opportunity for him to start his preparation for the Test tour,"

Coach of the Scorchers, Adam Voges, said.
"We've talked a lot with Ash through the back half of this campaign about how we can help keep preparing him for what's coming up as well as what's in front of him at the moment.
We wouldn't have done that without his blessing. I fully understand how important this upcoming tour of India is for him and him wanting to get the best possible preparation. It wasn't really an issue at all."
Richardson will have to demonstrate his fitness after being expected to recover from a hamstring injury in time for the finals series.
Richardson was in excellent form prior to his most recent defeat against the Sydney Thunder on January 4. He had taken 15 wickets in seven games while bowling at a fast pace of just under 150 kph. He spent a significant amount of time on the sidelines prior to the BBL season due to a persistent heel issue.
"He hasn't got the final tick off yet,"

Voges said.
"We're all really hopeful he'll be available for Saturday. Once he is declared fit then I"ve got no issues with bringing him back in. But he's still got a bit to do."
Speedster Lance Morris, who was absent from the Renegades match due to sickness, might also strengthen the Scorchers' offensive line. Morris, in contrast to Agar, is available for selection before leaving for Australia's tour of India.
After Kelly was forced to leave the game due to concussion regulations after taking a nasty knock to the face in an absurd fielding blunder, a space in the Scorchers' attack could open up.
"I'm sure he'll go through those concussion protocols,"

Voges said.
"Hopefully he'll be available for Saturday, but we'll just wait and see."
A battered Scorchers team showed resiliency throughout the season as they finished first on the ladder with 11 victories despite uncertainty.
For a variety of reasons, English recruits Tymal Mills, Phil Salt, and Laurie Evans did not participate in a single game. Star all-arounders Mitchell Marsh and Cameron Green also missed out due to injuries.
Due to tight Covid-19 border controls in Western Australia, Scorchers famously won the championship after playing just one home game. They are now aiming for another success in the face of difficulty.
"Proud is a really good word,"

said Voges,
"You lose your three international players that you pick up in the draft, you lose Mitch Marsh on the eve of the tournament. To be honest, going in, I wasn't entirely sure how we were going to go."
He praised the team's impressive depth and cited the rise of top-order batsmen Aaron Hardie and Cameron Bancroft, who were benchwarmers in prior campaigns, as crucial to Scorchers' ability to continue to be a force in the league alongside Sixers.
"We've had guys step up, we've had guys contribute in different games,"

Voges said.
"We've always prided ourselves on our depth within our squad and we've certainly had to utilize it within this tournament. It's great to get over the line and earn a home final."