Test match, "takes a lot of adjusting" – Harry Tector on Test debut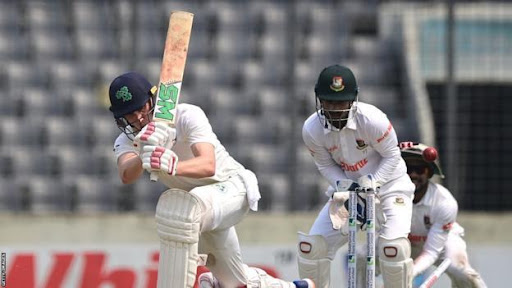 Harry Tector hits 50 on Test debut
Harry Tector hadn't played a first-class game in four years before the Dhaka Test. Even though it wasn't as intense as he had anticipated, he didn't feel overly anxious going into this game, just enough to keep him focused on the task at hand.
The main topic of conversation on the opening day at the Shere Bangla National Stadium was Ireland's long absence from Test matches. As a result, the hitters needed a lot of adjusting. Ireland undoubtedly had their moments, even though 214 is a below-average score at this arena.
In his first Test innings, Tector became the first batter from Ireland to reach the fifty. He played some excellent drives, but one in particular that stood out went through the covers off the back foot. Yet he said that the hardest part of the inning was definitely resisting the impulse to loft the flighted pitch.
"Scoring a Test fifty is very different to scoring white-ball fifties,"

Tector said.
"I think in one sense it is a lot easier because there's a lot more gaps. You can hit the ball and get it away for four. But there's a lot of challenges with different fields. The ball does a bit more. I think this was only my 11th first-class game. I think I played one first-class game in the last four years.
"It certainly takes a lot of adjustment for a lot of us to shift back into red-ball cricket. Trying not to hit the ball that loops up for a six, it is quite a challenge. You are trained to do that, because you play so much T20 and one-day cricket. Big shift in mindset. We have to learn from today."
Tector said that if he had attempted to defend the ball, his dismissal by Mehidy Hasan Miraz shortly after completing his half-century would have been prevented. He and Curtis Campher had been enjoying a good fourth wicket partnership when he was dismissed.
"It felt good for all of it until I got out," he said. "It was a poor decision in the shot I played, not so much a decent ball. I think if I defended that, it wouldn't have got me out. There is a lot of learning to do across the board."
"I put on a good partnership with Curtis Campher. We thought we could certainly put up a good total. We probably were a bit shy of where we wanted to be with the bat."
The lower order, in particular Lorcan Tucker, was praised by Tector for scoring 90 runs for the final four wickets. Ireland scored 200 runs after starting the second session at 124 for 6.
"You need the lower-order to put on runs in these conditions. The big challenge here is to not lose wickets in clusters. I think we lost three for two. You can't really afford to do that. We built a nice partnership and then to go bang-bang-bang, it kills you. The guys certainly did very well. They batted nicely, nice and positive, and played their shots."
But what will motivate them for the second day is Tamim Iqbal's wicket off the final ball of the day.
"The Tamim wicket was huge, unbelievable," he said. "I think it makes the day a bit more even. We are shy with the bat but getting two wickets tonight is huge. It gives a lot of momentum for us tomorrow. I think that dismissal in particular, the way the ball spun, it is a good sign for us on this wicket. It was amazing."
Ireland had a very thrilling day overall. The usual cap ceremony was to be held in the team hotel on the night before the game, as determined by the team management. They were unable to distribute all seven of them on the morning of the game because there were simply too many.
Tector was informed that he is the 706th player to play for Ireland at every level, and he described it as the high point of his brief career. This count dates from the nineteenth century.
"It was pretty cool. We had a bit of a ceremony last night. There were seven of us, so presenting seven individual caps on the morning of day one would take a bit of time. It was really special.
"I am the 22nd Test player for Ireland but I am something like the 706th player to play for Ireland overall. It is a very special achievement. We are a lucky group of players to play Test cricket. It was an amazing feeling to play Test cricket for my country."