Shakeel and Agha Salman scored attacking fifties to give Pakistan the initiative once more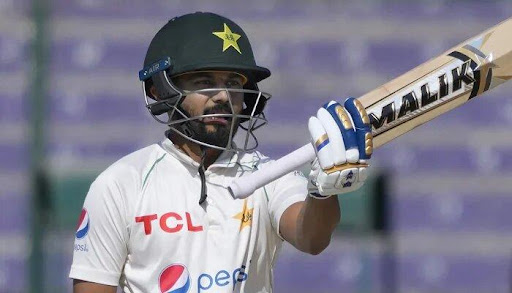 Saud Shakeel played an incredible innings of 69
Due to a counterattacking partnership between Saud Shakeel and Agha Salman, Pakistan was able to retake the initiative from Sri Lanka at the end of a day that saw momentum swing back and forth.
Pakistan is now only 91 runs behind Sri Lanka's first-innings total of 312 thanks to half-centuries from the two batsmen in an unbroken stand of 120. If monsoon rains hadn't ended the day early, Pakistan may have made much more progress.
However, the run-scoring was impressive, but more so for its pace than its accumulation. Pakistan scored little under five runs in 38 overs, with Shan Masood serving as the primary batsman.
However, Agha and Shakeel, who are typically far more cautious in their approach in international cricket, seized the initiative and ran with it in a frantic final hour that saw all of Sri Lanka's bowlers destroyed as Pakistan roared back into the match.
Most Pakistani teams would have withdrawn if they had found themselves five wickets down, more than 200 behind, and Nauman Ali to bowl next. The two started to take advantage of openings, rotate their strikes, use their feet, and hit the boundary rather than waiting for Prabath Jayasuriya or Ramesh Mendis to invariably find a ball that got past their defenses.
Early on, Shakeel made a statement of intent with a drive over Jayasuriya's head, then Agha removed Sri Lanka's greatest spinner from the attack with a couple of slogs over cow corner. As the runs kept coming in thanks to both players' fifty-plus scores, Sri Lanka seemed to be at a loss for strategies and turned to Kasun Rajitha's pace.
As a result of Sri Lanka's spinners clearly outperforming their rivals in these circumstances, the middle session of the first day advanced the game more than the entire first day. Even as Pakistan attacked the bowlers, Jayasuriya's three wickets gave Sri Lanka the upper hand.
The best example of that strategy came from Masood, who scored 39 in 30 balls as Pakistan advanced at a rate of 4.71 runs per over despite losing half of their team.
Imam-ul-Haq fell playing a wild cover drive in the second over, spooning it into backward point's lap, after Abdullah Shafique survived an extremely close lbw shout in the first over. Masood's arrival marked the beginning of the sole section of that phase in which Pakistan was in charge.
Masood carried on in the same way after his great performance in the two-day warm-up game in Hambantota. He was skilled at slicing the ball through the covers, taking advantage of openings, and accelerating the pace of the game.
Masood showed Jayasuriya enough respect to play out a maiden thanks to his strategy against the quicks, which forced Sri Lanka to resort to him as early as the ninth over.
Ramesh wasn't treated with the same respect; Masood saved Ramesh the shot of the innings so far by dancing down the track and clobbering him over mid-on for a mammoth six to reach 39.
He was pinned back on his leg stump by the very next delivery, though. Despite Sri Lanka reviewing, the umpire didn't lift his finger, and Hawkeye flashed up three reds, sending Shan, who was in disbelief, on his way.
Shafique was now sent on his way with a suggestion of an extra turn since Jayasuriya had already started to work his spell. Babar Azam exposed Sarfaraz Ahmed and an inexperienced lower-middle order with Pakistan still 239 runs down when he top-edged an arm ball straight up to the keeper, making things better for Sri Lanka.
One of Sarfaraz's strengths is his mastery of spin, but in the final 30 minutes before tea, a sweep too many off Jayasuriya resulted in him being struck adjacently enough to be given out lbw. Agha and Shakeel, two rookie batsmen in Pakistan's middle order, were left to fend against Sri Lanka's unrelenting spinners.
Pakistan bowled Sri Lanka out for 312 runs in the morning, but not before Sri Lanka added a good 70 runs with the final four wickets.
Dhananjaya de Silva distinguished himself throughout a somewhat chaotic morning practice. He took around 30 minutes to reach the three-figure mark with a whip toward fine leg after going undefeated the previous night on 94.
He was in no hurry to attempt the feat. De Silva put survival above scoring quick runs, complementing Ramesh, who provided tenacity but little runs. The spinners were operating automatically as they awaited the new ball, and Pakistan was happy with the arrangement. However, the tough partnership was quickly ended by a slash from Ramesh off Abrar Ahmed.
For a lengthy time with the new ball, Babar summoned up Shaheen Shah Afridi and Naseem Shah. The wicket-taker in this match was Naseem, who dismissed Jayasuriya with a short delivery that the tailender got a feather to. Afridi's pace was up and he found more movement, but it was Naseem who ultimately took the fall.
A mistimed drive over backward point that de Silva attempted to make when he decided it was time to escalate the ante was expertly grabbed by a scampering Masood, and de Silva immediately collapsed when he played the offensive shot. Nevertheless, at this point, he had already hit 122, saving an innings that was in desperate need of saving following yesterday's opening session.
However, Sri Lanka's Nos. 10 and 11 successfully held off Pakistan for a longer period of time than expected while scoring runs. For the final wicket, Rajitha and Vishwa Fernando contributed 29 runs, ensuring Sri Lanka topped 300 and possibly winning the session in their favor.
Through the day, this supremacy appeared to have been underlined strongly, but Pakistan's late onslaught ensures the Test under Galle's erratic skies remains delicately matched.