Sam Billings revealed why he chose to represent Lahore Qalandars rather than England in Bangladesh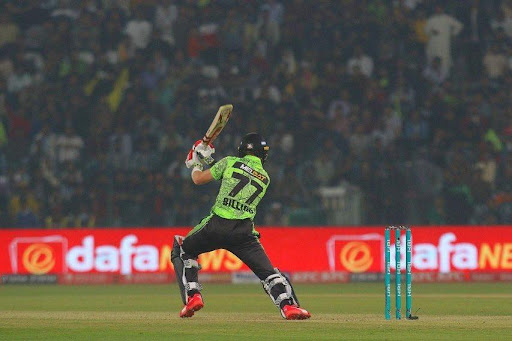 Billings: 'I just want to play cricket consistently and not sit on the bench'
Sam Billings said he doesn't regret missing the current England white-ball tour of Bangladesh to play for Lahore Qalandars in the PSL.
In order to fulfill their more high paying PSL contracts, a number of England players without central contracts, such as Alex Hales, Liam Dawson, and Tymal Mills, chose not to travel to Bangladesh. Billings also made the same choice after receiving assurances that he would play for Qalandars rather than serve drinks.
During the 2019 World Cup, Billings has played in ODIs with an average of 47.88 and a strike rate of 91.12, but he hasn't been a consistent part of England's white-ball teams in the past 12 months. He feels that, at the age of 31, and with the World Cup in India coming up later this year, he needs to play as much cricket as he can rather than just warming the bench.
"It wasn't that I made myself unavailable," Billings said. "I had a long chat with Rob Key, England's managing director and Jos Buttler, and I felt the stage of my career I'm at, I need to be playing cricket."
"That England team is very hard to get into. I went to the ODIs in Australia, did OK, and over the last few years, I've averaged nearly 50 in ODI cricket at a strike rate of 91. So in terms of stacking up numbers over a period of time in that format, I feel like I've done that."
"At my age, I just need to be playing cricket and enjoying my cricket. It's such a complex situation because guys who aren't contracted are severely losing out when it comes to the kind of playing in these tournaments, or not playing in this tournament."
"So that was the decision I made. With Harry Brook, Ben Stokes, Liam Livingstone, and Jonny Bairstow to potentially return there's no guarantee that I'd be in that World Cup team."
"I feel like I've done enough to be in and around the mix and my game is suited to subcontinent conditions. The message that I got was: if you're scoring runs, wherever it is, that's what they're going to have to select from anyway."
Before the 2023 World Cup, England only has seven more one-day internationals (ODIs) scheduled, including three matches against Ireland and four against New Zealand.
Before the start of the New Zealand series, they will likely submit their probable World Cup selection to the ICC, and Billings believes he still has a chance to make the team with a successful home summer.
"There's a lot of cricket to be played,"

he said.
"If I go home, dominate county cricket, dominate the Hundred, it puts me in a really good place to be picked for the World Cup. That's the way I'm looking at it.
"I'm becoming a lot better at just dealing with what's in front of me. Right now, I'm focusing purely on the PSL, on winning the PSL and doing everything I can to help the team to do that. Then I move on to Kent and [being] club captain at Kent; then I'm captain of the Oval Invincibles for the Hundred, so I've got a lot of cricket before.
"The idea is, if I play well, if I'm playing in winning teams and contributing to winning teams, that gives me the best chance of being in the World Cup. I know my game suits the subcontinent in terms of playing spin, especially in 50-over cricket. A lot can change and it's a long time until the World Cup."
Billings responded when asked if he regretted missing the Bangladesh tour:
"No. Everyone wants to play for England, of course, they do. But I'm 31, I've run the drinks for eight years. I just want to play cricket, enjoy my cricket."
"It's a different mindset when you don't feel like you're playing for your position every single game. This franchise Lahore Qalandars has put a huge amount of trust in me and said, 'you're going to bat and you're going to keep wicket. You're an integral part of the team.'
"That mindset, knowing that you will get a full competition or a full run of games, you see so many players benefit from it and I think it's a lot healthier headspace for me to be in: I can actually just go out and enjoy my cricket as opposed to feeling like I have to go score every single time I bat."
Billings has had greater success in red-ball cricket than white-ball cricket, but last year, while serving as Ben Foakes' backup, he earned three Test caps. After playing for Kolkata Knight Riders in 2022 on a contract for INR 2 crore (about £200,000), he withdrew from the following IPL.
He chose to spend April and May playing for Kent in order to increase his chances of being selected for this summer's Ashes because the IPL starts at the same time as the County Championship.
"It's the modern-day player: you have to kind of manage these different things," Billings said. "I've got a huge ambition to still play Test cricket. I've played three Tests, and loved every minute of it. It's the most rewarding format of the game."
"For me, I felt with the home Ashes – again, if I go home, score some runs in the early season and really dominate county cricket, then that gives me the best chance of getting back in that Test team.
"As an English player right now, everyone wants to be a part of that team. You see the enjoyment they're playing with. You see the environment that's being created and the cricket that they're playing. There's no bigger series than the Ashes for an English player and an Australian player, so it was just a case of giving myself the best chance again."
"Last year, in the IPL, I played a bit, I didn't play a bit. Again, I just want to be playing cricket consistently and not sit on the bench. I just want to get the most out of my career, the rest of my career, and I felt like that's the best option for me."