Ricky Ponting would love to have Rishabh Pant in Delhi Capitals' dugout during IPL 2023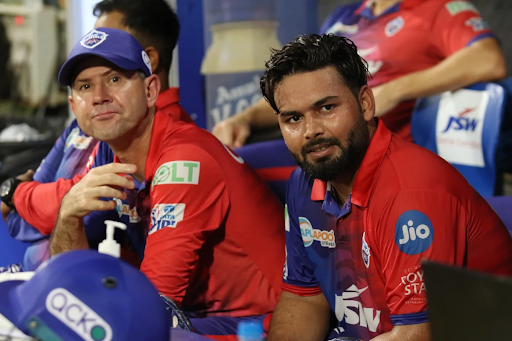 Ricky Ponting (left) says he would love to have Rishabh Pant around the Delhi Capitals (DC) team in IPL 2023
Delhi Capitals (DC) captain Rishabh Pant might not be available to play in the upcoming season of the Indian Premier League (IPL) 2023 competition but the team's Australian coach Ricky Ponting wants him to be present in the team bus as well as in the team dugout for every match during the competition to be played in the middle of the year.
Delhi Capitals (DC) have been strong contenders of the IPL title for the past 3 to 4 seasons but they have not managed to record their maiden victory in which Rishabh Pant remains an integral part.
Ricky Ponting believes that Rishabh Pant should be in the Delhi Capitals camp during IPL 2023 provided he has made significant recoveries and is ready to manage the workload — mostly travelling — that the team's coach desires.
Rishabh Pant, the aggressive India wicket-keeper batsman and captain for Delhi Capitals in the IPL, suffered severe injuries late last year when his car met with an accident when he was travelling alone. Rishabh Pant has been ruled out for several months as he is on a long trail back to recovery and full fitness.
Ricky Ponting told the ICC Review, "I want him sitting beside me in the dugout every day of the week. If he's actually not physically fit enough to play, we'd still love to have him around. He's the sort of cultural leader around the group, being the captain, and that attitude and infectious smile and laugh he has is what we all love so much about him.
"I'll certainly be making sure, come the middle of March when we get together in Delhi and start our camps and stuff, if he's able to be there, then I want him around the whole time," Ricky Ponting added.
Rishabh Pant is expected to be out of action for the most of 2023 which includes IPL this year along with the 50-over World Cup which India will be hosting later in the year. The 25-year-old cricketer suffered several injuries including three key ligament tears on his knee, two of which were reconstructed during a surgery in early January while another surgery is expected to be performed in February.
The unavailability of Rishabh Pant not only leaves Delhi Capitals with the question of finding a new captain for the season but also a wicket-keeper batsman who can be as good as the Indian, who has been a rock for them in the middle orders both while chasing totals or while setting.
England's Phil Salt is the only specialist wicketkeeper in the Delhi Capitals' camp as they did not buy any wicket keeper during the auction in December 2022. Delhi Capitals also have Mumbai's Sarfaraz Khan, who kept the wickets for his state team in Syed Mushtaq Ali T20 Tournament last year.