Rashid Khan reveals the game-changing moments against Mumbai Indians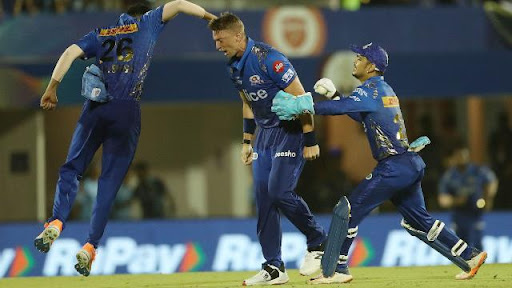 "I believe we played well throughout the game. The way they started, we made a good comeback. The two run-outs were the game-changing moments."
After maintaining a streak of five wins, Gujarat Titans finally lost a game against Mumbai Indians who are placed at the bottom of the Indian Premier League (IPL) 2022 points table.
Gujarat Titans finally broke their streak after straight five IPL victories as Mumbai Indians, who are placed on the bottom of the Indian Premier League (IPL) 2022 points table, bounced back to steal the victory.
Punjab Kings were looking quite reasonable in the game from the start but MI left no chance to tease the opponents before stealing a victory.
When asked, if such defeats can create doubts in the camp, Rashid Khan replied: "Definitely," the vice-captain started.
"We finished 4-5 matches after being in the same situation where we got the runs needed. It's the nature of T20 cricket that you can get 20 off six and on days you can't even get 10 off six.
"I believe we played well throughout the game. The way they started, we made a good comeback. The two run-outs were game-changing moments. If you need just 8-9 in the last over, it's possible. You only need one good hit but that's the beauty of T20 cricket. Sometimes it's pretty hard to get nine off six balls and other times it's pretty easy to get nine off two balls. We learn from it and keep moving on."
About personal feat, Rashid has picked up 11 wickets so far in the league and is the third-highest wicket-taker behind Mohammed Shami and Lockie Ferguson. It isn't a surprise that most teams prefer to defend Rashid than to attack him.
The legspinner has controlled his economy rate and pointed out that he is not worried about getting wickets as long as other bowlers are getting him.
"While bowling in T20s, it's always great to take wickets. For me, it's a little bit different. I always focus on the economy, I focus that I need to bowl well. For me, if I bowl economically, that puts pressure on the batters. We expect the wickets to come from the other end,"

he pointed out. 
"Yes, compared to other IPL seasons, I've got fewer wickets this year but it's not a lot. It's a difference of 2-3 wickets. It's a matter of 3-4 wickets. In a couple of games, I haven't bowled as well as I could have but that's T20 cricket. There is so much for you to learn and I am just trying to do well."
One of the criticisms that can be pulled against GT is that they have not shown enough desperation for the victory. Rashid Khan calls the run-outs of Hardik Pandya and Rahul Tewatia the turning point of the game.
The captain left the field in the 18th over while Tewatia was dismissed on the third ball of the final over of the match. The equation was summed up to eight runs in the final over which Daniel Sams defended quite sensibly. Both the players were slightly close before getting run out.
From here, the Titans will be learning and sustaining their momentum till the end. Two consecutive losses will still not hurt them if they manage to polish the flaws that have appeared.
"You have to learn from those experiences and we, as a team, will now focus on that,"

Rashid said. 
"We have to now try and not repeat all the negative that we have done in the tournament so far. This is a good learning curve for us. Now we need to focus on finishing the games if get into such a situation once again."
Today, GT can slip to the second spot in IPL 2022 points table if LSG beats KKR and despite being dethroned they can make their perfect playing XI.