Pakistan was three down at the end of the fourth day, despite being the favorite to win the match while chasing 131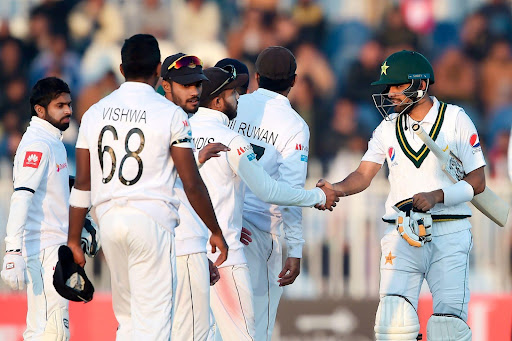 Pakistan has the target of 131 runs for the last session
The first Test match between Pakistan and Sri Lanka in Galle was close to being a thrilling victory for the home team after an inspiring comeback.
While Pakistan appeared to be closing the door on Sri Lanka's prospects earlier in the day, their bowlers pried it open again in the frantic last hour, during which Pakistan slumped to 48 for 3 while chasing 131.
Although Pakistan's batting strategy for the majority of their first innings hinted, they might try to finish this chase without incident in as few overs as possible, committing to that strategy and actually putting it into practice against Sri Lankan spinners in the decreasing Galle light were two different things. As soon as they started, Prabath Jayasuriya and Ramesh Mendis slowed them down by locating a tremendous curve and combining it with flawless accuracy.
When Abdullah Shafique was convinced to push at a ball that spun away and kissed the edge in the seventh over, it paid off. After Shan Masood fell victim to Jayasuriya's deception shortly after, he quickly changed his line as soon as he saw the batter approaching from down the track. Sri Lanka moved in for the kill after Masood could only pop one up to short leg.
Noman Ali was dispatched by Pakistan to serve as a guard at night before becoming lost under absurd circumstances. Imam-ul-Haq was caught well short of his crease by a quick pick-up and throw from Mendis on the midwicket boundary in an attempt to keep him off strike. As Sri Lanka pressed, it forced Babar Azam out for a shaky final few overs, but Pakistan stopped any further bloodletting.
Dhananjaya de Silva was the person standing in Pakistan's way of a clear victory for the majority of the day. A fifty-year run and vital partnerships with Dinesh Chandimal and Ramesh Mendis enabled Sri Lanka to erase the deficit and take the lead in the second session. However, Pakistan's ability to take wickets at vital moments prevented Sri Lanka from ever extending their lead into a really risky zone, hindering their innings the entire way.
While Pakistan depended on its pace bowlers to make early inroads in the first innings, Galle's reputation for spin-friendliness — particularly near the end of a Test — eventually started to show as Noman and Abrar Ahmed shared the wickets.
Sri Lanka got off to a strong start thanks to Dimuth Karunaratne and Nishan Madushka, who had completed a few overs in the waning light the day before. There wasn't much rotation in the strike; the first single wasn't taken until the 10th over and the 39th run. Nevertheless, Sri Lanka picked up a boundary in each over and appeared to be in control despite some probing lines from Shaheen Afridi and Naseem Shah.
Salman Ali made a stunning diving low catch on an uncharacteristically wayward shot from Karunaratne as a result of Abrar's debut. Even if the run rate slowed, Madushka and Kusal Mendis remained composed throughout the innings, seeing off the quick bowlers and appearing quite confident against spin.
However, two strikes from Noman in the final 30 minutes changed the situation. First, he trapped Mendis in front of his crease, and then he cleverly pouched a wonderful ball that spun away from Angelo Mathews' outside edge at first slip.
A careless shot from Noman caused Madushka to lose his position at the other end just as he reached his half-century mark. But like in the first innings, Sri Lanka benefited from the fifth wicket stand. Afridi was dismissed after only four overs due to an onslaught by De Silva and Dinesh Chandimal. They were more cautious against spin, but as they closed in on the lead, judicious shot selection and routine field handling kept the runs coming.
They established the 50-run partnership, but as soon as Sri Lanka gained the upper hand, Chandimal chipped one off Agha Salman to midwicket, where Imam took a quick catch.
The exceptional catching by Pakistan during this Test was further demonstrated by Abdullah Shafique's grab at short leg, which resulted in the dismissal of Sadeera Samarawickrama. Shafique, who was initially caught off guard by the edge, modified his dive to his right in order to snag a one-handed diving catch and push Sri Lanka over the edge.
In spite of Pakistan's hopes for a quick conclusion, Mendis and de Silva held on for a 76-run partnership over the course of 23 overs. Even though it was sluggish going at times, neither side of the tea break appeared uncomfortable playing against the spinners until Abrar eventually struck, catching Mendis squarely in front with a failed sweep.
The remaining Sri Lankan resistance was then broken by Pakistan using Afridi and the new ball. After an impressive 82, Dhananjaya was ultimately bowled by a little additional bounce and seam movement. Shaheen then used a slower ball to deceive Jayasuriya before Kasun Rajitha grabbed one up and sent it to Masood at point.
Although Pakistan had quickly dispatched the tail, Sri Lanka made sure that the same could not be said of the meager target. Pursuit of 131 appears to be anything but a formality, exactly one year to the day that Pakistan pursued 344 at the same location.