Pakistan outclassed New Zealand by 102 runs to overtake as the top men's ODI team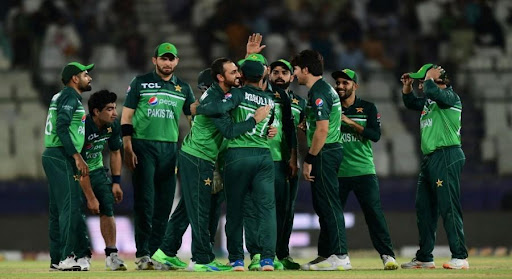 Pakistan defeated New Zealand defeated by 102 runs
Back to business for the home team after a fairly erratic performance in which Pakistan allowed New Zealand to get close to them. When Pakistan was given the opportunity to bat, Babar Azam's century—his 18th in ODI cricket—helped the team score an impressive 334 for 6 in their first innings.
The bowlers now had to stop New Zealand from scoring, and they were at the height of their game. New Zealand was dismissed for 232, ending the match as a battle even before the final wicket fell. This gave Pakistan a 4-0 series lead over New Zealand and pushed them to the top of the ICC ODI teams rankings.
It was clear from the start of the pursuit that New Zealand would have trouble keeping up with the asking rate. Will Young and Tom Blundell are not inherently aggressive, whereas Shaheen Shah Afridi and Haris Rauf excelled in the powerplay with their metronomically perfect hitting and scary speed. After a slow start and scoring at strike rates in the 70s, the two were bowled out within two overs of one another.
To their credit, both were ignored when they sought the boundaries that their side desperately required. After Blundell failed to gain elevation on a cover drive from Rauf, the ball went straight to Iftikhar Ahmed in the covers. Mohammad Wasim struck off his first ball, with Young spooning it high into the night sky for an easy catch.
The third-wicket stand between Daryl Mitchell and Tom Latham, which followed, brought about a spell of stagnation that most likely ended New Zealand's chances. A total of 83 laboriously scored runs at a rate under five were made, although by that point, the asking rate had risen to almost 8.50.
Usama Mir baited Mitchell into a stroke that led to his demise. Usama Mir, who filled in admirably for Shadab Khan, did his World Cup chances no harm with an outstanding performance.
The subsequent stand between Latham and Mark Chapman was New Zealand's most brilliant move of the game because Chapman abandoned all conservatism. With Chapman taking the initiative and dismissing Iftikhar and Agha Salman from the attack with 34 runs in three overs, the two put on 55 runs in 43 balls.
However, the fast bowlers came back, and Afridi once more dismissed Latham for a competent, if not particularly exciting, 76-ball 60. Although Chapman kept attacking the bowling, a quicker delivery from Mir caused his stumps to be knocked back for a 33-ball 46.
After that, the resistance in New Zealand kind of dissipated in a procession. Mir assisted himself to a few more dismissals to finish with a career-best 4 for 43, and Pakistan won by 102 runs.
A hundred by Babar Azam earlier in the innings gave Pakistan a total that always looked to be much above New Zealand. The batsmen, especially Babar and Salman, were mostly in charge on a level surface during an innings in which the Pakistan captain also became the player to reach 5000 ODI runs most quickly.
However, New Zealand, led by Matt Henry, consistently struck Pakistan with wickets to prevent the total from spiraling out of control. But the late Mohammad Haris and Afridi fireworks made sure that the foundation Pakistan's middle order had established would result in a substantial total.
After winning the series on Wednesday, Pakistan made some roster adjustments. Shan Masood, who took the place of Imam-ul-Haq, led Pakistan through the powerplay with typical ease after Henry had already removed Fakhar Zaman early with a similar delivery to the one that had done so in the previous game. This time, the back-of-a-length ball miscued high into the air, allowing Blundell to collect.
After a 50-run, ten-over stand between Masood and Babar, the innings continued to move along without incident until Blundell's quick action behind the stumps caused Masood to be out to Ish Sodhi.
Given Pakistan's well-known reliance on its top order, Mohammad Rizwan's dismissal following a Henry direct hit that took him off guard will have caused Pakistan to falter. But Salman triumphed admirably in that brief period of difficulty.
Salman accelerated through the gears with exquisite sweeps and reverse sweeps, as well as with authoritative footwork. Soon after, New Zealand found themselves in trouble once more, as Cole McConchie's straight six brought up Salman's 40-ball half-century as well as the century partnership between him and Babar.
Babar had become invisible, yet he continued to slide over 50, as he now always appears to in this format. Babar was just 12 runs away from his century when Henry pouched a spectacular return catch to eliminate Salman. He was also prepared to let Iftikhar take the lead.
Before Babar clipped one through the off side to reach his century in 113 balls, Iftikhar put together a fun cameo (28 off 22). Pakistan had gotten into some trouble when Babar holed out to deep midwicket, giving Ben Lister his first ODI wicket. There were still two overs left, and Pakistan was still short of 300 runs.
By scoring 38 runs in the final two overs, Wasim and Shaheen made amends while convincing the umpires to allow them to bat higher. They had accomplished enough to lower New Zealand's spirits with their combined total of four sixes and two fours. In actuality, Pakistan's bowling showed that the Afridi-Wasim cameos just provided flair to what was a triumph that was already all but assured.