Misbah-ul-Haq revealed the decision behind promoting Rizwan as an opener in the T20 format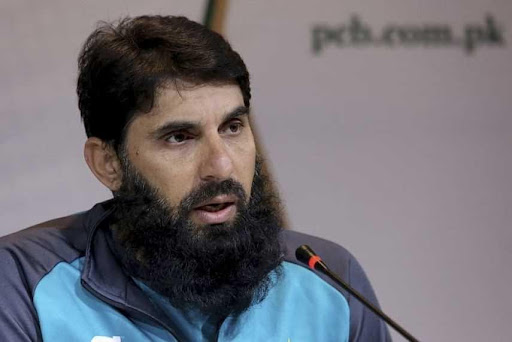 Twitter
Former Pakistan skipper and Head Coach Misbah-ul-Haq revealed the reason behind promoting Rizwan as an opener during his tenure while he added that Rizwan should be realized for his success as a cricketer.
Former Pakistan skipper Misbah-ul-Haq has disclosed the reason behind promoting Mohammad Rizwan as an opener in T20 format. The wicket-keeper batsman Mohammad Rizwan was promoted as an opener during Misbah's term and after that, he had played very well as an opener.
Rizwan ruled the roost in 2021 when it came to the shortest format of the game. He has been named the ICC men's T20I cricketer of the year for 2021 while he scored 1326 runs in 29 T20Is at an average of 73.66. He had also won the PCB most valuable cricketer of the year award.
Speaking at the inauguration of the U-19 College Cricket Championship at the Bagh-e-Jinnah in Lahore, Misbah said that only Rizwan should be realized for his success as a cricketer.
"Mohammad Rizwan was advised to play as an opener because he could prove to be more efficient in this position. I did know Rizwan can play in the top-order. He is a hardworking cricketer and credit for the success of Rizwan only goes to him. Nobody else should be appreciated other than cricketer himself because it's his hard work which pays off,"

Misbah said.
On the other hand, Misbah seemed excited to see Australia playing at Pakistan grounds as it would help to bring backtest cricket and make it popular among youth.
"In Pakistan, especially the arrival of foreign teams and playing Tests is very important. Only by giving importance to Test cricket, it can be kept alive. After Australia, England and New Zealand should come here and play Test cricket. With the arrival of Australia, there will be ways for everyone to come here,"

he added.
Meanwhile, Pakistan's most successful captain in Test cricket is happy with the performance of the side.
"It does not matter who the coach is now, who is getting the credit, the main objective is to take Pakistan cricket to new heights."
"The way the graph of Pakistan cricket has gone up at the moment is very good for the cricket of our country. Receiving ICC awards to Mohammad Rizwan, Babar Azam, Shaheen Shah Afridi has also sent a message to the world that Pakistani cricketers are second to none.
Misbah added by saying that Toss has been putting much impact on winning the match in the ongoing HBL Pakistan Super League (PSL) season while he is hoping more good cricketers will come out from PSL.