Imam, bowlers helped Pakistan wrap up the series at National Stadium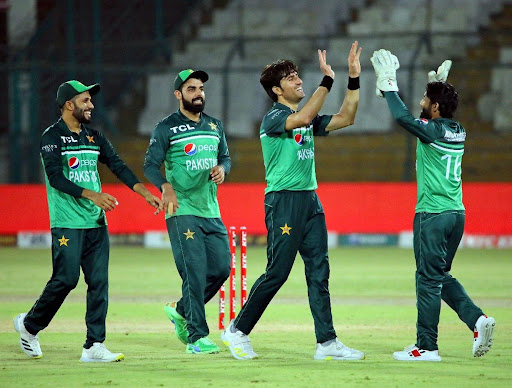 With a 108-run partnership, Babar Azam and Imam ul Haq solidified Pakistan's position
Matt Henry did his thing, while the top three players from Pakistan did their things. Imam-ul Haq contributed 90 to Pakistan's 287 total in a stop-start innings that Henry's trademark discipline always seemed to be keeping on a leash.
Pakistan was never quite able to establish the foundation that would have allowed them to tee off at the very end thanks to three wickets for New Zealand's top bowler, including the early removal of Fakhar Zaman and the partnership-breaking removal of Babar Azam on 54.
As a result, Pakistan's innings never quite reached boiling point and the result was that the hosts ended up with the lowest score in the series thus far.
Eventually, New Zealand won the toss, and Tom Latham decided to put Pakistan in. As a result of New Zealand's early ball control discipline, Pakistan was more subdued than they typically are when batting first.
On a scorching Karachi afternoon, the first five overs only yielded 12 runs. Zaman then tried to force the issue but was defeated cheaply by a Henry short ball.
Statistics show that Babar and Imam Ul Haq have been Pakistan's most productive duo over the past four years, and today they got together for another instance of that. For that second wicket, they built up 107 runs, but it was just an accumulation.
While both players coasted to half-centuries, there wasn't the same sense of urgency that most modern teams have in the middle overs, and it was telling that Pakistan hadn't taken command by the time Henry had Babar drag one back onto his stumps.
Imam was essential to a strong finish for Pakistan because of their reliance on the top three batsmen and the general lack of powerful hitting at the end.
However, he too would drag on to his stumps ten runs short of a hundred, placing the burden of reaching past 300 on a weak middle order.
When Abdullah Shafique and Agha Salman cheaply fell, New Zealand started to back off, and Adam Milne dismissed Mohammad Rizwan for 31 just as he appeared to be crucial to Pakistan's death overs efforts.
However, it opened the door for Shadab Khan to enter. His brief appearance and perfect 21 of 10 hinted that he had entered the game a little too late.
Pakistan enters the match with a little bit of momentum and the hope that they can end the series right away thanks to a beautiful six over mid-off off the final ball.