ICC World Test Championship 2021 final: Rain abandons first day's play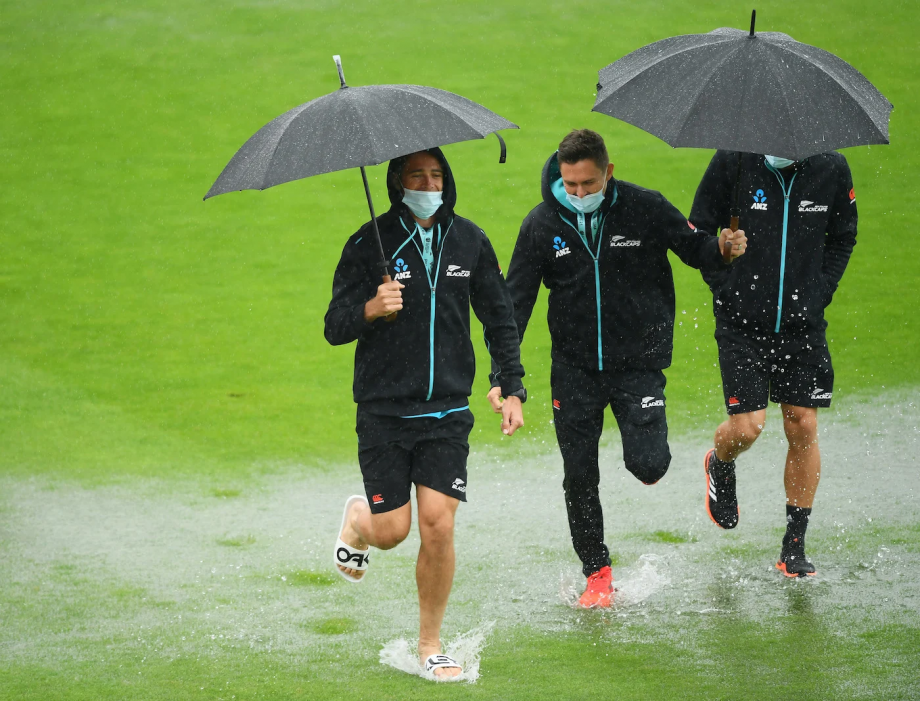 New Zealand cricketers Tim Southee (left) and Trent Boult (centre) enjoy their time in the rain and water puddles on Friday
No play was possible on the opening day of the final of the inaugural ICC World Test Championship between India and New Zealand on Friday at Southampton, owing to persistent rain which threatened to play spoilsport over the next few stipulated days of the Test match. 
The organisers have kept one day extra to ensure that there is no dearth of time for the two teams to finish the match as far as a result is desired, but the weather forecast is replete with forecasts of rain for the next 5-6 days at Southampton.
It was raining overnight and the situation did not change in general on Friday in Southampton. The rain did subside for a while on a couple of occasions forcing the ground staff at The Ageas Bowl to swing into action and prepare the field for play, but rains returned immediately again to deny any such possibility.
This is the first edition of the ICC's ambitious project around the conventional format of the game and it was certainly disappointing for cricket fans all around the world to find that a cricket match as important as the WTC final was organised in England, which is notorious for rain interruptions throughout its cricketing summer.
While the forecast was promising for Saturday implying that the coin toss will take place and the two teams will get to walk on the field and compete in a match they had been waiting for a very long time, the weather promises to play spoilsport on all the designated match days of the WTC final.
While the world No 1 Test team New Zealand had managed to keep their playing XI unannounced for this big game, India had already named their playing XI for this game which certainly was a brave move. India are playing both their ace spinners—Ravindra Jadeja and Ravichandran Ashwin—in this contest whereas the likes of Mohammed Shami, Ishant Sharma and Jasprit Bumrah were given the fast bowling responsibilities.