I am confident and as a captain, all I want is a win – Mominul Haque on SA Tests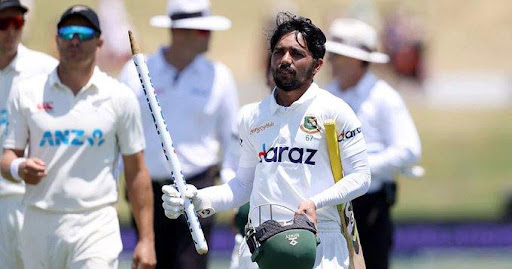 I am confident of winning and as a captain all I want is a win, says Mominul Haque ahead of the Test match series against South Africa
Bangladesh Test skipper Mominul Haque urges his teammates to not get any rest as they are all set to take on South Africa in the two-match Test series, that will be starting from March 31 at the venue of Durban.
Mominul Haque, Bangladesh Test captain urged his teammates to not get themselves ready as they are all set to take on South Africa in the two-match Test series, that will be starting from March 31 at the venue of Durban.
After beating South Africa in their maiden ODI series, Bangladesh has now shifted its focus towards red-ball cricket, and Mominul and company can take their momentum high right from the fact that they beat New Zealand in their maiden Test earlier this year.
"We cannot think about the past like our win at Mount Maunganui or Zimbabwe and need to be focused on from day one to make sure that we can dominate for five days,"

Mominul told reporters on Friday. 
"I am confident of winning and as a captain all I want is a win.
"We have had to struggle for two to three years in Test cricket. We are a good one-day team but to do well in Test we need to give and put in a lot of hard work going forward to do well in Test."
The 30-year-old skipper said that the players can get inspiration from their maiden ODI win against South Africa and in their own backyard.
"Enjoyed Tamim Bhai, Shakib Bhai, Liton's batting, and Taskin's bowling during the last couple of days (in the ODIs against South Africa) and certain their performance will give confidence to the Test team. Whenever someone does well in one format he carries the confidence in the other format. I agree that the format is different and the conditions might be different too but at the end of the day that confidence and inspiration help,"

he said.
However, Bangladesh's Test record in South Africa is quite embarrassing as they played a total of six Test matches against Africa in which they lost five of them with an innings and the other Test with a 331-runs defeat.
The skipper is well aware of the fact that if they want to give SA a tough time, their bowling unit especially the pacers must have to take the charge as they did against New Zealand and in the ODIs against the hosts.
"Everyone is aware that we have a good pace attack and they pace bowlers need to take the challenge. To reach this far we have taken a long time and they will be more experienced through playing games and at that point, it will be easy for them to perform,"

he said.
Mominul also said that now they are used to playing the Test matches in the absence of their star all-rounder Shakib-al-Hasan as he missed a quite number of games since now.
Shakib, who missed the tour of New Zealand for personal reasons, was expected to feature in the Test series but he returned back home earlier for a family emergency.
BCB is yet to rule him out from the series as they are expecting him to come back in the second Test if he is available.
"Most of the time he (Shakib) is not available. We feel lucky when he is.
"Team-combination wise it is easier when he is around us we can play either a batsman or a bowler. Now as he is not available we have to try and win matches with the available resources we have,"

he noted.
Bangladesh is now hoping that their veteran right-hand batter Mushfiqur Rahim gets fit before the first Test as he sustained a shoulder injury while celebrating in the third one-day game at Centurion.
However, Mominul added that he is hoping that the squad will be lifted by the presence of Tamim Iqbal, who last played a Test in April 2021.
"In New Zealand, neither Tamim Bhai nor Shakib Bhai was there and only Mushfiq bhai was there. We might not get a couple of them (seniors) but I always want to remain positive. Now there is Tamim Bhai and his role is very important in our team. Whenever Tamim bhai comes around it becomes easier at the top, especially in overseas Test matches."
Mominul added that the team's residential camp in Gary Kirsten Cricket Academy will help them to prepare for the Test series against the hosts as they are now aware of what to expect and how to deal with it.
The BCB arranged a camp for Test specialists in the academy to make sure they get time to adapt to the conditions, on the sidelines of the ODI series.
"The camp was very good. We worked really hard there focusing on how to use the condition and all those things. Kirsten was there for two to three days and no one can change a batsman in this short time. He shared his experience and focused on letting us know in which length our bowlers should bowl or how the batters will go constructing his innings and all things."