Fakhar 117, Imam's fifty take Pakistan 1-0 up against New Zealand in ODIs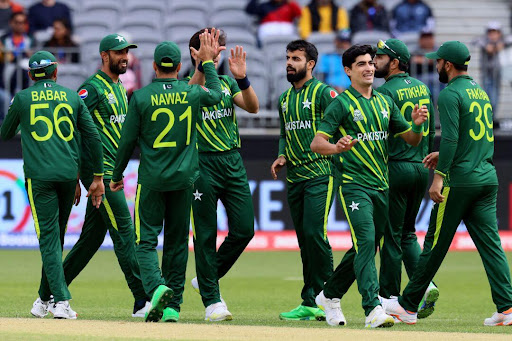 Pakistan defeated New Zealand by 5 wickets
The first ODI between Pakistan and New Zealand was won by Pakistan by a margin of five wickets thanks to Fakhar Zaman's eighth ODI century and Naseem Shah's astonishingly economical bowling.
They became the third team to do so while bringing up their 500th ODI victory; with 949 games played, they reached the milestone faster than any other team, second only to Australia, who did so in 811 games.
After a 124-run opening stand between Fakhar and Imam-ul-Haq, Pakistan, who had set a target of 289 to win, were never seriously in danger of failing.
They crossed the finish line in the 49th over and took a 1-0 lead in the five-match series thanks to the captain's 49 and a cameo deeper down the order by wicketkeeper Mohammad Rizwan.
With the help of Daryl Mitchell's second ODI hundred, New Zealand reached 288. The foundation for a score in excess of 300 had been laid by a century second-wicket stand with Will Young, whose individual knock of 86 came off just 78 balls, but Pakistan's excellent death bowling and the visitors' inability to hit boundaries kept them in check.
This was primarily because of Naseem, who was at his metronomic best at the beginning and the end of the innings. His statistics of 2 for 29 in his allowed ten overs made sure New Zealand wouldn't surpass the 300-mark they appeared on pace for for the majority of the innings.
The chase was a realization of the pattern Pakistan has used over the past four years on their greatest days in this format. Fakhar Zaman, Imam, and Babar scored the majority of the runs; there is a reason why Pakistan has relied on their top three batsmen for runs more than any other team.
Pakistan got off to a quick start on a surface that presented minimal risk to the batters, in contrast to New Zealand, whose openers had taken things slowly.
For the rare boundary, Adam Milne and Matt Henry were milked and picked off, but once the 100 partnership was reached in the 19th over, they showed more overt hostility.
Mitchell was blasted by Fakhar for a six back over his head, and shortly after, Imam did the same to Ish Sodhi. By this time, both men had raised half-centuries, and Pakistan appeared to be on track.
After gaining some control and trapping Imam in front, Sodhi struck the next ball, but this merely opened the door for yet another sustained partnership, this time between Babar and Fakhar.
Those two were poised to control the match all the way to the finish. Fakhar was steadily heading towards yet another ODI hundred while the Pakistani captain appeared at ease from the first ball. He drove through extra cover to get there, and before the traditional sajda he punched the air.
But Shan Masood entered the crease after Babar's inaccurate shot, which was one from fifty. After a little bit of a battle, he was soon on his way back, lapping the 12th ball to extra cover after scoring only one run, and New Zealand once more had the slightest of gaps.
However, Rizwan would effectively shut it down while attempting to eliminate risk from the situation by launching a counterattack.
While Fakhar was dismissed for 117 at the other end, he still managed to accomplish this with some degree of success, making it unlikely that the home team would falter. With a smear over midwicket in the penultimate over, Pakistan secured the victory for which they had been looking good value for the majority of the game.
On a hot and flat day earlier, Pakistan had chosen to bat first against New Zealand. The bowlers did a good job of holding the openers in check at first, especially Naseem, who discovered sideways movement and an extra yard of speed and gave up just 12 runs in six overs.
But it was a change of bowlers that resulted in the wicket, as Haris Rauf edged Chad Bowes for an outside edge in his first over, capping a powerplay that belonged to the bowlers.
However, when the field opened up, New Zealand started to gain ground in the innings. Young started to stand up, especially in the face of the spin. After scoring 50 runs off 51 balls, he swiped Shadab for four and Agha Salman's first pitch for six.
Mitchell quickly started to serve as a valuable support act as Pakistan continued to labor under the impression that their spin strategy was working. As the partnership reached three figures and New Zealand sat comfortably at 150 for one in just over 26 overs, Young appeared to be going for an easy hundred.
Although Mitchell was only becoming more at ease, Shadab struck as Young holed out in search of another boundary, and New Zealand was never quite able to impose themselves in the same manner again.
Momentum was lost due to Tom Latham's struggles at the crease. He only managed 20 off 36 before being LBW to a flavorful full toss. Mitchell hit two boundaries off Shadab and two more off Nawaz, along with another four and six, but he was receiving little assistance.
Only three of the boundaries Mitchell missed in the final 25 overs of the innings were struck by Mitchell, and after Mark Chapman was out by Rauf, the innings stalled out.
Mitchell hit a magnificent straight drive off Shaheen Afridi to get a well-earned hundred, but with the frugal Naseem at the other end, New Zealand's run-scoring was getting more and more difficult.
In the final two deliveries of the innings, Naseem dismissed Rachin Ravindra and Adam Milne, giving him the just rewards he deserved in the wickets column and ensuring that New Zealand fell far short of 300. As it turned out, on a surface like this, they too fell well short of a total to contend with Pakistan's hitters.