Depleted and ignoring all logic, New Zealand is in Pakistan for a battle of unequal's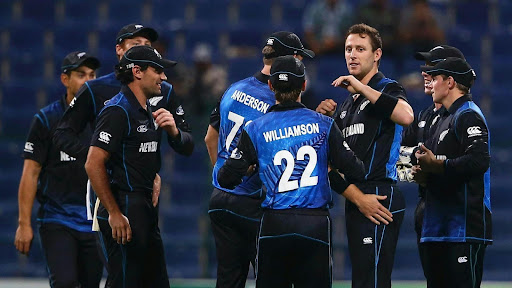 Some of New Zealand's major players, including Kane Williamson, are absent
In an effort to appease their hosts, Pakistan forced New Zealand to publicly promise compensation in May of last year; they would have to pay out of their own pockets to make up for quitting a tour of Pakistan on the day of the first match in September 2021 due to a "specific" security concern. (However, given that it was secret, the amount they would pay was very uncertain.)
Promises were made repeatedly. Additionally, as part of their preparation for the then-imminent T20 World Cup in Australia, they will invite Pakistan to a triangular T20I series.
The following year, they will make two additional trips to Pakistan. They would compete in Test matches in December and ODIs in January.
Then, as though these two nations were neighbors, New Zealand would visit Pakistan once more in order to play ten white-ball matches—five of each format—over the course of the following two weeks. Okay, Mr. Raja, would you mind?
Despite the fact that Ramiz Raja may no longer be alive, New Zealand is still present. Despite the fact that it is now mid-April and the season in which it gets uncomfortably hot has just about started.
It doesn't matter that Ramadan has pushed the start of the T20Is to 9 p.m. local time, which means they won't end before midnight.
Or that Pakistan will be playing cricket as the rest of the nation celebrates the end of Ramadan because the series will coincide with Eid. Don't worry about the fact that the majority of New Zealand's top athletes are currently on the other side of the Attari-Wagah border.
A New Zealand team hasn't traveled abroad with such a weakened roster due to factors other than injuries since Jamie How's team did so in England in April 2008.
The IPL, which you may have heard of, held its maiden season at the time, and at the time, it was honest when discussing the players that were unable to participate.
"I think everyone wishes they were in India at some point,"

he added, as if a complete tour of England weren't one of the highlights of New Zealand's cricket season.
On the final day of the series in Lahore, Tom Latham—who was now filling in for Williamson—was acting with a little more reserve.
"The preparation hasn't been ideal," he admitted. "But as international cricketers, we have to adapt as quickly as we can. We've only had one training session leading into this series, but we've got to trust the work that we've done back home, even if conditions are different."
"We've got some young guys in the group, but we've also got some experienced heads. Guys who've played a lot of T20 cricket around the world. These guys have been picked on performances in domestic cricket in New Zealand, and it's a great opportunity for them."
In contrast, Pakistan is in an ideal position, particularly for the T20I series. There are no such problems this time, therefore the 2-1 loss to Afghanistan can be explained away as a post-PSL problem for young players under strange circumstances.
During the time that Sri Lanka and New Zealand were playing each other on the other side of the world, Pakistan had a helpful little respite in the buildup.
They will be competing in the same venues where so many up-and-coming players developed during the PSL, and they will once again have the guiding influence of Babar Azam and Mohammad Rizwan.
There is more to that last argument than just that, but Babar's confirmation that the two will begin the batting makes it pointless to continue beating a dead horse.
With the T20 World Cup 18 months away, Saim Ayub and Mohammad Haris will have the chance to put the Afghanistan series behind them.
Pakistan also has time on their side. In addition, Ihsanullah and Zaman Khan get another chance, while Shaheen Shah Afridi comes back to team up with Naseem Shah and Haris Rauf. This should ensure that Pakistan has everything they need in that area.
Pakistan has top-notch fast bowlers who can put out fires and a strong top order. They have a formula that has worked for them in the past, and while they are looking to tweak it to help them advance, Babar believes there is no reason to completely throw it out.
"We have the strength to dominate this series,"

he said.
"The way our youngsters have performed in the PSL, both batters and bowlers, has been extremely impressive. And our senior players like Haris Rauf, Naseem and Shaheen are also on song." 
"It's a nice combination we've built up. But you can't say it'll be easy. People say this is New Zealand's B team, but most of their players are seasoned players, and even their younger players have had plenty of form and experience."
Even if Pakistan's preparations went as smoothly as they should have, they still managed to create some of their own. Unusually, it came from the nation's top cricket official, PCB chairman Najam Sethi, who used Twitter to issue a statement that was anything but a clear support of the captain.
He acknowledged that he had asked the selection committee for their opinions on the advantages of keeping Babar, and he added that the selectors and head coach would serve as his mentors.
"going forward, and my decision will be subject to the success or failure of the status quo".
At Babar's pre-series captained Sethi, a former journalist, had casually dropped that bombshell only one day before current journalists sat down, leaving the captain in the agonizingly hard position of defending himself while not appearing to contradict the person who had the authority to fire him.
"Sethi has given me his backing," Babar said, very much with the air of a man walking a tightrope. "We try to give our best every series. I can't get a commitment in writing that I will be captain."
"But I try to exercise the authority I have, and maintain the standards I've set. Things go on in the background, but I don't try and look at what's being said. If I did, it would only increase the pressure."
Babar is under pressure that he does not need and does not deserve. But the Gaddafi stadium might be in for some surprisingly exciting Ramzan cricket if it gives this series the extra edge and spice it so urgently needs.