David Warner gives important tips to Aaron Finch after successful 1st T20I stand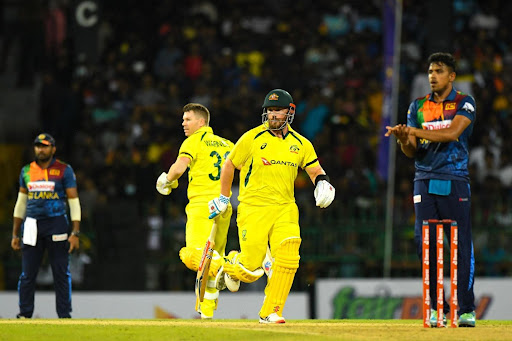 David Warner gave some suggestions to Aaron Finch in the 1st T20I regarding the moving ball
On Tuesday, June 7, both Aaron Finch and David Warner scored unbeaten half-centuries as they made the target of 128 against Sri Lanka in the first T20I against Sri Lanka as kids play.
After putting on a successful, unbeaten stand of 134 runs with Aaron Finch, David Warner revealed that he had been helpful t his partner in regaining his form.
Before that game, Warner also revealed that he had been in touch with Finch during the Indian Premier League (IPL) 2022 and revealed the technical tip that he advised him to counter the moving ball.
"I just said to him not to walk out into the ball, let the ball actually do its work in the air. And if they want to bowl nice and full and you stay still and keep that leg stump line, you're going to get full contact with the ball, and if it swings late, it's going to go down the leg,"

said Warner.
Finch has a long history of struggling against the moving ball early in the innings, especially against the incoming deliveries.
"He was probably moving a little too much, he was walking straight into the line of the ball and was still moving at the time of the delivery, and when you're a batter you don't want to really do that unless you're actually physically charging.
"For Finchy, it's about keeping it simple and not moving too much around the crease. We saw that tonight, he played some nice shots, he timed the ball well and when he's nice and still, that's when he's at his best. He looked to hit everything down the ground, when the ball was in his area, he hit his slog sweeps which he is very good at and you could just see the energy was a lot different with him running between wickets and he was up and about, and it was great to see,"

added Warner.
Updates on Starc's injury
Australia will be missing the services of Mitchell Starc who cut the index finger of his left hand with his shoe spike. He got the injury in the first over of the first T20I against Sri Lanka.
Starc was allowed to complete the quota of his overs with an injured finger covered with a bandage that came out to be an external injury.
However, playing with the same injured finger in the second T20I shall not be good for him and Australia. Thus, Jhye Richardson who is also in the squad will be a possible replacement. Before that, they had lost Sean Abbott due to a fracture injury.