Crawley improves his repertoire in an effort to introduce Ashes style into the Hundred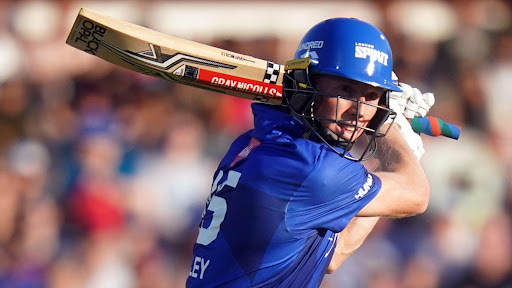 London Spirit got off to a fast start thanks to Zak Crawley
After finishing the Ashes as their top run-scorer, Zak Crawley seeks to further diversify his shot repertoire. He is focusing on his ramp and reverse-sweep in the hopes that they would help him get into England's white-ball plans.
Crawley played his first innings since the end of the Ashes on Saturday, scoring 30 off 15 balls in a close London Spirit victory over Trent Rockets at Lord's. He is hoping to be called up to the England squad for the December visit to the Caribbean for three ODIs and five T20Is against the West Indies.
The transition to 100-ball cricket has not demanded a significant adjustment in strategy, as evidenced by the 88.72 strike rate that was achieved against Australia in five Tests this summer.
"I try to keep it pretty similar,"

Crawley explained.
"I play similar shots, just a bit more aggressive and probably a bit more aerial."
James Vince is a fellow top-order batter who depends more on placement than power and is skilled at taking advantage of the powerplay, and Crawley bases his white-ball strategy after Vince.
"I really like the way he plays. He's a very natural player. If I can emulate him, he does really well in England and I feel like that's quite similar to my game.
"Obviously you've got to keep up and the game's getting more aggressive each year, so you try and keep up with that: I certainly feel like my game will get more aggressive as the years go on. But at the moment, it's still about playing good shots and picking the right moments to score."
He unfurled a ramp when facing Luke Wood on Saturday, scooping him over short fine leg for four, and is looking to expand his range of innovative shots.
"I'm trying to get better at a few,"

Crawley said.
"[You will see] a few more sweeps, reverse-sweeps, and maybe a ramp; other than that, I just try to play the ball on its merits."
In his early years at Kent, he routinely played the ramp.
"I haven't played it too much in recent times, but before I played for England, I used to play it a lot more. I've been trying to work on it and bring it back in a little bit more – and hopefully [it will] free up a couple of other areas to score."
After originally coming up with a strategy to employ it against Nathan Lyon, Crawley was observed practicing his reverse-sweep in the nets during the Ashes. Prior to Lyon's injury that ended the series, he used it three times against him while also using it against Todd Murphy and Travis Head.
"Lyon gets lovely shape on the ball, so I felt like he was OK to reverse-sweep outside off,"

Crawley explained, speaking at the launch of KP Snacks' community cricket pitches initiative.
"It was something I wanted to play against him. Obviously he only played two Tests in the end but hopefully, having done that work on it, it'll come to fruition in the Hundred."
Crawley is a unique batter in that he tends to produce more runs as the pace of the bowling he encounters quickens rather than the opposite.
"I know the stats say that, but it's never too easy facing someone bowling over 90mph," he said. "Sometimes, when someone is bowling quick and you get hold if it, it goes further."
He believes that the reason is that a shorter reaction time allows him less time to think:
"You're just trying to react. I'm trying to keep it very simple at the moment, and maybe that's why the quick bowling has suited me a little bit more in the past, because I don't have to think as much. I'll just have to get better at playing the 80mph stuff…"
Crawley claims that his life has not changed as the Ashes fade from memory:
"I don't feel any different. I am just the bloke who scored runs a couple of weeks ago; if I don't score runs in the Hundred, I'll be a bloke who doesn't score runs in the Hundred. It's a very fickle world we live in, so I don't get carried away too much.
"Obviously I think back fondly about how cool it was to play in it, but I don't like to dwell too much on whether [a series] has gone well or badly – I just move onto the next one. If it comes into my mind, I enjoy the memories of it, but I'm very much focused on doing well in the Hundred now."