Biggest shock ever in the cricket ODI World – Check the report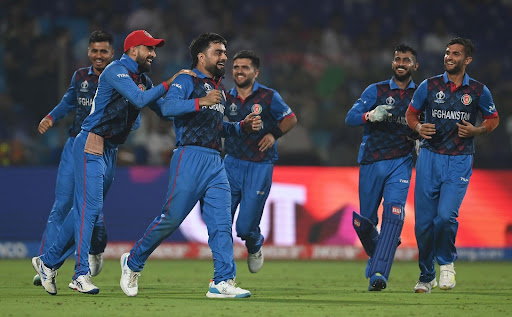 Mujeeb ur Rahman says great achievement for the whole team and this is the kind of opportunity we have been working hard for
When Afghanistan defeated England's world champions by 69 runs in a masterful display of spin and seam under the lights in Delhi, they not only achieved the most illustrious victory in their international history but also delivered the first major upset of the 2023 World Cup.
England had won the toss and decided to bowl first. The tone for Gurbaz's team was set by his mini-masterpiece.
He took the initiative when faced with a surface where South Africa's batters had recorded three centuries in last week's World Cup record 428 for 5, he went on the offensive against another timid new-ball spell from Chris Woakes, whose search for form has typified England's shaky start to their title defense.
Woakes' first ball of the game was a crazy sighter that sailed away through Buttler's legs for five wides, and Afghanistan hardly needed any further encouragement to apply pressure to such a frail link in England's attack.
The sucker punch, a wicked slamming pull over deep square-leg for six, was waiting for Gurbaz in his second over after a deliberate hack from Gurbaz through the line convinced Woakes to drag his length back.
Two more fours were then scored in Woakes' next over, lashed through the covers as he failed to land his cutters.
Although Topley at the other end was showing more restraint with his high-kicking left-arm seam, Gurbaz had complete faith in the true nature of the pitch and twice climbed through an offering of width across his bows with a brace of savage cuts.
Woakes was replaced by Curran, who wasn't any better. Gurbaz finished Afghanistan's powerplay on an alarming 79 for 0 after destroying his second over, which vanished for 20 with two further fours and another powerful six over midwicket.
With a thoughtful sweep for four off Adil Rashid's second ball, he successfully reached fifty in 33 balls, the fourth fastest of the tournament so far.
Before things could get better, England's problems needed to get worse. Gurbaz hit his fourth six, possibly the best of the lot, a smooth pick-up over deep midwicket as Rashid looped a leg-break into his arc.
Mark Wood was quick to start his spell, but a wayward bouncer was jimmied up and over deep third with a flick of the wrists.
The worries in the England camp, as well as for his father Don who was watching from the seats, were evident when the injury-riddled Topley injured his knee while failing to cut off another pull-through fine leg.
Topley did eventually come back, but by that point, it appeared Afghanistan's innings had disintegrated in a typical frenzy of self-destruction.
Rahmat was dragged out of his crease in Rashid's following over and skillfully stumped by Buttler for 3 from 8 balls after playing out a maiden against Rashid. Before Rahmat could calm down, Root was picked out by Ibrahim Zadran with a head-high cut to midwicket.
Gurbaz was only in the frame when Hashmatullah Shahidi's opening delivery was edged to midwicket, setting off for an impulsive single.
He stomped off the ground, furious at both himself and his skipper, slamming his bat on a passing chair and a boundary marking while doing so. He knew full well that those blows could and should have been delivered to England's toiling bowlers in their place.
Despite Afghanistan's difficult score, there would be no capitulation at 174 for 5. Alikhil held down the tail while Rashid Khan and Mujeeb took advantage of England's bowling to the best of their abilities.
By the time Curran's final over was launched for two fours and a free-hit six, he and Woakes had combined to deliver 8-0-87-0, the worst possible figures.
In the end, those were the margins that proved impossible to control as Afghanistan kept their pre-game vow to bring their nation some "joy" in the wake of last week's earthquake. They could not have delivered more.
Despite Jonny Bairstow's stinkeye as he stalked from the crease following a seam's width DRS decision, Farooqi's loosener was more than enough to draw a few sidelong glances in the England dressing room.
A wicked full-length inswinger from his zippy left-arm line pinned Bairstow on the crease and extracted a perfectly justifiable on-field verdict from Rod Tucker.
However, there was no need to second-guess Joe Root, England's second power play victim, who was bowled for 11 from 17 after being squared up by Mujeeb's front-of-the-hand slider. This was yet another telling power play failure for England's shaky skipper, as the ball kept low to rattle middle and off.
Dawid Malan, who played well throughout the game for the second time in a row, was the most composed batter, carrying England through the power play without further loss with his 32 from 39 balls.
The fielding limitations were eased, but Mohammad Nabi was already there, playing his 150th ODI out of a potential 156 for his country.
Nabi's fourth ball was an example of off-spinning poetry; it was a flighted, dipping delivery that gave Malan hope his fifth boundary was on the cards, but Ibrahim Zadran quickly sprang the trap at short cover.
Buttler has urged people to "attack" in recent weeks, but even he was helpless to put what he had spoken into practice in such odious conditions. As Afghanistan's primary threat, Rashid Khan joined the attack in the 17th over, he fired one lone shot in rage, a bullet driven through the cover.
However, Naveen-ul-Haq's furiously flicked seamers appeared to frighten him from the start. After being dismissed twice in his first four deliveries, he drove hesitantly through a booming in swinger and had his stumps splattered for 9 from 18.
Following that, England's hesitation was starting. In his 10 from 14, Liam Livingstone never seemed to appear comfortable. Eventually, he planted his front foot down the line to Rashid and wasted a review in the process.
Sam Curran appeared to be only concerned with holding up the end while Harry Brook busied himself with a fighting half-century, including a few beautiful drives down the ground, and in the 31st over, England's first and only six of the innings, which told a tale—especially when compared to their previous World Cup games. Afghanistan, on the other hand, had eight.
When Afghanistan defeated England's world champions by 69 runs in a masterful display of spin and seam under the lights in Delhi, they not only achieved the most illustrious victory in their international history but also delivered the first major upset of the 2023 World Cup.
Hashmatullah Shahidi, the Afghanistan captain:
"(On how big a win this is) I am quite happy and all my teammates are happy. This was the best win. The confidence will be there for the next game and the whole country will be happy and proud with this win. (On the opening partnership) They get a lot of credit (for the win today). Unfortunately, we had back-to-back wickets again today. We have to think about that. We had a good start and credit goes to Gurbaz for that. (On Ikram) He was with us for the last two years but did not get too many chances. I and the coach believed in him and we really appreciate his effort. (On Mujeeb being an all-rounder) I think, yes. Against Pakistan in Sri Lanka, he batted beautifully. Today, he scored important runs for us. (On the spinners) We have to score runs for that (for them to have an impact). The whole world knows how good they are. I am very proud of them today. (On the wickets the pacers took) Fazal started very well, along with Mujeeb. That (Bairstow) wicket was very important. I realized the wicket was not supporting the batters when batting against the spinners. When I went to the pavilion, I felt 280-290 would be enough on this track. (Message to the fans) The belief is there, the trust is there and the talent is also there. The last couple of games, we did not finish well. Looking forward to the rest of the tournament. Hopefully, we can be positive. This was the first win for us (since 2015 in the World Cup) but not the last one."
Jos Buttler, the England captain:
"(On England's early bowling) It was disappointing, having won the toss and elected to bowl. Missing the first ball down the leg side sort of set the tone. Congratulations to Afghanistan, they outplayed us today. (On what they could have done differently) It was a bit of bad execution, both with the bat and the ball. It was not at the level we wanted it to be consistently enough. That was the area where we lost the game. (On Afghanistan's bowling attack) They have a really skillful attack. The dew did not come in as much as we expected. The ball held up and there was indifferent bounce. They kept the stumps in play and we were not quite good enough today. (On how they plan to recover) You have to let these defeats hurt. Let it hurt, try to figure out where we need to get better. Lots of resilience in the group, and lots of characters who have been through some good times and through some tough times. (On the form of his bowlers) As a whole, we are not at the level we would like to be. In a World Cup, that is where we want to be. On the field and off it, we will be trying to put it right."
Mujeeb Ur Rahman, Player of the Match:
"Very proud moment to be here at the World Cup and beating the champions. Great achievement for the whole team and this is the kind of opportunity we have been working hard for. Wonderful performances by the bowlers and the batters. (On his responsibility with the new ball) As a spinner, it is pretty hard to bowl in the power play. But I have been working in the nets. There is not much room for error to bowl wide so I have tried to bowl wicket-to-wicket. We knew that dew would play some part and that is why I wanted to bowl in the power play. The ball was holding a little bit as well. Even if there was dew, I was mentally prepared. Not to give much room and bowl in the right areas. (On the batting) It is all about the management. They have been giving me confidence. I want to contribute as a lower-order batter as well, and those 25-30 runs help the team as well. I want to continue doing that. I want to dedicate this award to the people back home, who have been affected by the earthquake. This is something we could do as a team and I could do myself as a player."