Ben Duckett uses Middlesex to Test-drive his Lord's readiness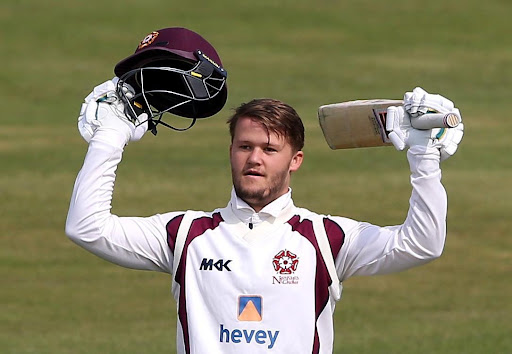 Ben Duckett kept Nottinghamshire together
At Lord's, there is never a terrible time to record your first century. Ben Duckett made a sensible choice, though, as there are a few high-profile events coming up here over the next few months.
On the first day of the Division One match between Middlesex and Nottinghamshire, the opener ripped off a sharp 119 not out. Crisp not for cleanliness but for execution, what with the two let-offs in the 176 deliveries and counting.
It was also fruitful since Duckett was able to become more familiar with his surroundings and set up a solid foundation for his county, who closed up Thursday on 252 for 5 after being asked to bat first.
Duckett's June will be bookended by Tests here, first against Ireland, then Australia in the second Test of the Ashes. The one-off fixture with Ireland will be the first time he sets his bag down in the home dressing room.
The 28-year-old's three previous Championship matches at Lord's – two for Northamptonshire – have resulted in just 86 runs from five innings, averaging 17.20.
That he was eyeing up that much in the evening session alone –
"I kind of grafted for two sessions, and my idea was to potentially get 80 or 90 runs to finish the day on 200 or something" 

—speaks to the belief and mindset he is currently in. 
According to Nottinghamshire, they too would have opted to bowl. You could be wondering how much of those decisions had to do with seeking to cover up or expose a Middlesex top-order that had scored 44 for 3 in their first four innings of the season while going 4 for 4, 15 for 3, and 11.
The visitors don't have that issue, so when Duckett and Haseeb Hameed combined to make 117, they were kind of rubbing it in after making 125 against Somerset in the opening stand last week. But it ought to have ended on three, with Duckett's knock landing on zero.
Ethan Bamber found an edge from around the wicket 15 deliveries into the day, which wicketkeeper John Simpson and first slip Stevie Eskinazi let pass them by. The first of Duckett's 12 boundaries was immediately pursued.
The value of Duckett and Hameed's start was increased by the fact that the first four wickets went for just 35 runs, creating a sense of "what might have been". In the middle session, Middlesex's attack refocused.
Bamber started the chain reaction by entangling Hameed with a catch to Eskinazi and then taking out Matthew Montgomery with a through to Simpson. The only other notable score was Lyndon James' 41, which he used to surpass Duckett before Martin Andersson broke the fifth-wicket stand on 73.
That in and of itself revealed Duckett's intentions. He launched on 60 from 80 after scurrying to a half-century off 69 deliveries with a six into the closer Grandstand boundary.
He continued to move forward and was especially interested in passing Ryan Higgins around the turn, doing it twice for a total of four laps.
"I said to Hass I was going to do it," he said of the shot. "He laughed as if I was joking."
Then wisdom set in. As much as the collapse made it possible, conversion was a top priority. Duckett began the season by defeating Hampshire with a score of 51 and Somerset with a score of 75.
In addition, the left-hander finds it irritating that only one of his five fifty-plus innings was a century (107 in Rawalpindi), despite the fact that his Test career resumed this winter with 508 runs in five matches spanning tours of Pakistan and New Zealand.
He stopped himself from reverse-sweeping leg spinner Luke Hollman to the short side, which is rather similar to a dog passing on a bone, such was his determination to make this matter.
"Over the past six months, I've probably scored five or six fifties and only converted once," Duckett said. "So to get over the line early on in the season is nice."
He is assured a complete run in the summer, barring anything unexpected, based on those statistics and the fact that he is the opener who is not named "Zak Crawley." He still desired to erect a memorial, though.
After spending 20 balls in the nineties—15 between 95 and 99—Duckett dropped down and paddled a Hollman full throw around the corner to reach a clean 100 off 152 deliveries. He acknowledged that he became bored.
When he reached the other end, he gave a quiet punch to the air, like a person who had finished today's Wordle on his first try, and then he looked upward in relief, like a person who had finished today's Wordle on his sixth try.
As much as he has aided in filling Nottinghamshire's plate, Duckett did not conceal the idea that stockpiling runs will benefit him come June. Even starting this season at No. 3 after scoring 1,012 runs in Division Two the previous year was due to getting ready for England duty.
Head coach of the Tests Brendon McCullum advised him over the winter that he preferred it if he opened. On the eve of Nottinghamshire's season opener against Hampshire, Duckett made the decision to make that request to head coach Peter Moores of Nottinghamshire.
Ben Slater was forced to bat at three, therefore it was cruel irony that he was run out today at the non-striker's end by a straight drive from Duckett that Roland-Jones diverted onto the stumps. In actuality, Roland-Jones also had to swallow a bitter pill because he lost a chance to catch a pitch from Duckett on 70.
This first hundreds of the summer is somewhat muted by two drops. The outcome, however, renders them irrelevant in Duckett's eyes because it allows him to get past the first mistake.
"Scoring a hundred for the team is the priority, but the fact that it's here at Lord's is even more special,"

Duckett said.
"Thankfully, I've had an opportunity to play here and have another knock, and I'm obviously going to get another one batting with the slope and different things.
"Obviously it's 20 mph slower than what it will be at the end of the summer, but it's always nice gaining that experience. If I get the nod, I can think back to this and having a hundred here is nice confidence."
On the question of pace, he did mention that going against Australia's pace assault by moving down the field or getting on one knee probably won't work.
"I don't think I'll be walking at bowlers as much or paddling Pat Cummins. But it was probably more prep for the Ireland Test!
"That pace is going to come on a bit nicer; if it's flat, it's going to come on and sometimes pace is nice here in England. Actually, it can be trickier facing someone more like Bamber, who's around the knee-roll at 75mph – it could be 80mph, or whatever it is. Sometimes I find that harder – to sit in and back your defense and play in a different way. I know they're (Australia) one of the best attacks potentially ever, so it's going to be tough but an enjoyable challenge."
Josh Little could have some thoughts on that remark regarding Ireland. However, it seems that Duckett is currently so confident in himself that it is important how motivated the bowlers are.
His motivation and self-assurance are at an all-time high. It's fortunate that he started the most important summer of his career.