BCB Chief Nazmul Hassan says there will be no head coach for Bangladesh in the T20Is in Asia Cup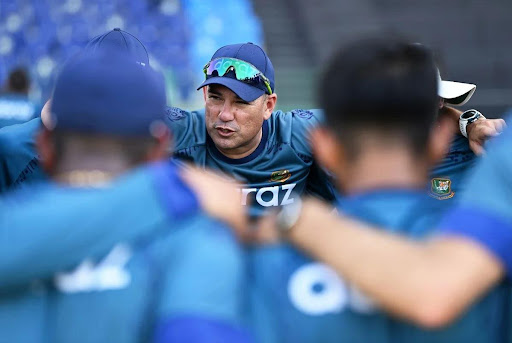 Russell Domingo says it gives me a bit of time to think about the coaching staff going forward
Bangladesh Cricket Board has presented parted coaching in the national set-up with their choice to keep current head coach Russell Domingo in charge of Test and ODI side, while the T20I arranging will be finished by the recently designated specialized Chief Sridharan Sriram.
Bangladesh Cricket Board has presented parted coaching in the national set-up with their choice to keep current head coach Russell Domingo in charge of Test and ODI side, while the T20I arranging will be finished by the recently appointed specialized Chief Sridharan Sriram.
Cricbuzz had earlier announced that BCB wants to present split coaching and BCB Chief Nazmul Hassan made it official after sitting with the individuals on the coaching panel at the board headquarters on Monday (August 22).
"There is no head coach in the T20Is in Asia Cup. We have our batting coach, fielding coach, spin bowling coach, and pace bowling coach while we have a captain. Along with that, we have a technical consultant who will give the game plan. And in that case, what will the head coach do? So, he does not have any work,"

Nazmul told reporters at Mirpur on Monday.
"Till now, officially, Domingo is our head coach and he could have been sent in for the T20Is (Asia Cup)… Someone who has been asked to do the game plan can't do it freely in the presence of a head coach since he will also have his opinion. So we don't want to create any confusion and that is the reason he is not being sent with the T20 team. And until World Cup, it will be the same setup. We want to separate it and see what happens,"

he added.
"His (Domingo) contract is up to November 2023. Domingo won't be part of the T20 setup [going forward]. Russell Domingo will be in charge of Tests and ODIs, but not in T20Is. We sat with Domingo and asked what he wants to do with the ODI and Test side. He will give extensive planning in three weeks.
"He wants to see the NCL (National Cricket League, traditional first-class tournament) and "A" team games and want to find out about future stars. We want to see how we can develop cricketers outside the national team and for that we need separate the support staff.
"We can even have separate captains for red-ball cricket and white-ball cricket but for that, we need separate teams and for that, we need separate coaching staff but until we get separate teams we are not prepared for it (different coaching set-up for red-ball and white-ball cricket)."
Domingo echoed board sentiment and expressed that with how much international cricket is being messed about; split training is the way going forward.
"It's difficult to say but maybe that is the way going forward,"

Domingo said, standing beside Nazmul as he announced the split coaching era in Bangladesh cricket.
"I think it's a great idea. It gives me a nice focus on the Test match and 50 overs stuff. We have had some great results and bad results in the T20s. I don't think it is a bad idea to make a fresh approach to the T20s. I am very open-minded about it. It is not my team. It is not about me. I am all for making the team better. It gives me nice clarity with the 50-over World Cup coming. We know there's a lot of work with the Test team. It also gives me some time to spend with the family. I was home for five weeks last year. Family life is important for me. It is very difficult to sustain. To come to tournaments fresh, to come in good attitude."

Domingo noted.
Domingo however said he doesn't agree with team director Khaled Mahmud that his coaching philosophy doesn't suit T20 cricket.
"Everyone has their opinion. I know my philosophy. I know my coaching style. I don't have too much of a comment on it."
"Absolutely (need a break). My time in South Africa has taught me that, mental freshness is a big thing for players and the staff. It was something that wasn't considered here in the past. These players play a lot of cricket, more than when I was the coach of SA. Mental fatigue can cause a dip in performance. We need to have a bigger group of players so that we can rest certain players.
"I have had a lot of cricket and touring. We have more games added next year. It is the practice, preparation, and traveling that also go into the whole thing.
"I will visit the A tour in Dubai. A lot of our Test players will play there. Tamim, Mominul, Shanto, and Rabbi haven't played for a while so that'll be a great opportunity. I will spend time watching NCL from mid-November. Those are part of my plan."
"There's a little bit of time before the Tests and ODIs. I think there's a possible reshuffle. Jamie is talking about maybe being involved in the development. It gives me a bit of time to think about the coaching staff going forward. I have ideas about who I like to have as a batting coach. When he is not available, Jamie can step in. There are a lot of things I need to think about in the next few months. I think Bangladesh has a good chance in the 50-over World Cup. The team is playing well. We have a good group of players,"

he concluded.