After the thrilling Super Over game, Mitchell stresses the importance of "winning little moments" with the youthful team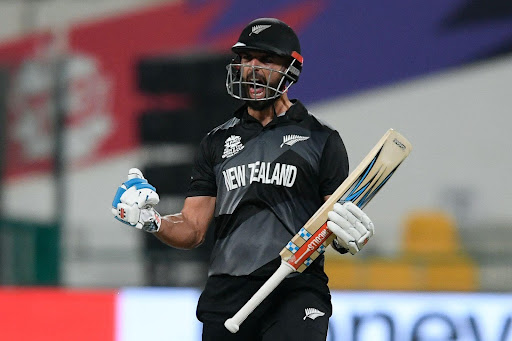 For New Zealand, Daryl Mitchell's 44-ball 66 was ineffective
Although it can be difficult to accept defeat in a Super Over, you'd have to ask New Zealand if they plan on continuing. Daryl Mitchell, though, had a more objective perspective on New Zealand's most recent Super Over loss, this time against Sri Lanka in the opening T20I at Eden Park.
In total, New Zealand has lost seven out of their eight Super Overs in T20 Internationals.
Instead of focusing on the fact that a young New Zealand team—Henry Shipley and Chad Bowes were both making their debuts—had come so close to defeating the Asian champions, Mitchell, whose 44-ball 66 had established the groundwork for his team's pursuit of 196, preferred to highlight that fact. They also acquired priceless international experience as a result.
"We love to win series for our country, but at the same time, it's about getting better as a group," Mitchell said after the game. "We know we've got a young group here at the moment, one that hasn't played a lot of international cricket."
"I guess to push the Asia Cup champions to a Super Over is really cool to see for some of the younger guys who haven't played a lot of cricket. For us, we're just really proud to be representing our country and try and make sure we concentrate on winning the little moments and doing the things that we believe as Black Caps are our values."
Mitchell was once more happy with how they had handled the game's actual events, especially the chase. The threat of the accompanying DLS target always added to New Zealand's pursuit when rain was imminent—in fact, a good deal of drizzle did come towards the end of the game, but not enough to stop play.
Although they lost wickets along the road, including two in the first two overs, and had a high needed run rate, New Zealand remained in front of the DLS target for the whole of the chase.
This was largely due to significant cameos from players like Tom Latham, Mark Chapman, James Neesham, and Rachin Ravindra who all made sure the Lankan bowlers were never allowed to gain the upper hand.
"At Eden Park, the deeper you take it, the more chance you have at the end of catching up, and we were really happy with where we were in staying with the DLS total the whole way through," Mitchell said.
"That's sort of an indicator of where we wanna be when chasing. I thought we were in a great position, and it was really cool to see the likes of Tom Latham and Mark Chapman come out with that intent right through the middle, and then Rachin (Ravindra) and (Ish) Sodhi do a job at the end."
"I think they'll take a lot of confidence away from doing that job and, yeah, it was really good to see those guys stand up."
It wasn't enough in the end, but according to Mitchell, this was more of a case of sharp margins than something particularly systemic that needed to be corrected.
"I thought the way they bowled their Super Over was very good, and I guess, when you do lose a wicket early in the over it makes it challenging in terms of trying to make sure you get enough runs to be competitive," he said.
"And I thought the way Adam Milne bowled… that six off the second ball, if it was two metres shorter it's a wicket and it's game on. So that's the game that we play and, yeah, we were just a couple of small margins off today.
"But it's a sport, there's a winner and a loser, and we were on the other side today."