After a thrilling final over, Middlesex and Northamptonshire tie with Sam Robson's 126*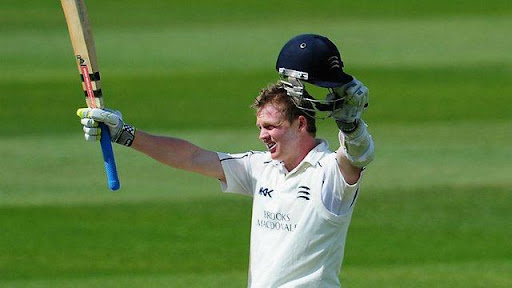 Sam Robson scored an incredible century
Sam Robson became Middlesex's first century of the year, but it wasn't quite enough to secure a much-needed victory in the LV= Insurance County Championship against Northamptonshire.
The home team's chances of chasing down 323 against their fellow Division One strugglers were improved by Robson's 126 not out, which he shared with John Simpson in a fourth-wicket stand of exactly 150.
Middlesex required 10 runs from the penultimate over, bowled by Tom Taylor, and three runs from the final delivery, but Robson was only able to guide the ball to mid-on and scramble back for two, resulting in a tie in the scores.
Northamptonshire remained at the bottom of the standings while Middlesex is now 16 points above them in ninth place, which did little to improve either team's chances of avoiding relegation as a result of the draw.
Tony Kingston, a county stalwart who had been their goal scorer for 32 years up until last season, passed away on Wednesday at the age of 83. As a sign of respect, Northamptonshire's players entered the field wearing black armbands.
Surprisingly, the visitors, who had 372 for 7 overnight, decided to bat again. However, they only extended their innings by 11 deliveries as the final three wickets fell for an additional eight runs.
Emilio Gay was the last man out for 89 after being pushed back in an attempt to set up an ambitious single but failing to beat the throw to the bowler's end. Tom Helm finished with three for 75 after collecting two in three deliveries.
With the promotion of white-ball expert Stephen Eskinazi to the opening position, Middlesex signaled their determination, but the strategy was unsuccessful when he was forced to leave the chase after just two overs due to a recurrence of the finger injury he sustained while fielding on the first day.
The batting side struggled to get going since a lot of the deliveries kept low, and they were further hindered when Ben Sanderson's reliable opening spell produced wickets in quick succession.
There was no disputing the next, which tore away Pieter Malan's off stump. Mark Stoneman was the first to go, having been declared leg before wicket to a ball that may have slid down the leg side.
Soon after, Middlesex might have been three down when Max Holden drilled a ball to square leg and non-striker Robson eventually abandoned his attempt to get a single halfway down the field, but Sam Whiteman's throw whistled just over the stumps.
After lunch, Holden got off to a fast start, cutting Sanderson for two boundaries, and appeared to be in a good spot. He added 37 runs to a 63-run partnership with Robson when off-spinner Rob Keogh castled him with a delivery that turned and clipped the bails.
Although Simpson drove Keogh off the back foot for four runs to push the Seaxes total into three figures as he and Robson kept the scoreboard moving, Keogh bowled cleanly throughout an early 11-over spell.
By steering Tom Taylor for three runs, Robson moved closer to his second half-century of the year, but by the time Middlesex reached tea at 147 for three, the necessary rate had already risen above five an over.
There was just one boundary in the first seven overs following the break. When the partnership came to an end, the Seaxes were still having trouble gaining momentum. Luke Procter took the catch that eliminated Simpson for 75 while maintaining his footing in front of the rope at far off.
Ryan Higgins was also removed by Procter after he missed the ball to midwicket, but Roland-Jones began a spirited attack, scoring 34 runs off just 18 deliveries, including three sixes, to move his team within 40 of the mark.
Josh de Caires, who had an undefeated 17 for the team, tried his best to assist Robson in getting them over the finish line, but Sanderson only allowed four runs in the penultimate over, which was essential since Northamptonshire made enough runs to prevent their rivals from winning.