Usman vs Burns: will The Nigerian Nightmare defend the UFC title?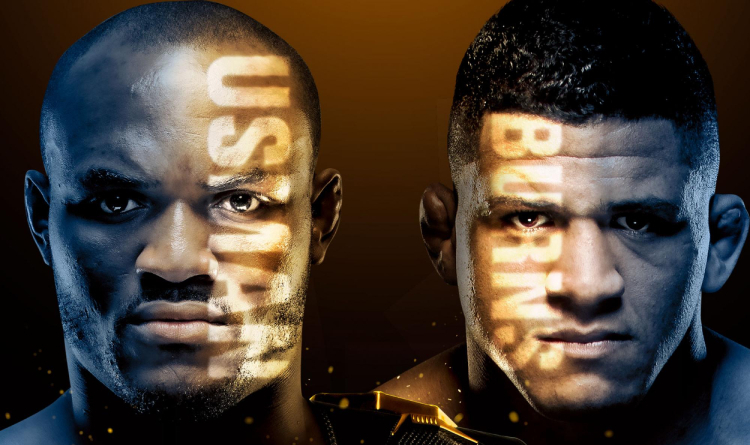 Usman to take on Burns
UFC welterweight champion Kamaru Usman is set to defend the title against Gilbert Burns in the UFC 258 main event on February 13. Will The Nigerian Nightmare retain the belt?
Kamaru Usman stats
Usman started his professional MMA career in 2012 and amassed a record of 17-1. The Nigerian Nightmare won The Ultimate Fighter 21 in 2015 and signed with the UFC. He beat champion Tyron Woodley and won the gold 3 years later. Kamaru defended the belt against Colby Covington and Jorge Masvidal. He suffered the only career loss in 2013 in a bout against Jose Caceres. Usman is currently riding on a 16-fight winning streak. He set a record for the most consecutive victories at welterweight – 12, tied with Georges St-Pierre.
Gilbert Burns stats
Burns has been competing in MMA since 2012. His record stands at 19-3. The Brazilian transitioned to the UFC in 2014. He has never been a title contender before but earned 4 bonuses for the best performance. Gilbert suffered 3 losses at lightweight in 2015-2018. He returned to the 170-pound division in 2019 and compiled a 6-fight winning streak. In 2019-2020, Burns defeated top welterweights Gunnar Nelson, Demian Maia, Tyron Woodley and became the number 1 challenger for the belt.
Usman vs Burns stats
Kamaru lands 46% more shots per minute and takes 21% fewer strikes.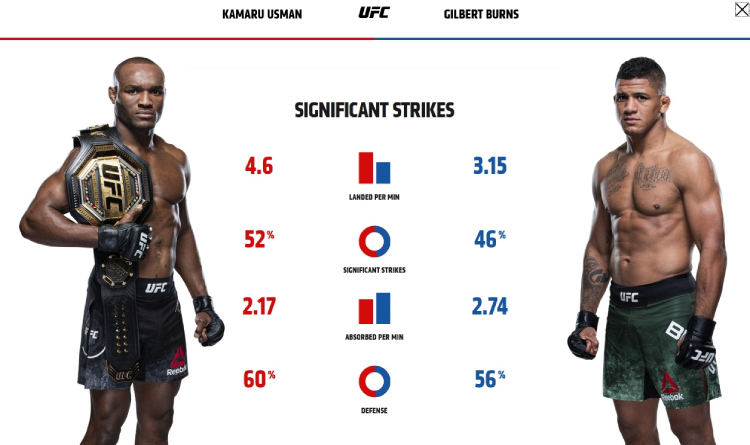 Gilbert performs takedowns 37% less frequently, but he makes almost 4 times as many submission attempts.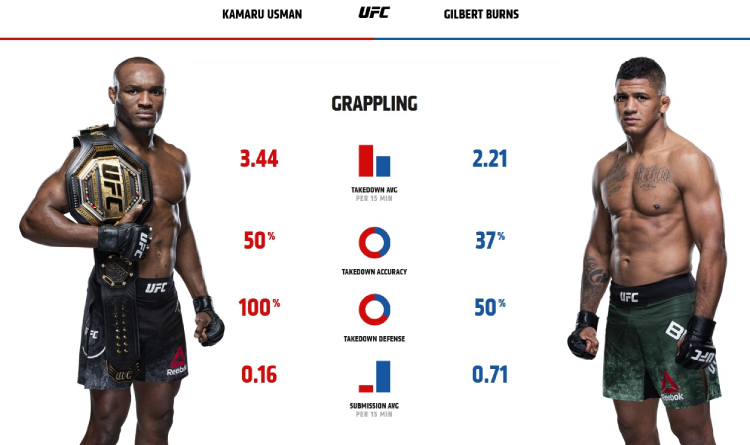 Usman vs Burns preview
Kamaru is an NCAA Division II Wrestling champion. He got a black belt in BJJ as well. Gilbert earned a second-degree black belt in BJJ and won gold medals in World Jiu-Jitsu Championships. Therefore, both athletes are highly experienced grapplers. However, Burns looks better on the ground, while Usman has higher takedown accuracy.
The sportsmen coached in striking martial arts only as part of MMA training. They have solid boxing skills but rarely throw kicks and employ a narrow range of strikes. Nevertheless, both athletes pack a lot of power in their hands.
Despite the matchup stats, neither fighter has a notable advantage on the feet. Usman lands only 11% more shots while standing (2.35 versus Gilbert's 2.11). The Nigerian absorbs fewer strikes due to his game plan focused on groundwork. Burns, on the contrary, spends less time on the canvas and in clinch.
Kamaru's main forte lies in wrestling, but Gilbert is very dangerous on the mat. Considering this factor and Usman's 100% takedown defence, the bout will likely be a kickboxing match. In this case, Burns has a better chance to win the contest due to speed advantage. Furthermore, if Usman initiates grappling exchanges, he will face a high risk of losing by submission. But in case the athletes fight on the feet, Gilbert is expected to beat the champion by decision, because the Nigerian has never been knocked out before, and Burns gained only 33% of victories by KO/TKO.
The most probable fight results
Gilbert Burns to win by decision (5/1);
Total rounds over 4.5 (17/25).
Disclaimer: Fight analysis is not a betting tip or a gambling advice of any sort. Our experts determine the most likely outcome of a sporting event based on statistics and personal views. Therefore, the actual result of a competition may differ from the predicted.