UFC Fight Night 181: Hall vs Silva – fight analysis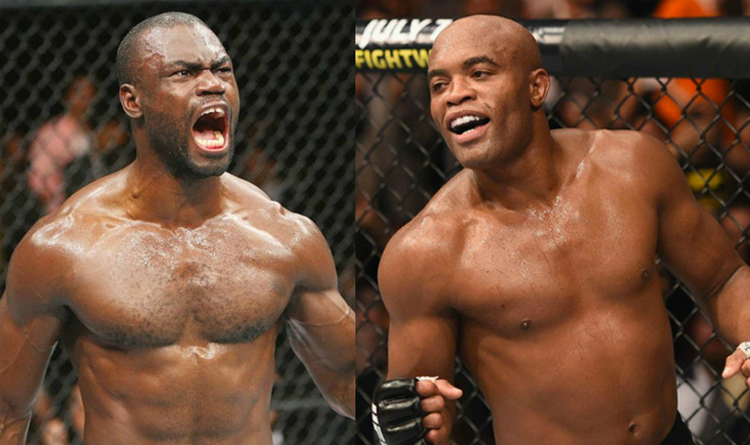 Sobrino
Legendary mixed martial artist Anderson Silva is set to face Uriah Hall at UFC Fight Night 181 on October 31 in Las Vegas. The middleweight bout will be the last one for The Spider who plans to retire from MMA.
Uriah Hall stats
Hall started competing in MMA as a professional in 2005 and amassed a record of 15-9. Prime Time won the vacant Ring of Combat championship in 2010 but lost the title in the next clash against Chris Weidman. In 2012, Uriah earned the RoC belt once again and signed with the UFC. His career in the promotion had its highs and lows. During the period 2013-2020, Hall was victorious in 8 bouts and suffered 7 losses. The Jamaican defeated two last opponents: Bevon Lewis by KO and Antonio Carlos Junior by split decision. He has earned 2 bonuses for the best performance and is currently ranked tenth at middleweight.
Anderson Silva stats
Silva began his professional MMA career in 1997. In 2004, The Spider won the Cage Rage championship, defended the belt 3 times and transitioned to the UFC in 2006. Silva knocked out Rich Franklin in the second UFC bout and became the promotion's champion. Anderson defended the belt throughout almost 7 years and was dethroned by Chris Weidman in 2013. The Spider lost in a rematch against Weidman and tested positive for doping before a fight versus Nick Diaz. Then Anderson entered in a downturn suffering 6 defeats in the last 8 clashes. Former UFC champion has not won since 2017, but he is still considered one of the greatest mixed martial artists. Silva set 7 records in the UFC, the longest title reign (2457 days) is the most impressive.
Matchup stats
Silva lands 11% less significant strikes, but Hall absorbs 21% more shots.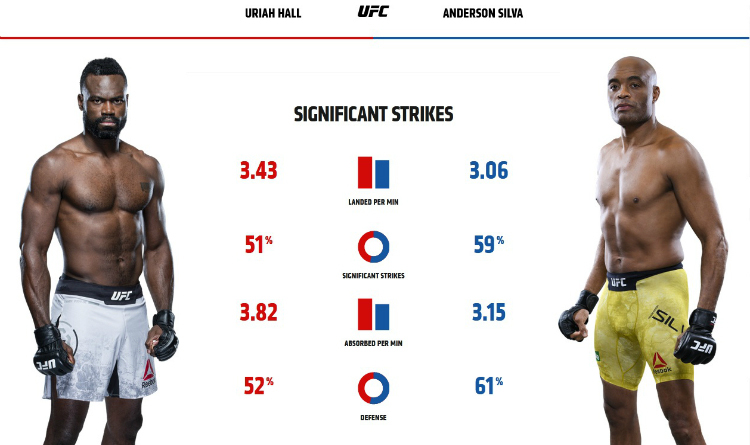 Uriah performs takedowns almost 4 times more frequently but with a 50% less succession rate. However, Anderson makes 31% more submission attempts.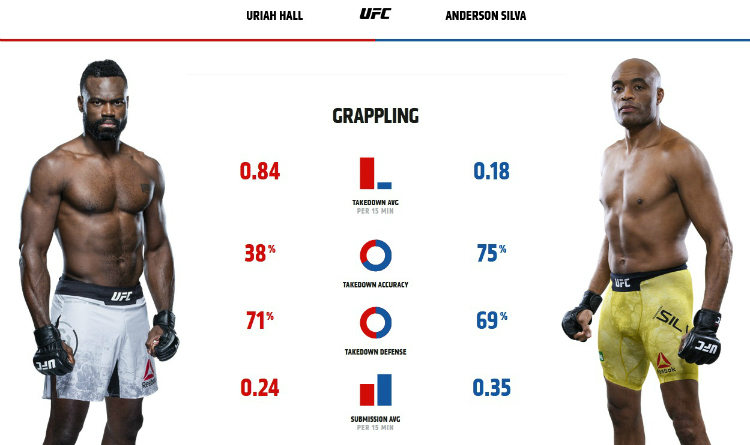 Hall vs Silva preview
Hall earned a second-degree black belt in karate, while Silva got a fifth dan black belt in taekwondo and a black prajied in Muay Thai. Therefore, Anderson is a more skillful, creative and experienced striker. Uriah lags behind in terms of accuracy and defense efficiency, but he has a higher knockout ratio (80% over Anderson's 65%).
The Spider received a black belt in BJJ, Prime Time earned only a blue BJJ belt. Thus, Silva has an advantage in grappling at least on paper. According to stats, Hall's takedown accuracy is very low but his defense is slightly better than Anderson's. In practice, however, both fighters rarely initiate wrestling exchanges. That is why their bout is supposed to be a striking match.
In his fight against Israel Adesanya, Anderson showed great defensive abilities but failed to prove his attacking skills. He threw 11 shots in 15 minutes and landed only 4 of them. Hall, on the other hand, surpassed his last opponent Antonio Carlos Junior in terms of landed significant strikes by 56% and hit the target 41 times. Uriah has a better chance to win the bout as a more aggressive and active contestant. Silva is already 45 and his reflexes are not as fast as they used to be, thus he risks taking heavy blows and is likely to lose by TKO/KO.