UFC Fight Night 181: Fili vs Mitchell – fight analysis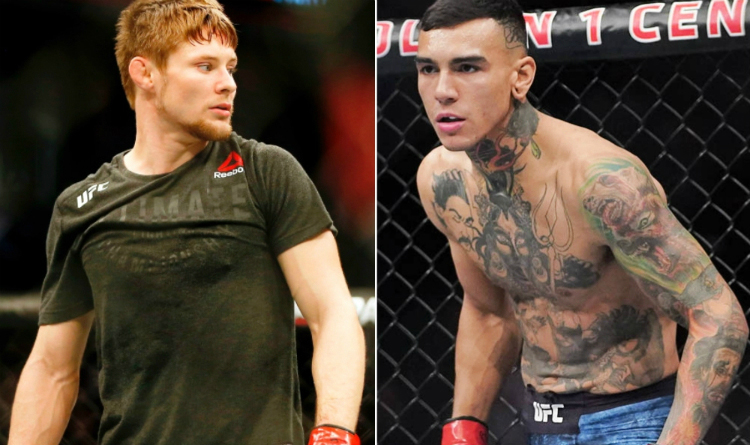 finghtnews.info
A featherweight bout between Andre Fili and Bryce Mitchell will take place at UFC Fight Night 181 on October 31 in Las Vegas. How will the contest play out and who is likely to score a win?
Andre Fili stats
Fili has been competing in MMA since 2009 and has compiled a record of 21-7. The Fury started his career with a 4-fight win streak and fought for the Rebel Fighter title in 2010 but lost by TKO. In the period of 2011-2013, he won 8 clashes in a row and transitioned to the UFC. Fili amassed a record of 9-6 in the promotion and never became a title contender. However, Andre earned 2 bonuses for the best performance.
Bryce Mitchell stats
Mitchell debuted in MMA in 2015. His professional record currently stands at 13-0. Thug Nasty won the vacant V3 Fights featherweight championship in 2017 and successfully defended the belt. In 2018, he beat Tyler Diamond at The Ultimate Fighter: Undefeated Finale and signed a deal with the UFC. Bryce defeated three opponents at UFC tournaments: Bobby Moffett, Matt Sayles and Charles Rosa. Mitchell got a prize for the best submission of 2019 and was ranked 15th at featherweight.
Matchup stats
Source: espn.com
Mitchell lands 47% less significant strikes but Fili absorbs almost three times more shots. Furthermore, Bryce performs takedowns 21% less frequently with a lower accuracy and his defense is much worse. However, Andre rarely makes submission attempts.
Fili vs Mitchell preview
Mitchell earned a black belt in BJJ, while Fili has no ranks in combat sports. Therefore, Thug Nasty is a much more experienced and virtuoso grappler. Bryce lands less takedowns because he does not need multiple transitions. For instance, in his last 15-minute fight against BJJ black belt Charles Rosa, Mitchel scored 13 minutes and 59 seconds of ground control and made 5 submission attempts. Fili can briefly keep rivals on the canvas and has less expertise in chokeholds and joint locks.
Andre is a skillful brawler who can perfectly mix kicks with punches. Bryce is a less formidable kickboxer. He uses blows to cover shootings for a takedown and avoids striking exchanges. Mitchell takes few hits due to an impressive ground game. Fili, on the other hand, likes to skirmish and absorbs many strikes.
Thug Nasty has a great advantage in grappling. He will surely take the opponent down, control him on the ground and threaten submissions. The Fury is unlikely to defend all chokes and locks as he lacks wrestling experience. Mitchell has a whopping 69% submission rate, thus his chance to win by forcing Fili to surrender is very high.