UFC 254: Whittaker vs Cannonier – fight analysis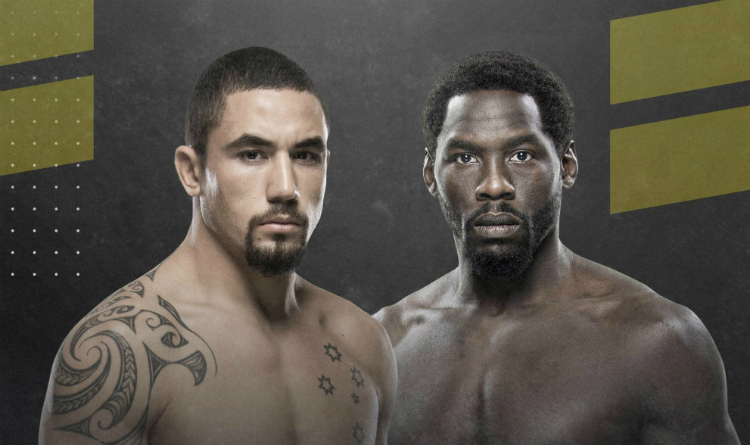 Twitter
Former UFC champion Robert Whittaker makes a return to the octagon at UFC 254 on October 24 in Abu Dhabi. He faces an American MMA fighter Jared Cannonier ranked third in the middleweight division.
Robert Whittaker stats
Whittaker amassed a record of 26-5. The Reaper started competing in MMA in 2009 and claimed the Superfight Australia title in three years. Robert signed a contract with the UFC in 2012 and became the winner of The Ultimate Fighter: The Smashes after defeating Brad Scott in his debut. In 2017, Whittaker beat Yoel Romero in the bout for the interim UFC title and was later promoted to the undisputed champion. However, The Reaper failed to defend his belt against Israel Adesanya. In his last bout, Robert won Darren Till by unanimous decision and was ranked first at middleweight.
Jared Cannonier stats
Cannonier's current record stands at 13-4. The Killa Gorilla made his MMA debut in 2011. He had a 7-fight winning streak before transitioning to the UFC and suffered his first career defeat at UFC 182 in 2015. After the loss to Dominick Reyes Jared moved from light heavyweight down to middleweight division. He won by TKO three clashes in a row at 186 pounds: against David Branch, Anderson Silva and Jack Hermansson. If Cannonier defeats Whittaker, he is likely to get a title shot against Israel Adesanya after four bouts at middleweight.
Matchup stats
Whittaker lands 33% more significant strikes per minute, but Cannonier absorbs 24% less punches and kicks.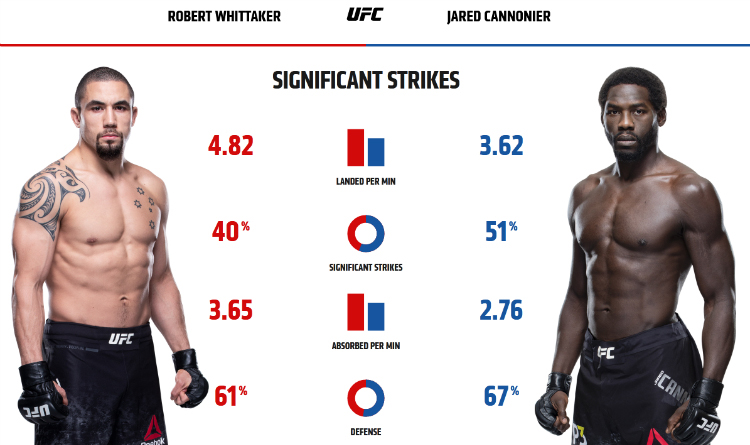 Robert performs takedowns 85% more frequently. Furthermore, Whittaker blocks almost twice as many grappling exchanges and finishes 20% more takedown attempts. However, both fighters have never tried to submit their opponents in UFC bouts.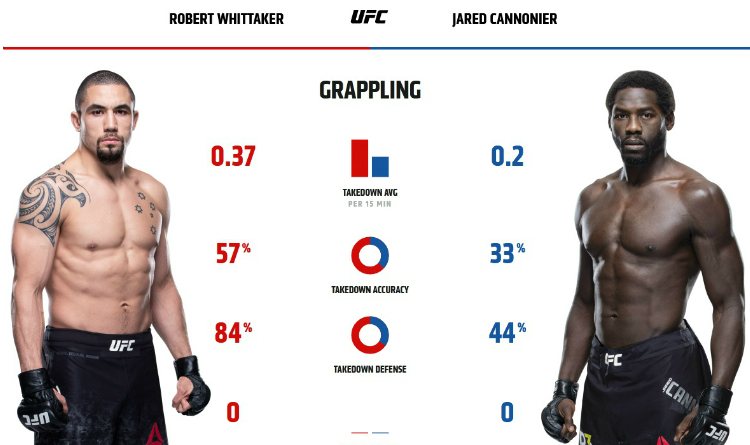 Whittaker vs Cannonier preview
Robert trained in hapkido and karate and earned black belts in these martial arts. Jared practiced boxing and kickboxing but he has no ranks. Nevertheless, Cannonier is a more accurate fighter and has a better defense.
The Reaper has earned a brown belt in BJJ, while The Killa Gorilla has no grappling regalia. Therefore, Robert has an advantage at least on paper. In the title fight against Adesanya, he did not attempt to wrestle. But during the last bout against Till, Whittaker performed two out of thirteen takedowns. Obviously, the Australian made adjustments to his fighting style after the loss to Israel and began using his grappling skills more often.
Judging from the matchup stats, the clash will be close. Both sportsmen have their strengths but Jared's weakness lies in grappling. Robert is a more versatile fighter able to mix striking into takedowns. Moreover, he is seven years younger and has more MMA experience. Therefore, Whittaker is likely to win the fight. He finished 45% of clashes by KO/TKO and Cannonier lost 50% of bouts by KO/TKO. That is why Robert has a good chance to knockout Jared.