Stipe Miocic vs Francis Ngannou rematch is scheduled for March 2021
Essentially Soorts
UFC president Dana White is planning to hold a rematch between Stipe Miocic and Francis Ngannou in March 2021. Heavyweights will headline one of UFC events.
Ngannou is the first title contender in the UFC heavyweight division
In an interview to TMZ Sports, White said that a bout Miocic vs Ngannou was on the cards. According to Dana, the contest will not happen until Spring 2021. The heavyweights are likely to face each other in the main event of a UFC tournament, which will take place in March.
Ngannou defeated 4 last opponents by KO/TKO in the first round making an impressive 4-fight winning streak. The Predator is currently ranked first at heavyweight and 15th – in the UFC P4P rating. In August 2020, Miocic beat Daniel Cormier, defended the belt and ended their trilogy with the score of 2-1. Stipe takes the fourth place in the P4P rankings.
In their first bout in 2018, Stipe defeated Ngannou by unanimous decision and defended the UFC heavyweight title. Miocic largely surpassed Francis in striking and grappling. He landed almost six times more shots and performed 12 takedowns. However, Francis opened as a favorite in an upcoming rematch. Punters back The Predator because of his whopping 100% finish rate (73% of victories by KO/TKO and 27% – by submission).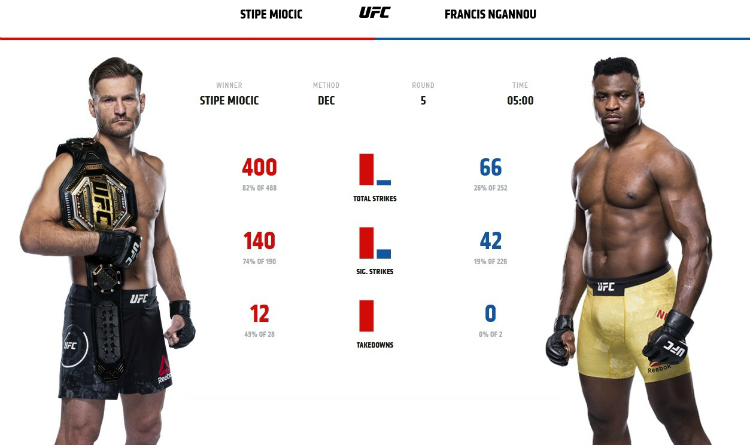 The UFC matchmakers have not announced any events scheduled for March. Therefore, it is not yet clear which tournament will be headed by Miocic vs Ngannou. Nevertheless, UFC 258 will probably take place in February. In this case, Stipe and Francis might meet inside the octagon at UFC 259.