Rozenstruik vs Gane: who wins the battle of top UFC heavyweights?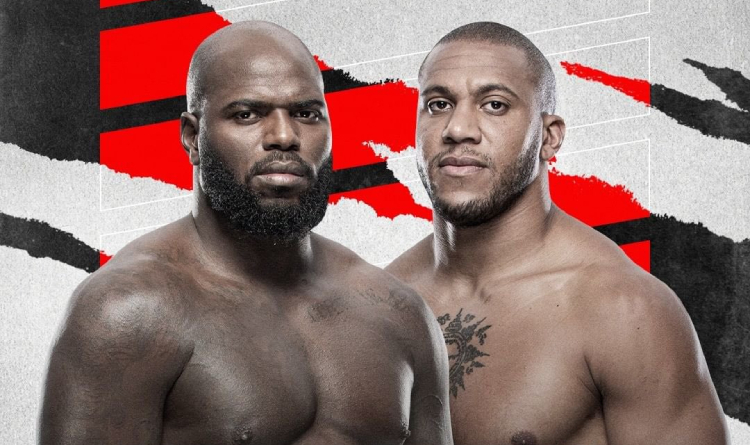 Rozenstruik to take on Gane
Jairzinho Rozenstruik and Ciryl Gane are set to headline UFC Vegas 20 on February 27. Who has a better chance to win the battle of top heavyweights?
Jairzinho Rozenstruik stats
Rozenstruik began his MMA career in 2012 and amassed an impressive record of 11-1. Bigi Boy had won 6 consecutive bouts before transitioning to the UFC in 2019. In the promotion, he defeated 4 opponents in a row but suffered the first loss in a contest against Francis Ngannou last year. In August 2020, Jairzinho knocked out Junior dos Santos and took fourth place at heavyweight.
Ciryl Gane stats
Gane started competing in MMA in 2018. Bon Gamin is an undefeated fighter with a record of 7-0. In his debut clash, Ciryl won the TKO belt. He defended the title twice and signed with the UFC in 2019. Gane scored 4 victories in the promotion and pocketed a bonus for the best performance. In his previous contest, Ciryl beat Junior dos Santos. He is currently ranked seventh at heavyweight.
Rozenstruik vs Gane stats
Jairzinho lands 4% more shots per minute, but Ciryl takes 45% fewer strikes.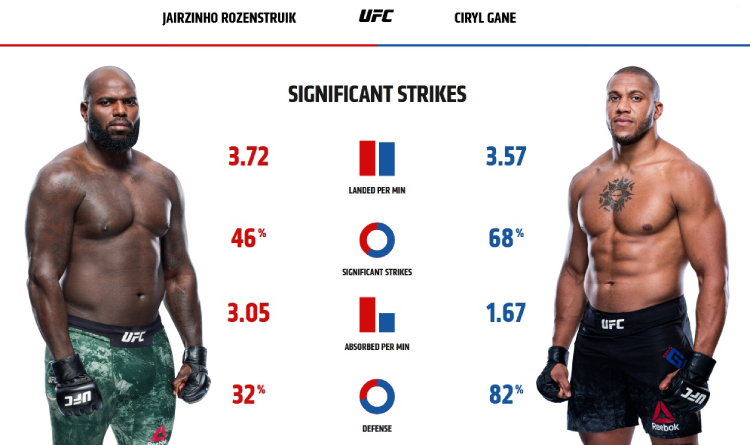 Neither of the athletes has performed takedowns in UFC bouts; however, Gane has a better defence and makes submission attempts, in contrast to Rozenstruik.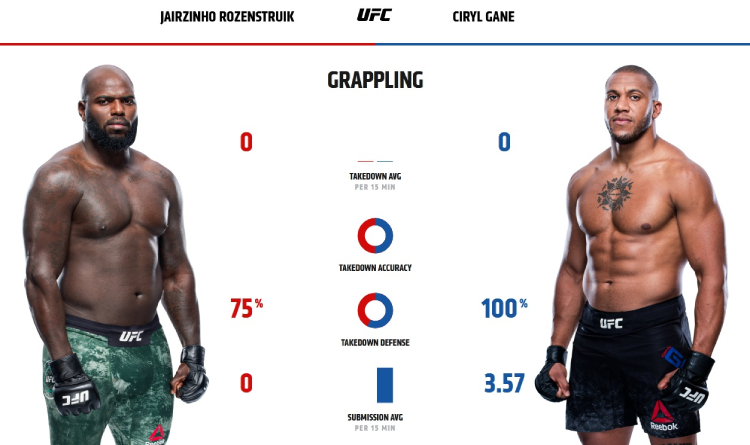 Rozenstruik vs Gane preview
Both fighters are high-level strikers. Jairzinho participated in kickboxing competitions and compiled a record of 76-8-1. Ciryl competed in Muay Thai tournaments and won just 7 contests. Nevertheless, Gane has a clear advantage on the feet. He is much more accurate, and his defensive abilities are sharper.
Rozenstruik and Gane coached in wrestling only as a part of MMA training. Therefore, they prefer fighting on the feet and avoid grappling exchanges. However, Gane is more active on the ground, because he tries to submit his rivals.
Given the athletes' game plans, the upcoming showdown will likely be a kickboxing match. Thus, striking stats will play a crucial role. Jairzinho is more powerful, but he has a 3-inch reach disadvantage, lacks speed, and his defence is poor. Consequently, Rozenstruik is poised to lose the clash, in case he fails to drop Bon Gamin with his main weapon – left hook.
Gane gained 43% of victories by submission and 43% – by KO/TKO. But considering Rozenstruik's solid takedown defence, Ciryl will unlikely try to bring the fight to the canvas. Therefore, Gane is supposed to beat Jairzinho by KO/TKO. 3 of 4 Bon Gamin's last bouts reached the second round. Therefore, the contest is expected to last at least 2 heats.
The most probable fight results
Ciryl Gane to win by KO/TKO/DQ (33/20);
Total rounds over 1.5 (47/100).
Disclaimer: Fight analysis is not a betting tip or a gambling advice of any sort. Our experts determine the most likely outcome of a sporting event based on statistics and personal views. Therefore, the actual result of a competition may differ from the predicted.