Overeem vs Volkov: will Russian Drago demolish Dutch veteran?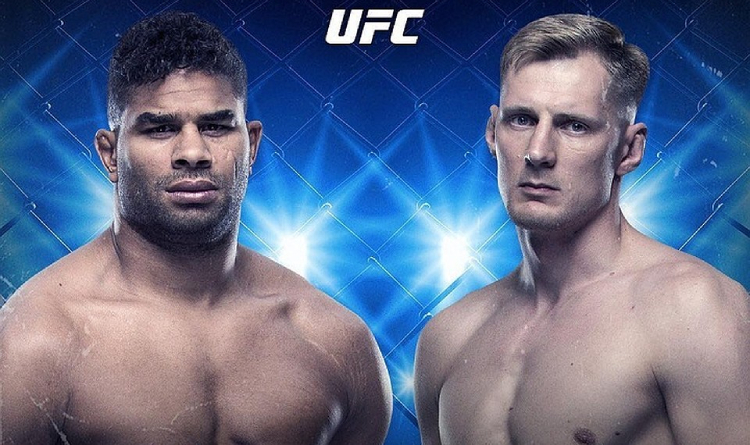 Overeem to face Volkov
Heavyweights Alistair Overeem and Alexander Volkov will headline UFC Vegas 18 on February 6. Does Drago have a chance to demolish the Dutch veteran?
Alistair Overeem stats
Overeem began competing in MMA in 1999 and amassed a record of 47-18, 1 no contest. In 2002-2004, The Demolition Man won the 2H2H tournaments at light heavyweight and heavyweight. 3 years later, he qualified for the PRIDE 2005 semifinals but lost to Mauricio Rua. Alistair won the Strikeforce belt in 2007, added the DREAM gold and transitioned to the UFC in 2011. In the promotion, the Dutch faced Stipe Miocic for the title; however, he dropped a KO. Last year, Overeem gained 2 victories and got back in the championship race. He is currently ranked fifth at heavyweight.
Alexander Volkov stats
Volkov started his MMA career in 2009. His record stands at 32-8. Drago reached the M-1 Eastern Europe Tournament final in 2010 but was defeated by Maxim Grishin. In 2012, Alexander signed with Bellator and won the promotion's championship. Nevertheless, he failed to retain the belt in a bout against Vitaly Minakov. In 2016, the Russian earned the M-1 title, defended it and transitioned to the UFC. Volkov won 6 of 8 contests in the promotion and took sixth place at heavyweight.
Overeem vs Volkov stats
Alexander lands 70% more shots per minute and takes 30% fewer strikes.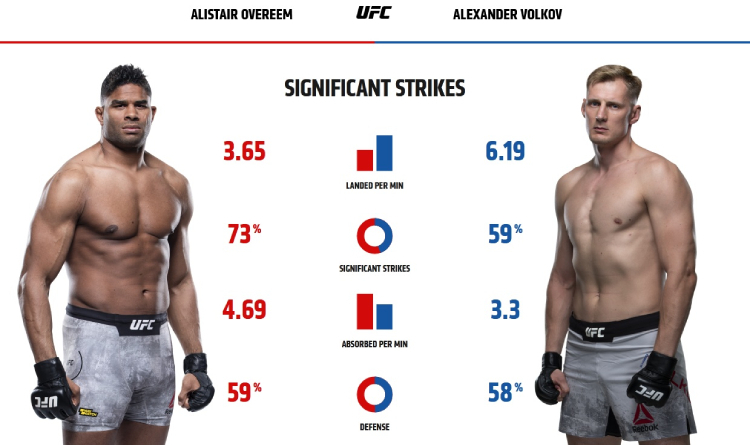 Volkov performs takedowns 67% more frequently; however, he has never made submission attempts in UFC fights.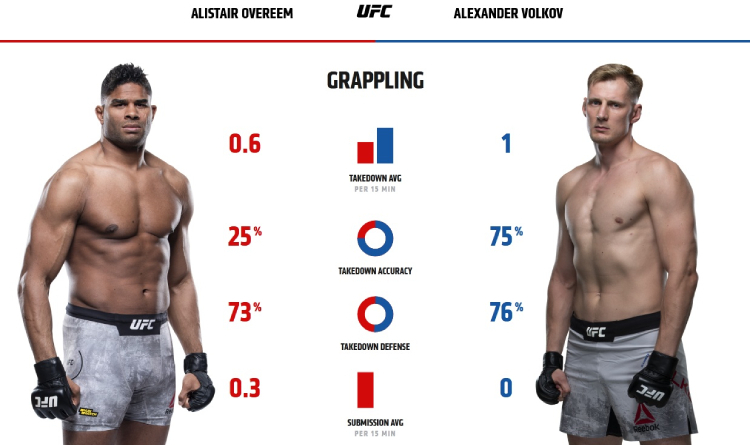 Overeem vs Volkov preview
Alistair coached in kickboxing and compiled a record of 10-4 in kickboxing competitions. Alexander trained in karate and Tsu Shin Gen. Therefore, both athletes have a solid background in striking martial arts, but their techniques are different. Overeem prefers brawling at a close range and in clinch, while Volkov is an outside fighter – he focuses on keeping opponents at the end of his strikes.
Overeem won ADCC European Championships in submission wrestling and got a blue belt in BJJ. Volkov earned a brown belt in BJJ, but he has never participated in grappling tournaments. Nevertheless, Drago has a better takedown defence and finishes thrice as many takedown attempts.
Given Alexander's advantage in striking, he is poised to dominate on the feet. Overeem is very dangerous in clinch and on the mat; thus, he will certainly try to close the distance and bring the clash to the canvas. However, the Dutch has little odds to succeed, because of Volkov's impressive takedown defence and footwork.
Drago's knockout rate is 68%, and Overeem suffered 78% of losses by KO/TKO. Considering these factors, Alexander will likely win by KO/TKO. Both athletes open up slowly and ramp up the pace as the fight goes on. Furthermore, Volkov's average winning heat is third. Therefore, the contest is expected to last at least 2 rounds.
The most probable fight results
Alexander Volkov to win by KO/TKO/DQ (23/20);
Total rounds over 1.5 (9/20).
Disclaimer: Fight analysis is not a betting tip or a gambling advice of any sort. Our experts determine the most likely outcome of a sporting event based on statistics and personal views. Therefore, the actual result of a competition may differ from the predicted.