Krylov vs Ankalaev: will The Miner triumph over Dagestan fighter?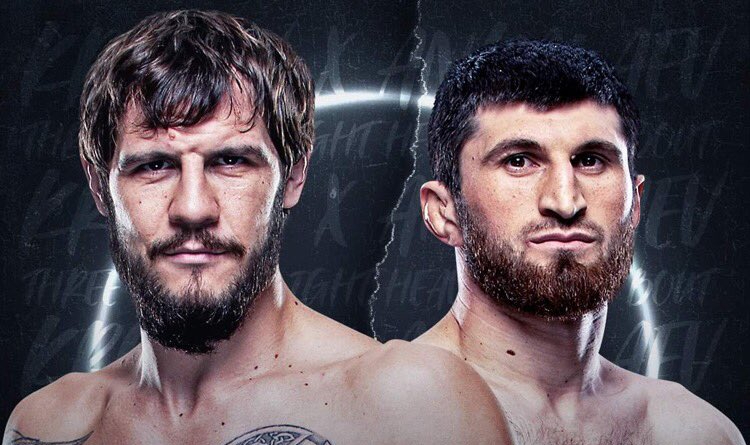 Krylov to take on Ankalaev
Light heavyweights Nikita Krylov and Magomed Ankalaev are to meet inside the octagon in the UFC Vegas 20 co-main event on February 27. Will The Miner triumph over Dagestan fighter?
Nikita Krylov stats
Krylov started his MMA career in 2012 and compiled a record of 26-7. The Miner participated in Ukrainian and Russian tournaments until 2013 and transitioned to the UFC in 2014. He won 6 of 9 contests in the promotion but decided to retire from the UFC in 2017. Next year, Nikita won the FNG title and returned to the UFC. After his comeback, Krylov suffered 2 losses in 4 fights and took eighth place at light heavyweight.
Magomed Ankalaev stats
Ankalaev has been competing in MMA since 2014. His record stands at 14-1. Magomed became a WCFA champion in 2016, defended the belt once and signed with the UFC. He lost a debut clash in the promotion but then scored 5 consecutive victories. Moreover, Ankalaev earned 3 bonuses for the best performance. Following his second win over Ion Cutelaba, Magomed was ranked 11th at light heavyweight.
Krylov vs Ankalaev stats
Nikita lands 40% more shots per minute, but Magomed takes almost half as many strikes.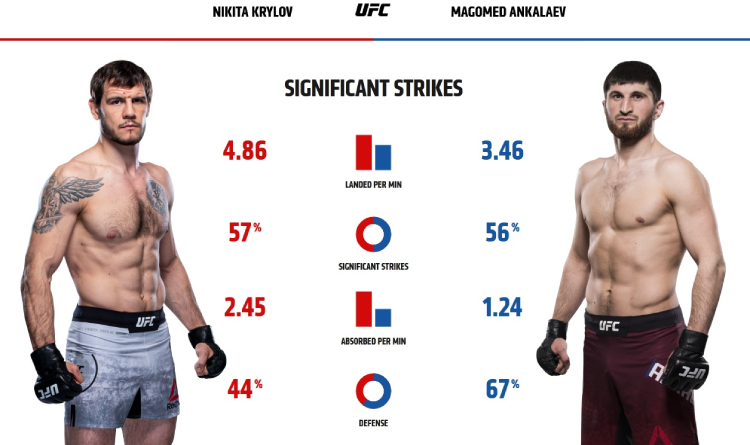 Ankalaev performs 36% fewer takedowns, and he has not made any submission attempts in UFC bouts. However, Magomed has a better defence.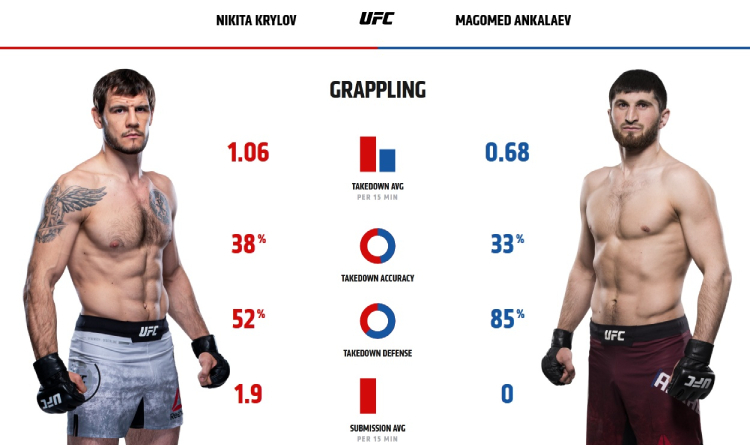 Krylov vs Ankalaev preview
Nikita is a master of sport in ARB and has a black belt in karate. Magomed coached in striking martial arts only as a part of MMA training. Nevertheless, he looks better on the feet. Ankalaev lands fewer blows, but his defence is more solid, he has a speed advantage and employs a wider range of shots.
Both athletes are accomplished grapplers. Krylov is a master of sports in submission wrestling, while Ankalaev has earned the same degree in combat sambo. The Miner's game plan is centered on ground control and submissions. Therefore, he makes takedowns more frequently. Nikita goes for locks and chokes on the mat, which brought him 58% of victories.
Magomed is expected to outperform his rival on the feet. Consequently, Krylov will likely try to bring the fight to the canvas to nullify his opponent's edge in striking and use his grappling skills. However, given Magomed's impressive defence, Nikita has a little chance to score a takedown and keep his opponent on the mat. In this case, Ankalaev will win the contest.
The Dagestan fighter has a high knockout rate – 62%. Nevertheless, The Miner suffered only 14% of defeats by TKO. Nikita lost 71% of clashes by submission, but Magomed never tried to make his rivals tap. Considering these factors, Ankalaev is supposed to beat Krylov via decision.
The most probable fight results
Magomed Ankalaev to win by decision (11/4);
Total rounds over 1.5 (13/20).
Disclaimer: Fight analysis is not a betting tip or a gambling advice of any sort. Our experts determine the most likely outcome of a sporting event based on statistics and personal views. Therefore, the actual result of a competition may differ from the predicted.